Revision as of 19:53, 16 May 2012
ddgonzal (Talk | contribs)

<- Previous diff
Revision as of 05:54, 25 June 2012
ddgonzal (Talk | contribs)
(->ID Plates)
Next diff ->
Line 168:
Line 168:
* HA38: Hitachi [[differential]] 3.839 ratio, A-style carrier
* HA38: Hitachi [[differential]] 3.839 ratio, A-style carrier
-
Japanese plate for LHD USA vehicle
+
Japanese plate for LHD USA vehicle ([[FU]] B310)
-
<br>[http://datsun1200.com/uploads/newbb/12024_4a4d0ed0b36a3.jpg http://ddgonzal.members.winisp.net/getThumb.aspx?width=400&uri=http://datsun1200.com/uploads/newbb/12024_4a4d0ed0b36a3.jpg]
+
<br>[http://datsun1200.com/modules/newbb/viewtopic.php?post_id=260975#forumpost260975 http://ddgonzal.members.winisp.net/getThumb.aspx?width=400&uri=http://datsun1200.com/uploads/newbb/12024_4a4d0ed0b36a3.jpg]
Japanese plate for LHD CANADA vehicle
Japanese plate for LHD CANADA vehicle
---
Revision as of 05:54, 25 June 2012
Nissan chassis model B310 was the fourth-generation Sunny. They were sold during Model years 1979-1982 and marketed in various countries as the Datsun 210 or Datsun Sunny. In some countries it was designated Datsun 120Y, Datsun 130Y, Datsun 140Y or Datsun 150Y, depending on the engine fitted.
For more details and how the Sunny family was developed, see History of Datsun 1200.

WikiMedia - Sunny California (sweepback) Wagon
B310 vs. 310
Datsun 210 was the fourth-generation Sunny family:


1978-1982 B310, marketed as Datsun 210 in the US
It is sometimes confused with the Datsun 310, which was a totally different model.
Datsun 310 was a front-wheel drive model from the Cherry/Pulsar family:


1979-1983 Datsun 310 (Nissan model N10)
Identification
International Comparison
1980 Australia

1980 USA

1980 Malaysia

Bumpers
North American models have the front running lights in the grille, while others have the running lights in the bumpers.
As always, North America got the large 'park bench' bumpers while other countries got boxy but lighter bumpers.
Grille
Early - Round headlights
62300-H8510 GRILLE ASSY-RADIATOR JDM Sedan & Coupe -7909, all Van
62312-H9107 GRILLE-RADIATOR USA Sedan/Wagon 0679-, Coupe 5-spd 0679-
62300-H9106 GRILLE-RADIATOR USA Coupe 5-spd -0579
62300-H9102 GRILLE-RADIATOR USA Coupe except 5-spd -1179

Late - Square headlights
62310-H8502, 62310-H8503 GRILLE ASSY-RADIATOR JDM

7910- Coupe/Sedan/Wagon (W) but not Van (V)

62312-H8501 GRILLE ASSY-RADIATOR
62310-H9102 GRILLE-RADIATOR USA Sedan, Coupe, Wagon 1279-
North America
Identification
Model Identifications
This legend will help partially to understand the plate codes listed below.
B310 Model Identifications

Prefixes
Body type
(Sedan)
K = Coupe
W = Wagon (Sunny California/Sport Wagon)
V = Van (Squareback wagon)

Engine
(Base engine, which for B310 is A12S, A12A, or A13S)
* H = High Engine (for B310, this is A14S)
* P = Power Engine (for B310, this is A15S)

(Right Hand Drive)
* L = Left-Hand Drive

Suffixes
Destination Country/Territory Codes
* M = Australia
* V = California, USA
* U = USA FED (Federal, meaning non-California)
* N = Canada

Tranmission Codes
(4-speed manual)
* F = 5-speed manual
* A = Automatic

Engine Suffix
* E = EGI (A14E or A15E)

Body Suffix
* R = 2-door sedan

B310 Trim Codes
(DX [Deluxe])
* S = STD (Standard)
* G = GLA (Grand Luxe Automatic)
* A = ES (Coupe Elegance Sport, 7910-)
* S = CT (Standard sedan)
* Y = CITY DX (City Deluxe)
early Van Standard
SPDX A (late Van Super Deluxe A)
* P = DXA (mid Van Deluxe A)
* P = SPDX (early Van Super Deluxe)
* H = GL# (GL, GLA)
* H = GS (Coupe Grand Sport)
* H(LA) = SGL
* X = GX
* X = RSE (Coupe Rally Sport, 7910-)
* X(LA) = SGX
SPT (Coupe Sport 7910-, no suffix code)
DX (Coupe Deluxe -7909, no suffix code)
J = DXA (late Van Deluxe A)

ID Plates
The "Car Number Plate" (Type Plate) is found on the cowl dash panel, in the engine room, on the center of the firewall.
Old-style Plate type used through September 1979

New-style VIN plate type used starting October 1979


This style plate was first used in October 1979
A12A plate

Japanese plate for LHD USA vehicle (FU B310)

Japanese plate for LHD CANADA vehicle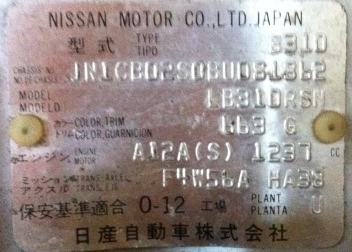 Australia (M-code) A15

Trim Color Codes
Interior Trim Color
P = Black (黒)
G = Brown (茶)

Badges
Round headlight grille
62392-H8500 ORNAMENT-FRONT

Square headlight grille 7910-
62392-H8505
62395-H8705 K, W-GX 7910-8010
62395-H8705 S, W-GX 8011-
62395-H8705 4S GX 7910-8010
Side badge
78801-H8500 EMBLEM-SIDE REAR RH -7909 ['SUNNY' block letters]
78801-H8505 EMBLEM-SIDE REAR RH 7910- ['Sunny' script letters]
Year
1978: Japan only
1979: Export first year. Early 1979 USA has locking fuel door
1980: Change to square headlights, intermittent wipers
1981: Change to rectangular gauges
1982: final year
Models
North America
Coupe: A14, A15, automatic, 4-speed or 5-speed
A12A - 2-dr Sedans only. Only with 56A 4-speed

Suspension
B310 for Japan and USA was fitted with Datsun A10 (Stanza/510) front suspension, including the struts and steering linkage. This includes the large 245mm disc brake rotors.

Rear Axle
B310 sedans and coupes got coil-spring 3-link rear axle assembly.
Wagons got coil spring (Wagon = slant-back wagon, called "Calfornia" in Japan market)
Vans (square back wagon) got a leaf spring rear axle
GX models (including California wagon) got a rear sway bar
The differential is H150 in all cases.
Also See
Photo Index