1200s use a positive pressure Gas Cap that seals the tank and lets no fumes out. This fuel tank cap is not pressure vented.
Non-EVAPO
The fuel filler cap is simple with a plain black rubber washer. has neither pressure venting nor vacuum relief. Venting takes place through a fuel loop hose connected to the tank. See Fuel Tank for details on the venting.
Left: regular; Right: EVAPO type
Part Numbers
17251-H1000 CAP-filler
17264-18000 PACKING-cap [the sealing washer]
17251-G1001 JDM CAP ASS'Y-filler B120 up to '73-2

Same as JDM 620 up to '72-12
JDM 620 from '75-1: 17251-B5000 also 610,710

Note the 180 Applied Model Code: This is the same as Datsun 1000

EVAPO models
EVAPO (emission controlled) models were fitted to all USA 1200s and newer Sunny Truck.
NOTE: early models (1970) may have been fitted 
with a non-relief cap. It is recommended to 
fit a relief cap.

The fuel filler cap should be sealed type. It does not let air out. But it does have a vacuum release valve to let air in. Perhaps it has the wrong cap. It should be more or less flat on the outside, with a nubbin on the inside.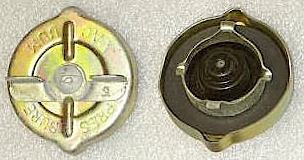 Venting takes place with a vent line from the tank to the engine compartment, where it lets fumes into the crankcase to be 'stored' until the engine is started. Then the fumes are burned in the carburetor. See Emission Controls for details.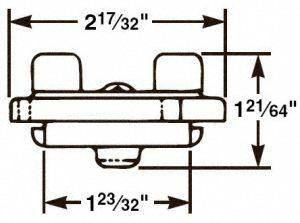 Newer models, starting with the 1973 B210, vent into a charcoal canister. But they use the same cap.
flow guide valve goes in engine compartment
Fuel tank filler cap
The nubbin on the bottom is vacuum relief valve
Testing
For the EVAPO model:
You should not be able to blow air out throw the cap
You should be able to suck air in through the nubbin.

Wipe valve housing clean and place it in your mouth.
Inhale air. A slight resistance indicates that the valve is in good mechanical condition. Note that, by further inhaling air, the resistance should disappear as the valve clicks.
If valve is clogged, or if no resistance is felt, replace cap as an assembled unit.
Part Numbers
17264-18000 PACKING-cap [the sealing washer] $0.92
17251-H1000 CAP-filler 0570- Sedan, 0470- Coupe [non-EVAPO cap]
17251-H1900 CAP-filler 0672-
17251-H1901 CAP-filler 0672-
17251-H1902 CAP-filler, with packing 0173-
17251-U7402 CAP-filler $27.97
The replacement for all, including non-EVAPO cap is 17251-U7402

Interchange
For EVAPO models, the same gas cap is used for most Datsuns, from 1971 to early 1980s.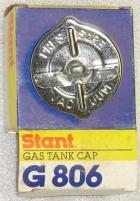 Pressure-Vacuum Type For Emission Control
#16 / 671016 Atlas
Stant #G-806
Fits:
Datsun

720 Pickup 1980-1982
620 Pickup 1972-1979
Stanza 1982
F10 (F-10) 1982
B110 1971-1973
S10,S110 (200SX) 1977-1982
B210 (B-210) 1973-1978
B310 (210) 1979-1982
280Z 1977-1978
N10 (310) 1979-1982
A10 (510) 1978-1981
610 Wagon 1973-1976
710 Wagon 1977
810 (Maxima) 1977-1982
AMC

1971, 1972, 1973, 1974 - Ambassador
1970 - Ambassador, California only
1978, 1979, 1980, 1981, 1982, 1983 - Concord
1980, 1981, 1982, 1983 - Eagle
1977, 1978 - Gremlin
1974, 1975, 1976, 1977 - Hornet
1978, 1979 - AMX, Javelin
1971, 1972, 1973, 1974 - AMX, Javelin
1970 - Javelin, California only
1971, 1972, 1973, 1974, 1975, 1976, 1977, 1978 - Matador
1977, 1978, 1979, 1980 - Pacer Station Wagon
1971 - Rebel
1970 - Rebel, California only
1979, 1980, 1981, 1982, 1983 - Spirit
Buick

1970 - Station Wagons, California only
Chevrolet

1970 - Full Size Station Wagons, California only
1970 - Camaro, California only
1970 - Chevelle & Malibu, California only
1970 - Chevy II & Nova, California only
1970 - El Camino, California only
Chrysler

1977, 1978, 1979 - LeBaron, 2 Door
1976, 1977 - Full Size Station Wagons
1971 thru April - Imperial
1970 - Imperial, California only
Dodge

1977, 1978 1979 - Diplomat, 2 Door
1976, 1977 - Royal Monaco Station Wagon
1971 thru April - Full Size, Coronet, Charger
1970 - Polara, Monaco, California only
Ford

1970 - Fairlane Station Wagon, California only
Plymouth

1976, 1977 - Gran Fury Station Wagon
1971 thru April - Fury, Belvedere,Satelite, Barracuda
1970 - Fury, California only
1970 - Belvedere, Satellite, except Station Wagon, California only
Pontiac

1970 - Station Wagons, California only
Renault

1982 - Fuego
1980, 1981, 1982 - 18I
Subaru

1978, 1979, 1980, 1981, 1982
Toyota

1978-1982 Celica
1976, 1977 Celica Liftback
1981 Starlet
1980-1982 Tercel
1980-1982 Corolla
1971-1974 Corolla Sedan
1970 - Corolla 1200
1979-1981 Corona Sedan, Liftback, Station Wagon
1972, 1973 Corona Hardtop, Sedan
1970, 1971 Corona
1973-1976 Corona MK II Sedan, Hardtop, Station Wagon
1969-1972 Corona MK II
1980-1982 Cressida
1978, 1979 Cressida Sedan
1971, 1972 Crown
1971-1983 Hilux Pickup, Sport Truck
1979 Land Cruiser
1981, 1982 Land Cruiser
1981, 1982 Starlet