Sweet #406 Hanjin-Dozo Land Speed Datsun 1200 racer out of Ojai, California, and the Sidewinders on the web Glendale Sidewindersᴳ car club.
At JCCS 2006

Album click to view
At El Mirage Lakeᵂ dry lakebed for top-speed competition (article: NY Times 2007)

Blog on #406☁ by ODEMOTO racing films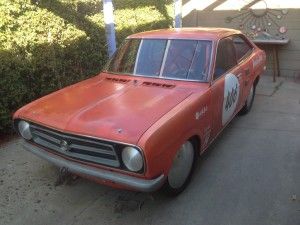 For Sale 2016
POST '73 Coupe LSR Racer - L.A. CA
Full SCTA roll cage
Simpson 5-way harnesses
Kirkey aluminum race seat
Halon fire suppression system
Cool-Shirt driver cooling system
3-gallon aluminum fuel cell
Mickey Thompson Front Runner tires
Datsun 510 adjustable coil-over front struts
aluminum radiator
battery box
Bonneville Moon Disc wheel covers w/Dzus aircraft fasteners
Shut-off switch
All vintage Datsun drive train and body
slight over-bore, header, high-compression head
Good door seals and latches
fixed glass
Aluminum door panels, dash and rear bulkhead
Lexan door glass
shaved and narrowed bumpers
has current California Non-Op registration and title

For Sale 2018
Special lettering removed. Selling as street vehicle.
wipers removed
no heater
Side marker lights removed
Post click for topic
Post click for topic
Post click for topic
¤