Revision as of 06:27, 11 January 2012
ddgonzal (Talk | contribs)

<- Previous diff
Revision as of 09:44, 25 June 2012
ddgonzal (Talk | contribs)

Next diff ->
Line 34:
Line 34:
The throttlebody can simply be cut off and welded to the opposite end if it was wished to be done. The engine will still run with it positioned where it is, personal view decides whether it is the wrong way or not.
The throttlebody can simply be cut off and welded to the opposite end if it was wished to be done. The engine will still run with it positioned where it is, personal view decides whether it is the wrong way or not.
-
Would it be possible just to weld the original A14 holes up and drill out new holes to fit onto the A14 head?
Would it be possible just to weld the original A14 holes up and drill out new holes to fit onto the A14 head?
+
+
mitch_dato fitting
+
<br>[http://datsun1200.com/modules/newbb/viewtopic.php?post_id=269531#forumpost269531 http://ddgonzal.members.winisp.net/getThumb.aspx?width=140&uri=http://datsun1200.com/uploads/newbb/9658_4a7fc5ae1e2b8.jpg] [http://datsun1200.com/modules/newbb/viewtopic.php?post_id=269531#forumpost269531 http://ddgonzal.members.winisp.net/getThumb.aspx?width=140&uri=http://datsun1200.com/uploads/newbb/9658_4a7fc5bcd6389.jpg] [http://datsun1200.com/modules/newbb/viewtopic.php?post_id=273975#forumpost273975 http://ddgonzal.members.winisp.net/getThumb.aspx?width=140&uri=http://datsun1200.com/uploads/newbb/9658_4a978c673dd86.jpg] [http://datsun1200.com/modules/newbb/viewtopic.php?post_id=273975#forumpost273975 http://ddgonzal.members.winisp.net/getThumb.aspx?width=140&uri=http://datsun1200.com/uploads/newbb/9658_4a978c8599e90.jpg] [http://datsun1200.com/modules/newbb/viewtopic.php?post_id=286463#forumpost286463 http://ddgonzal.members.winisp.net/getThumb.aspx?width=140&uri=http://datsun1200.com/uploads/newbb/9658_4add807b08faa.jpg] [http://datsun1200.com/modules/newbb/viewtopic.php?post_id=286463#forumpost286463 http://ddgonzal.members.winisp.net/getThumb.aspx?width=140&uri=http://datsun1200.com/uploads/newbb/9658_4add8097085e0.jpg] [http://datsun1200.com/modules/newbb/viewtopic.php?post_id=286463#forumpost286463 http://ddgonzal.members.winisp.net/getThumb.aspx?width=140&uri=http://datsun1200.com/uploads/newbb/9658_4add80a512082.jpg]
[[Category:Fuel Injection]]
[[Category:Fuel Injection]]
---
Revision as of 09:44, 25 June 2012
Wow, do try this at home. The Hyundai Excel 1991-1994 1.5 EFI engine this manifold that almost fits an A14 style head. A little modification and Bob's your uncle. Use the Mitsubishi parts including computer, or use Megasquirt to control it.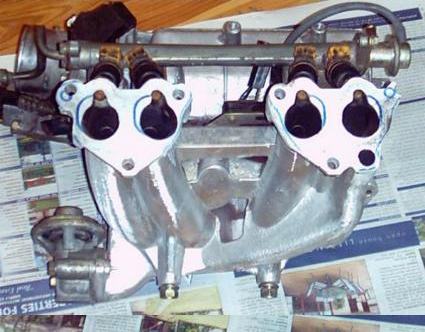 lines indicate how little the ports need to be opened to match standard A14,A15 ports
The centre 2 top holes fit exact.. It does look possible just to weld up the 2 top outside holes drill new ones. OR just cut it carefully and use a washer with spacer.

Source
1991-1994 Hyundai Excel 1.5 EFI engine
1991-1994 Mitsubishi Precis 1.5 EFI engine

Port and drill to match, use epoxy resin for inside, then die grind it up (dremel tool). Maybe some welding if you want to get fancy. The bottom and sides would only require a little filling weld to build the edges up and it would bolt up and seal nicely.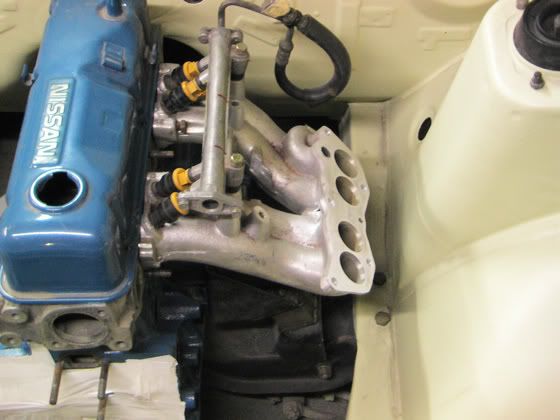 Pic of manifold on head. Shows plenty of room between it and the strut tower.
Unboltable plenum. Use the stock one, or fit a custom plenum. Optimum size is twice capacity of engine (2.8 l for an A14 engine)
Would it clear the master cylinder for us LHD people?
Nice length runners for a bit of torque
JTS big port gasket fitted to show size difference.( Ports are roughly this size all the way through but close up towards the injectors)
Yellow template example of the required flange plates,
Underneath view shows plenty of room for A series exhaust, and also how easy and little is required to be trimmed off this manifold

Cut off the EGR portion from the end of the manifold.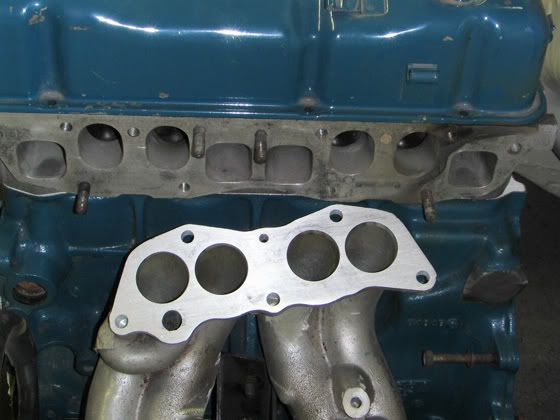 Pic that shows the stock size of the runners compared to ported A series head. Taking the time to port the other end of the runners will make this manifold more suited to big block A series than that of a factory A series efi manifold.
The throttlebody can simply be cut off and welded to the opposite end if it was wished to be done. The engine will still run with it positioned where it is, personal view decides whether it is the wrong way or not.
Would it be possible just to weld the original A14 holes up and drill out new holes to fit onto the A14 head?