Datsun 1200s were equipped with an easy-to-use scissor-type jack. It shipped in the boot, as shown in the Owners' manual.
Overview
Also see: Changing tire
USA 1972 Owners manual (see page 27 for details):




---

There are four jack-up points at the floor panel

---
You can jack-up the 1200 at these points:
Using OEM jack (see Owners Manual above):
under rocker panel front
under rocker panel rear
Be sure to use a Nissan or Toyota jack with a "slot" to fit over the rocker panel seam. Jack here, at the point of the the half-round indents:

Using other jacks:
Under lower A-arm (Transverse link), near tire
Middle of engine crossmember (lift entire front end)
center of Differential (lift entire rear of car)
Outboard ends of rear axle housing
CAUTION: Before sliding underneath the car, be sure to place jackstands under the suspension. In a pinch a tree stump or beefy timber can work. Make certain it is secure, and lower the weight of the car on the jackstands.
Standard Equipment
Scissor Jack
S-shaped Jack Handle
Wheel Wrench in black 'Nissan' bag
Tire retaining clamp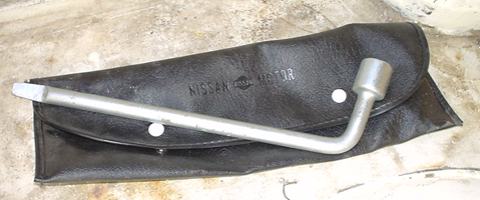 1976 Aussie Pick-up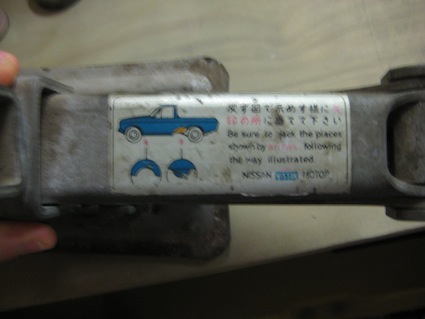 1976 tool kit

Jack Location
The Jack and its equipment is stored in the Trunk (Boot).
Coupe
Sedan
Upgrades
Roller Jack Handle
Nissan jack handle with built-in rollers (no more pinched hands!). Source one from a more luxurious Datsun or Nissan. I got mine from a 1985 S12.
Wheel Stops
From B310 and many other Datsuns: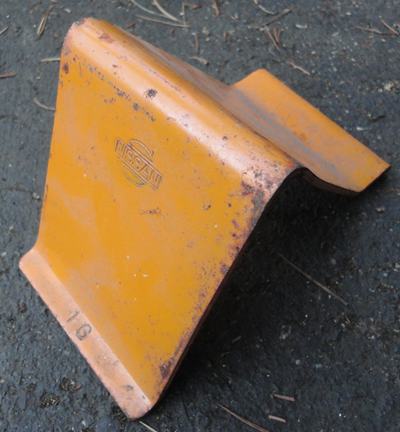 Part Numbers
ジヤッキ、パンタグラフ タイパ゚ ハンドル、ジヤッキ クランク
Part Codes: 99610, 99611
99550-H1000 SET-JACK B110 $74.14
99553-H1400 HANDLE-JACK CRANK VB110P, B120 [right-angle]

looks similar to 99552-D0100 U11

99551-G1400 JACK-PANTOGRAPH TYPE B120
99595-18000 BAG-TOOL $3.89

Others
99504-50Y00 bag-tool $4.14
99501-01A00 tool kit-complete with jack $118.12
99552-01G00 rod-jack D22 [straight] $17.25
99553-01W00 Handle Jack 280ZX [crank] $9.33
02996-01100 handle-jack 310/810 [with plastic roll surfaces] $19.33
99595-H7400 tire stopper 810 [non-folding]
99595-U1400 tire stopper 280ZX [folding type] $24.30 [99595-F2700]
99545-8B400 Wrench-wheel Nut & jack handle Frontier $32.88
99596 oil filter wrench bag
99547 oil filter wrench
99548 oil filter wrench handle
99540 spark plug wrench

99512-25660 HAMMER
 99509-Z0000

Datsun 910
99545 wrench
02995-45200 WRENCH-WHEEL NUT

99610 jack
02996-10421 JACK-PANTOGRAPH TYPE sedan [groove type a la B110]
02996-01631 JACK-PANTOGRAPH TYPE wagon [finger type]

99595 wheel stop
99595-H7400 sedan [fixed type] (2)
99595-U1400 wagon [folding type] (1)
* 99595-F2700

99596 Tool bag
02995-95300 BAG-TOOL

99614 jack handle
02996-01100 HANDLE-JACK LEVER 910 sedan

99613 jack handle, 2-piece 
02996-03200 ROD-JACK HANDLE wagon
99612 jack crank
02996-02100 HANDLE-JACK HANDle wagon

99501-89903 TOOL SET-STANDARD
Includes:
* 99545 wrench
* 99596 tool bag

U11
995 TOOL KIT
99501 TOOL SET-STANDARD
 99596 bag
 99535 phillips driver
 99545 lug wrench
 99525 pliers
 99507 spanner
 99507 spanner

02995-07100 spanner 8x10
 99507-01A00 
02995-07300 spanner 12x14
 99512-01A00

02995-25100 PLIER
 99525-01A00 

02995-30300 SCREWDRIVER/DRIVER-PLUS & MINUS [phillips + regular]
 99530-50Y00 $6.12 USD 
 * S13, R50 USA

Alternative Datsuns Jacks
620 Pickup: rotary type for heavy loads

click
521 pickup handle

Long & Short handle (long one is for pickup)

1970-1976 S30 Tool Kit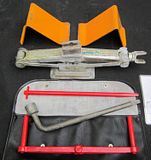 ジャッキ