度排出ガス規制適合
Note 保安基準適合 means Safety Standards.
Overview
自動車排出ガス規制 automobile exhaust gas emissions regulations, the automobile of the internal combustion engine.
* 単体規制 Single Regulation (type regulation)
  applied to new models by the manufacturer 
* 車種規制 Vehicle Regulation
  constant regulation

1966 CO under 3%
1967 16-item inspection 
1969 CO under 2.5%
1970 CO inspection 5.5% idling
1972 CO inspection 4.5% idling
1973 testing
1974 NOx
1975 first sticker used

1976 sticker (Left: Used, Right: New with peeling cover)

排出ガス対策済 ステッカー, 排出ガス対策済, 般社団法人日本自動車工業会 (JAMA)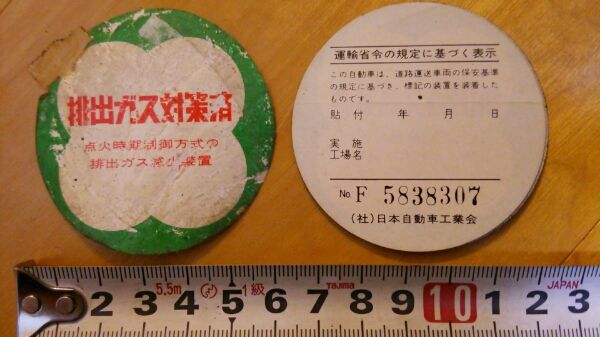 NVCC
Nissan developed a stratified-charge cylinder head (a la CVCC) in 1973-1974. It was reportedly 2.1 liters, and from a photo looked like it might be an L-series engine. However in the end they were able to meet 1975 emissions standards by using NAPS instead.
Engine expected to meet U.S.-Japan smog rules

TOKYO - Nissan Motor Co., manufacturer of the Datsun automobile, Wednesday announced development of a low-pollution engine expected to meet Japanese and American auto-emission standards... Outgoing Nissan president Katsuju Kawamata admitted his company's NVCC technology might conflict with Honda's CVCC process it terms of patent right. But he said he would conferwith Honda to settle disputes that might arise.

Phoenix Arizona Republic October 25, 1973 pg A-10
Nissan Drops Engine Plans

Nissan Motor Co, Tokyo, Japan, said it has decided to suspend a commercial production plan of its "NVCC" (Nissan vortex-controlled combustion) engine.

Des Moines Register August 1, 1975 pg 17
1973
S48 (1973) 昭和48年
First applies to B210 1973- (not B110 1970-1972)
* Sealed Fuel Tank with Flow Guide Valve for ventilation
* Flow Control Valve 14920-H5000 (mounts on #1 intake runner)
* Anti-diesel Valve (or Run-on Solenoid for A12T)
* Idle compensator in Air Cleaner
* Distributor D411-89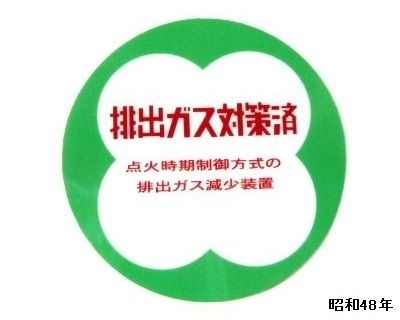 排出ガス対策済
Exhaust gas countermeasures completed
点火時期制御方式の排出ガス減少装置
anti-emissions devices of the ignition timing control system

H
"H" is the 1975 (50年度) emission standards. Also in 1975 in the United States similar regulations came into effect.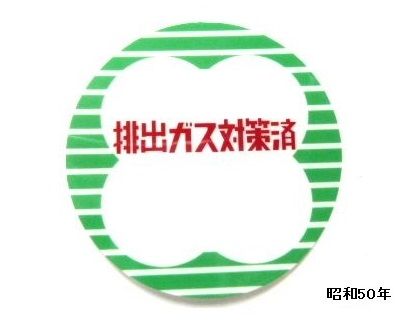 * H-B210 meets H-level emission standards
* H-B120 from 1975 uses NAPS-A engine A12


B210 EGR
All B211 (from December 1975) and VB210 (from October 1975) used EGR Exhaust Gas Reduction. This included Vans which were not fitted with catalytic converters.
B210 Catalyst
Nissan system's of exhaust gas cleaning by catalyzed oxidation (NAPS) adopted. A 2-way catalytic converter converted carbon monoxide (CO) and unburned hydrocarbons (HC) to produce "harmless" carbon dioxide (CO2) and water (H2O). It was only later than CO2 was acknowledged to be a pollutant itself. NOTE: In 1980 the 3-way converter introduced a 3rd reaction to reduce the third major pollutant NOx.
To enable efficient conversion, extra oxygen is introduced into the exhaust system by use of Nissan A.I.S. (Air Injection System), using a passive air induction (tuned pulse-flow) system. It used a cylinder head with an air passage drilled from front to back.
Album click to view
No feedback was used to control the fuel system. A carefully tuned carburetor was sufficient to meet the 1975 emissions target.
20905 CATALYST
20905-H7401 
* JAPAN B211 A12.S,K 7512-
* JAPAN HB211 A14.S,K 7512-
* JAPAN GB211 L16 7602- (51 year standard)
* not used on Van

Because the very hot converter is located under the passenger seat:
a temperature warning system is fitted
seat mounting is modified. 1976-1977 Passenger seat clears the bulge in the floor
Exhaust Temp warning lamp on dash 排気温度警告灯ランプ排気温度警告灯ランプ
Relay#25230-89915 floor sensor relay

Seat for converter-equipped B211

Album click to view
Unleaded Fuel
無鉛 Unleaded petrol only
B120
14807-89910 STICKER-FUEL 7510-
* placed on assistant's window
Buy at Bprojects

無鉛  無鉛ガソリンを
    ご使用下さい

B120
14806-89901 LABEL-UNLEADED FUEL ONLY 8910-
* placed inside fuel door
触媒 無鉛に限る Catalyst - Limited to Unleaded


B
1976 regulation including NOx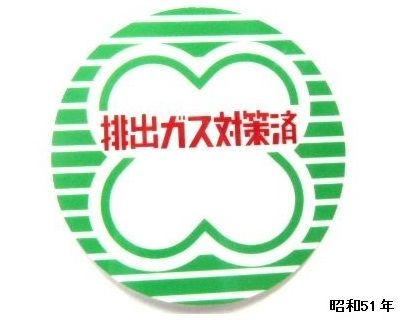 Applied to the 1200 October 1975
* Automatic Choke to reduce emissions during startup

E
"E" 1978 emission standard (Showa 53 Year) 53年度排出ガス規制適合車
1200 Choke Warning
* Choke warning lamp added to Dash#Late April 1978
 レエン、ワーニング ランプ (アート チヨーク レンズ)
  LENS-WARNING LAMP 24250-H2500 (Auto Choke Lens)

The dash 'Auto Choke' looks like a blank plate for the choke cable knob hole. Does it actually light up?
Brown mid-model dash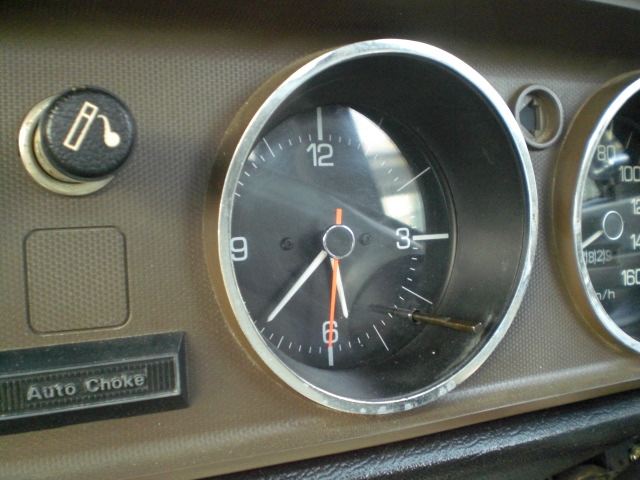 Album click to view
Post click for topic
Grey late dash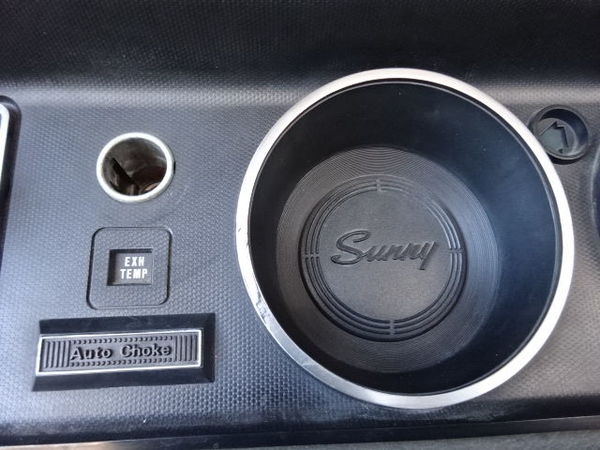 Album click to view
1200 EGR
* EGR comes to the 1200 for NOx reduction. See EGR#1200

L
L - 1981 regulations was the reason for the B122 model change.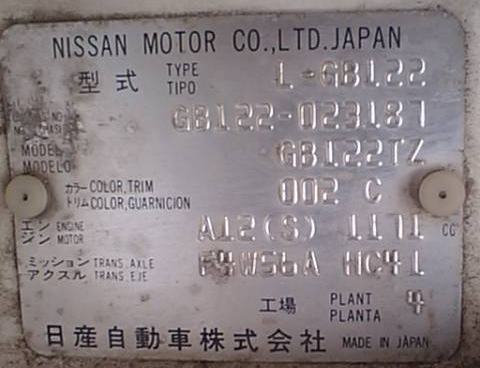 Album click to view
Spark Delay
1200 EGR with VVT
EGR refined with a VVT valve
R
R - 昭和63 1988 regulations were applied to the late B122 (R-B122) which arrived in 1989 October.
Album click to view
14808-95W00 LABEL-EMISSION CONTROL,A 8910-
* placed under bonnet
Buy at Bprojects


1200 Catalyst
Oxygen Sensor on the 95W Exhaust Manifold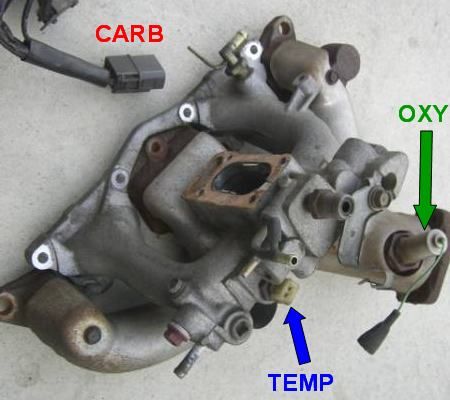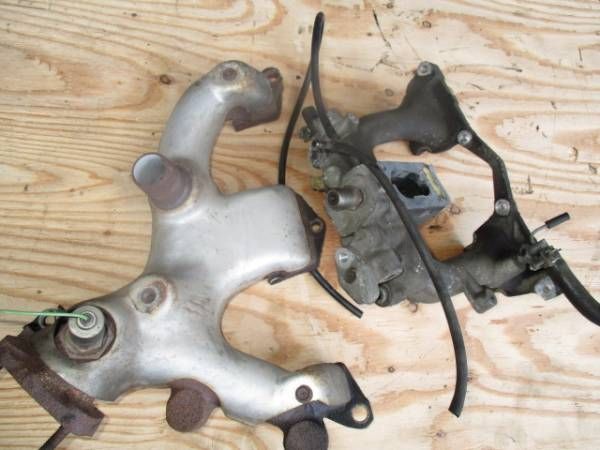 Temp Sensor on converter Exhaust_Piping#Converter

Album click to view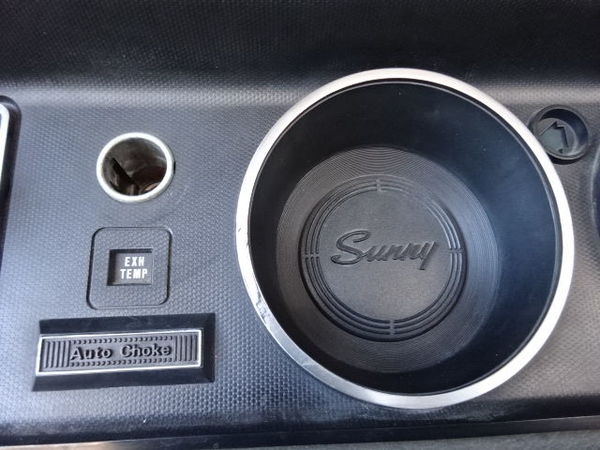 Album click to view
Exhaust Temperature 'EXH TEMP' warning lamp on Dash#Late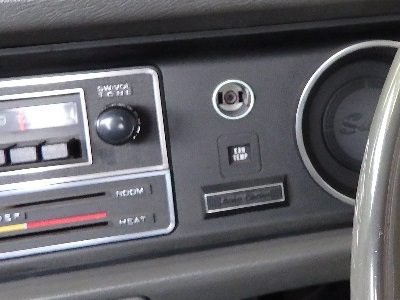 Album click to view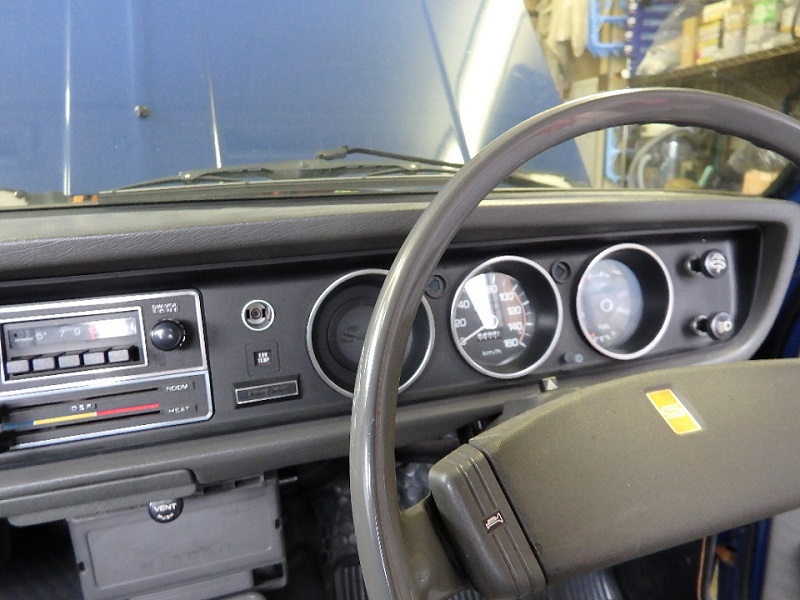 Album click to view
¤