The "Knuckle arm" (steering arm) is sandwiched between the Ball Joint and the strut assembly.
Overview
There is only one size for B110, the 45mm strut type. But it comes in two versions: 1970-1975, and 1976-up.
Datsun knuckle arms come in two basic sizes, 75mm & 80mm:
75mm narrow bolt spacing for 45mm strut tubes (used by B110)
80mm wide bolt spacing for 50.8 mm strut tubes (used by most other Datsuns including 280ZX)
91mm spacing on 240Z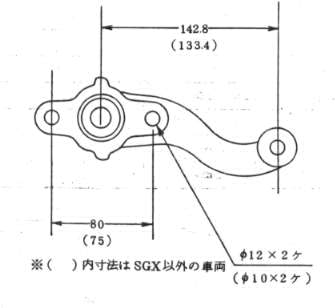 Additionally, the size of the taper hole for the ball joint is important.
B110 and B210 and B310 small uses the small taper
Some B310 use a large taper
Then there is the length of the arm -- long arm give a slower steering response, but less effort is required to turn the wheels. Shorter arms give faster response.
Short-arm Modified for use with 2" struts


The large-size B310 arm (commonly used when swapping struts) will change your 15:1 steering to an effective 16:1 as the arm is 7% longer. Even worse, when putting 2" struts in a 45mm B310 vehicle, the stock B310 16.4:1 steering will effectively turn into 17.6:1.
Comparison
It seems B310 with W5000/W5060 steering arm uses the same size tie-rod ends as the smaller units (B110 and B210).
Knuckle Arm
B120 early +H1000/H1025 rod assy
H1000/H5000

B120 7510- +H1025 rod assy
H7400 -8507
H7440 8508-
   

B210 early +H5025
H5000
H7400 late van

B210 late +H5025 rod assy
H7400

PB210/USA B210 +H5800 rod assy
U0101

B310 +W5025 rod assy
H7400 regular cars
   
W5000/W5060 power cars

B310 Steering Knuckle Arms

B310


Part Numbers
steering arm
40052 = Knuckle Arm RH
40053 = Knuckle Arm LH
Knuckle Arm RH
B10: 40052-18000 (different from newer models)
B110: 40052-H1000 <- 40052-H5000
PB110: 40052-H2501
510: 40052-H2501 from 1972 510, replaced 40052-H2500 replaced 40052-A8600
B120: 40052-H5000 to 1974, 40052-H7400 (75-8504), 40052-H7440 (8504-)
B210: 40052-H5000 (74-75 A12)
B210: 40052-H7400 (1976-up A engine, except USA)
B210: 40052-U0101 (USA, also PB, also L16)
B310: 40052-W5000 (All US, all A15, most A14)
B310: 40052-H7200 (A12, A13, and budget A14 models)
B310: 40052-W5060 (big engines, 8001-up)
Spacers
When Lowering the front suspension, if going ultra-low, strut spacers (roll center adapters) are used. They are intended to correct the lower arm angle when the vehicle height is dropped, to minimize bump steer.

ロールセンターアダプタ