Nissan Model Names
Wondering what a Navara or Frontier is? Here is just enough information to make you knowledgeble in the Datsun community. For more details, see Wikipedia's Nissan model list.
NOTE: Years listed are not model year, but manufacturing/sales years for agregate countries.
Overview
Model Sizes
* SUPERMINI (class A minicompact) 
  #March Family 1982-

* SUB-COMPACT (Class B)
  #Sunny Family RWD 1966-
  #Cherry Family FWD 1970-1977
  #Pulsar Family FWD 1977-

* COMPACT (Class C)
  #Bluebird Family
  #Violet Family

* FULL-SIZE (E-class)
  #Skyline Family luxury
  Gloria Family (Prince) non-luxury
  #Cedric Family (Nissan) luxury

* LONG-WHEELBASE LUXURY (F-class)
  President/Fuga

* SPORTS CAR
  #Fairlady Family

* PERSONAL LUXURY COUPE
  #Silvia Family 1966-

* LIGHT TRUCK (lorry)
  #Datsun Truck

* MEDIUM TRUCK
  Prince Homer truck/Homy van
  Prince Clipper

* HEAVY-DUTY TRUCK
  Nissan Caball
  Nissan Atlas

* MINIVAN
  #Vanette Family Sunny Cab, Cherry Cab, Largo
  El Gran
  Homer

Datsun Homer T641 (1968-1971)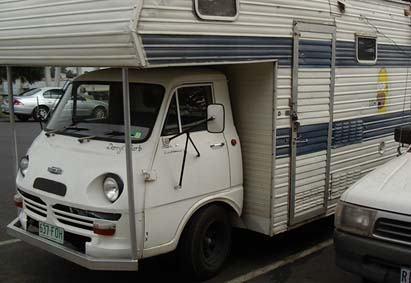 Album click to view
Nissan and Datsun brand names
Datsuns have always been manufactured by Nissan with love since 1932 (see History), and in many years were the top selling vehicles in Japan. Nissan-branded cars started with the larger models (and especially luxury cars) like the 1936 Nissan 70, the large trucks, and later the 1960 Nissan Cedric, while everything derived from the original Datsun "light car" (including the light trucks) were marketed and sold as Datsuns within Japan. However, in spite of this success the corporation decided to retire the Datsun brand name circa 1982. Datsun models were generally badged as both "Nissan" and "Datsun" for 1983 (earlier in some countries) and "Nissan" only by 1984. The Datsun name continues to be used for the Datsun Truck in the Japan domestic market.
1931 - Datson (see main article: History)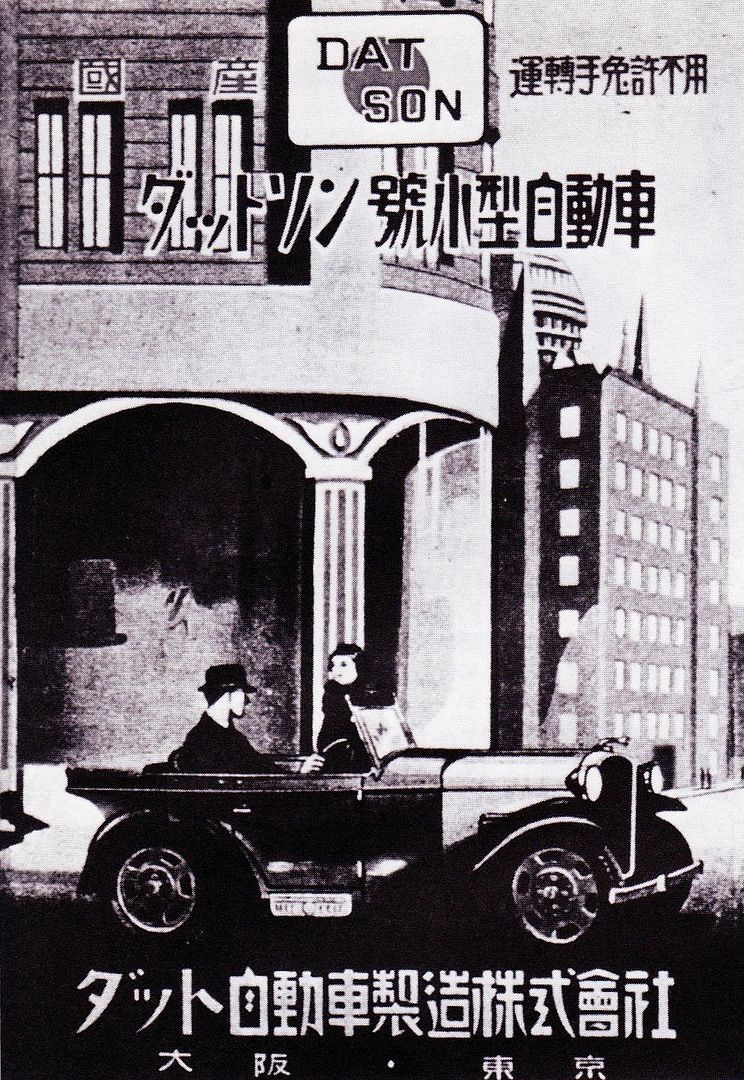 JDM Datsun 1200 ID plate

Album click to view
In Japan during the 1970s there were separate dealer organizations:
Datsun Bluebird Shop dealers, after the ultra-successful Bluebird family from which the original Datsun line grew, by the 1970s had access to a full line including not just the compact Bluebirds, but also the sub-compact Sunny family, the small trucks and other models.
Sunny Shop (サティオ店, Satio Shop)

See Main Article: Sunny Shop
Nissan's Cherry Shop (日産チェリー店) was created for 1970 out of the Cony sales organization. Cony was not a Nissan product, but was a jeep-like van from Aichi Machine, a supplier to Nissan and others. Cony merged into Nissan in 1965. Aichi manufactured the A-series engine and produced the B20 ute. As Cony product was ending in 1970, the dealerships were converted to Cherry Shops for 1970. Later they added other "companion" models such as Violet, Cherry Cab and Cherry Vanette, the latter two being badge-engineered versions of Sunny Cab and Sunny Vanette. During the 1980s most Cherry Shops merged with Prince dealerships.
Instead of the Datsun Sunny, they had the Nissan Cherry. In the 1970s badge engineering came into full swing so they offered the Nissan Violet 710 instead of the Datsun Bluebird 610, which were nearly the same but differed by trim levels, engineering features and engine ranges (the top models of 610 and 710 had nearly identical features including IRS). In 1977 the Datsun dealers got the B310 Datsun Sunny, while Nissan offered the similar A10 Nissan Violet. These cars were based on the same platform and suspension but offered different engines are different trim (for example, four headlights for the Violet, but only two for the Sunny). In another example, the Vanette was produced in three versions: Datsun Vanette for the Bluebird dealers, Sunny Vanette for Sunny dealers and Cherry Vanette for Cherry dealers.
Later these sales organizations went through various mergers and in 1999 became Nissan Blue Stage and Nissan Red Stage. However a few Cherry Shops remain, for example Nissan Cherry Sales Iwate.
Some of the model names were brands in themselves. Sunny was very strong as "inventing" the "my car" phenomenom (own your own car) and was sometimes advertised in Japan without the Datsun name appearing.
JDM Datsun Truck

210 vs 310
210 and 310 model names were re-used by Datsun leading to much confusion.
Datsun 210 of 1957
Datsun 210 of 1978: Nissan Motor Company in North America used "210" as the local market name for the Datsun B310 Sunny.
1958 Datsun 210

WIKI go to Wikipedia
Datsun 310 of 1959
Datsun 310 of 1978: NMC-USA used "310" as the local market name for the Datsun N10 Pulsar
Since 1979 model series B310 was a RWD car and the 1979 "310" was a FWD car they are very different. The similar names have lead to much confusion.
Datsun 310 (model series N10, FWD)
Datsun B310 model series, RWD
Model Series B310 1977-1982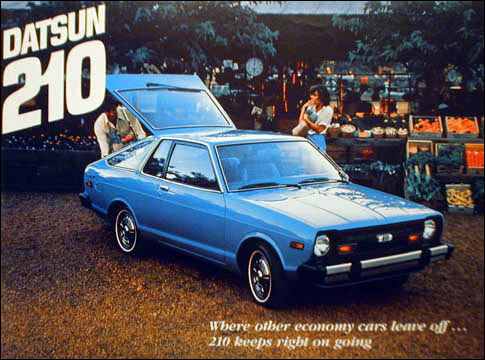 Album click to view
Model Series N10 1977-1981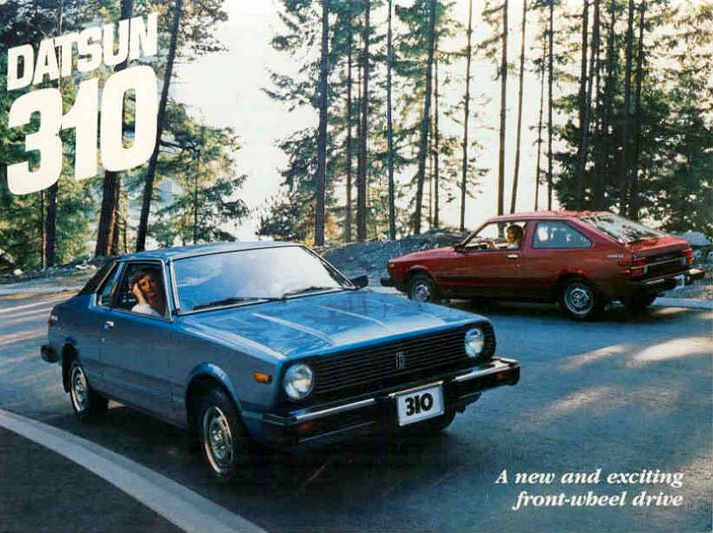 Album click to view
Sunny Family
Sunny is Nissan's B-class (subcompact) car family, and includes the legendary Datsun 1200.
FWD Sunny
FWD Sunny models came after the B310 Sunny, and were marketed/badges as Nissan Sentraᵂ in North America, South Africa and other countries, but the Sunny name continued to be used in Japan. It was Nissan second FWD sub-compact model line as the #Pulsar already existed. The brands "Sunny" and "Pulsar" would be applied to either model series in various years and markets (brand marketing).
B11
B11 Sunny 1983-1986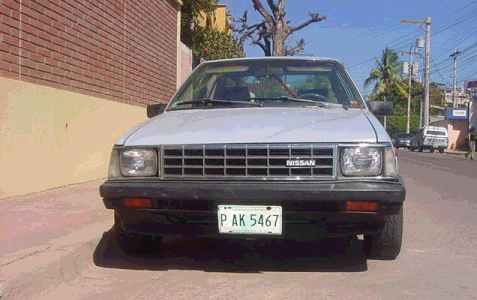 Album click to view
Album click to view
B12
B12 Sentra

Album click to view
Album click to view
B13
B13 Sentra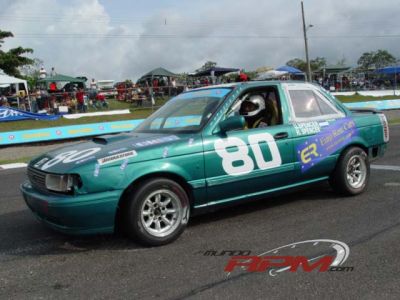 Album click to view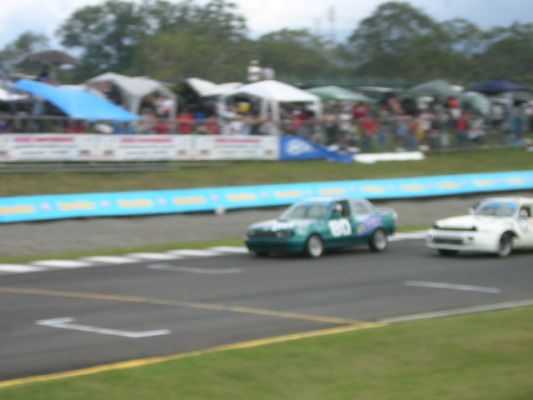 Album click to view
Album click to view
B14
1995-1999 B14 Sentra/200SX/Lucino with SR20DE or GA16DE engine

WIKI go to Wikipedia
B14 Coupe was marketed as "Lucino" in Japan and "200SX" in other countries.
B14 200SX coupe with SR20DET power

Album click to view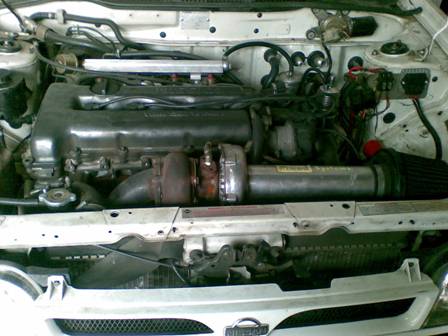 Album click to view
Sentra 160STi South Africa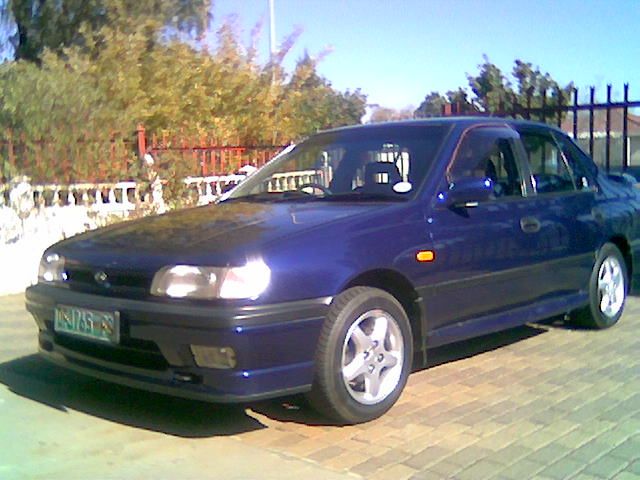 Album click to view
Sentra 200STi South Africa

Album click to view
Album click to view
Cherry Family
チェリー (cherry) was Nissan's first FF (Front-drive, Front Engine) model line. Like the Sunny, it is also a B-class (subcompact) car. The Cherry line was succeeded by the #Pulsar line. Some Pulsars were badged "Cherry" in certain markets.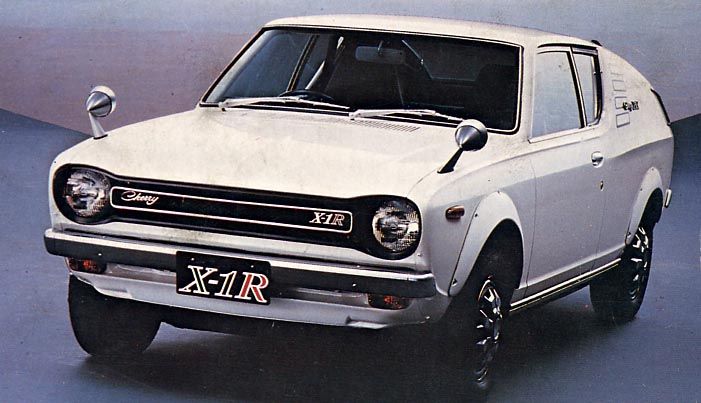 1970-1974 E10 Nissan Cherry/Datsun Cherry/Cherry FF/100A,120A
1974-1978 F10 Nissan Cherry/Datsun Cherry/F10/100A F-II,120A F-II
F10 Cherry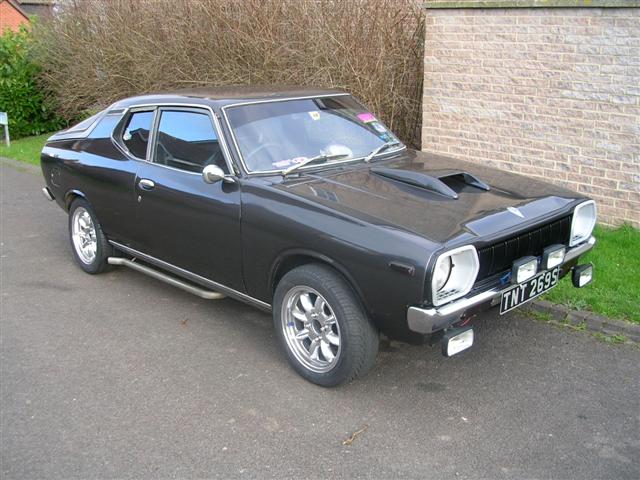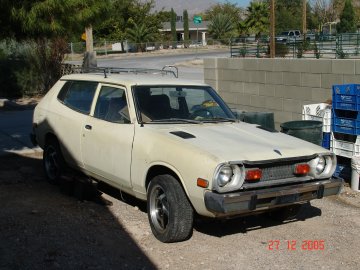 Pulsar Family
Pulsar was Nissan's replacement for the Cherry family (FWD B-class).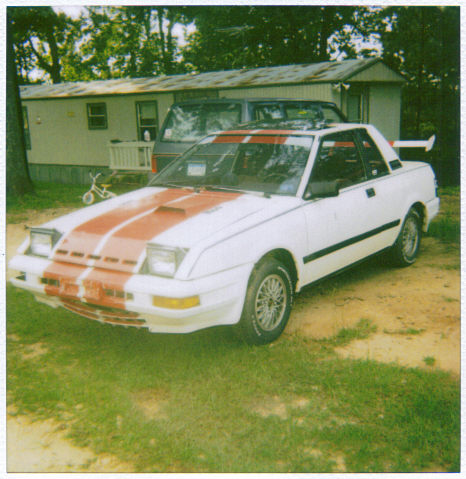 Laurel Family
The Nissan Laurel is a RWD car marketed by Nissan from 1969 to 2002. The Laurel offered the luxury of the Nissan Cedric in a smaller size.
C30  1968-1972 G18/G20T, IRS
C130 1972-1977 G18/G20/G20T/L18 4-cyl
               L20AT/L26/L28 inline-6
               IRS only on Coupes
C230 1977-1980
C31  1980-1984
C32  1984-1989
C33  1989-1993
C34  1993-1997
C35  1997-2002

C30 sedan with Datsun 510-like styling | 2000GX Coupe

WIKI go to Wikipedia
WIKI go to Wikipedia
C130 with Butaketsu ("pig's butt") styling

WIKI go to Wikipedia
WIKI go to Wikipedia
Cedric Family
Cedric was Nissan's full-size luxury car (Gloria was the non-luxury version). Datsun 2000/2300/2400 and 200C, 220C, 240C, 260C, 280C, 300C were export names for the Nissan Cedric.
 31 1962-1965
130 1965-1971
230 1971-1975
330 1975-1979
430 1979-1983
Y30 1983-1987

Nissan 130 - 1968 2300 discussion: 2300 Supersix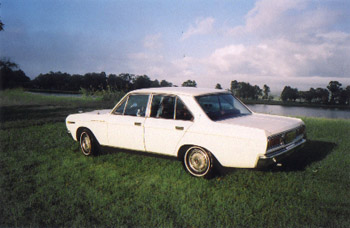 Album click to view
Album click to view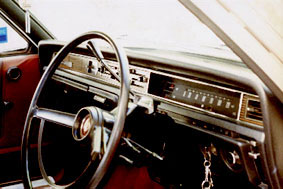 Album click to view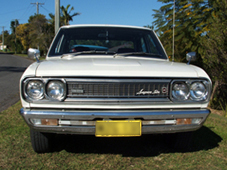 Album click to view
Album click to view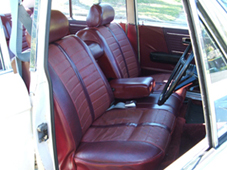 Album click to view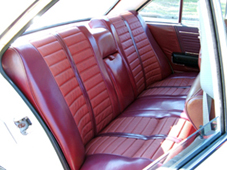 Album click to view
Album click to view
Cedric towing a car

Album click to view

Album click to view
March Family
March (マーチ) family is a late-model (from 1982) A-class (supermini) model line, sold as "Micra" in most export markets. For detailed information, see Nissan Marchᵂ.
* 1982-1992 K10 March/Micra
* 1992-1997 K11 March/Micra 
* 1997-2002 K11C March/Micra 
* 2002-2007 K12 March/Micra (1982-current)
* 2007–2010 K12C Micra
* 2010- K13 Micra

WIKI go to Wikipedia
WIKI go to Wikipedia
WIKI go to Wikipedia
Bluebird Family
Bluebird is Nissan's C-class (compact) model family, which grew out of the original Datson (DAT Light Car) model, the Datson Type 10 of 1931. For additional details, see History. The first Datsun to be called Bluebird was perhaps the 210 of 1957. Bluebird family includes the 210/310/410/510/610/810 model series (but not the 710 which was #Violet).
See main article: Bluebird



Violet Family
Violet was the C-class (compact) model family for the Nissan sales organization (later named Nissan Blue). It was a badge-engineered version of the Bluebird 610, with differed body and interior but same running gear & chassis/suspension. 710 did not use IRS in most of its models, making it handy for export markets to slot below the cost of the 610 with IRS. Bluebird moved upscale into the luxury sedan sedan market with availability of long-wheelbase six-cylinder 610 and 810 models, while Violet A10 continued as the lesser compact sedan.
710
1973-1977 710 Nissan Violet, Datsun 710/140J/160J/Sedan/Guayin, Yue Loong Violet
* L-engine powered
* Same size as Datsun 610 Bluebird
* SSS models came with IRS

See main article: 710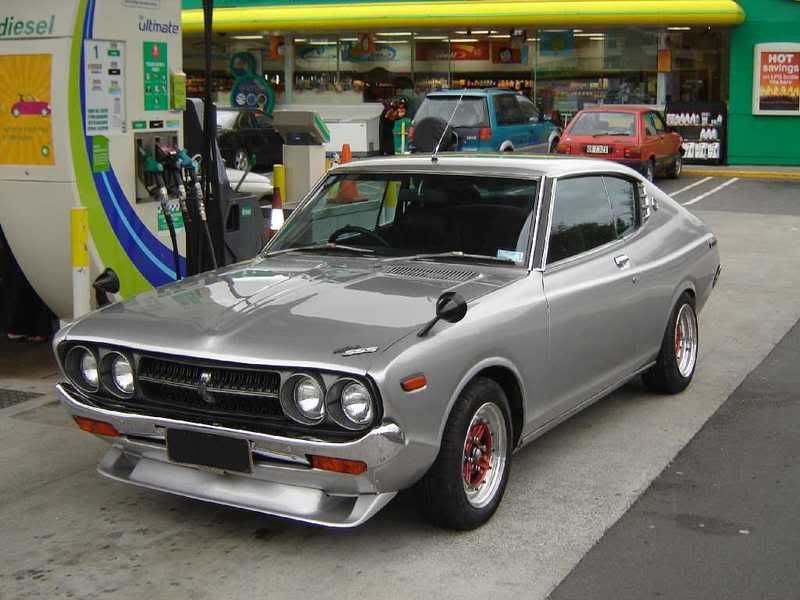 1977-1981
A10 Nissan Violet, Datsun 510/Auster/Stanza, Yue Loong 709/711/712
See main article: A10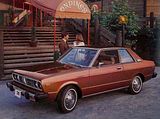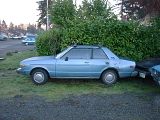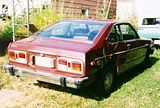 FWD models
1981-1986 T11 Datsun/Nissan Prairie/Stanza/Auster/Liberto Violet/Liberta Villa/Yulon Feeling

WIKI go to Wikipedia
1986-2000 T12 Nissan Auster/Violet/Bluebird

WIKI go to Wikipedia
Skyline Family
* Prince Skyline/Nissan Skyline/Datsun 160K,180K,240K
* Prince Skyway/Nissan Skyway (wagon versions)

See main article: Skyline

Fairlady Family
This is Nissan's sports car family, sold as Datsuns in the Japan market until the 1980s, and then badged Nissan.
See main article: Fairlady

Fairlady Roadsters (Datsun Sports) 1200/1500/1600/2000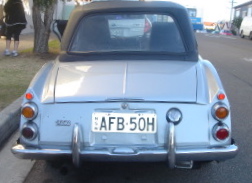 Fairlady Coupes (Z-cars)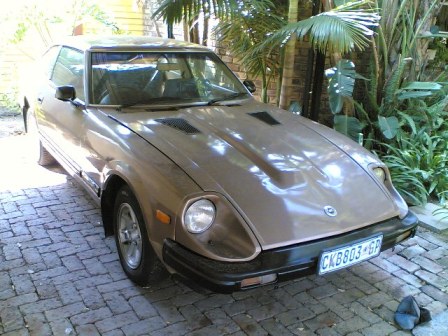 Silvia Family
The Silvia family is Nissan's RWD personal luxury coupe series.
See main article: Silvia

1965-1968 CSP311 Nissan Silvia
1977-1979 S10 Nissan Silvia/Datsun 200SX
1979-1982 S110 Nissan Silvia/Gazelle, Datsun 200SX/180SX/240RS
1983-1988 S12 Nissan Silvia/Gazelle/200SX
1989-1994 S13 Nissan Silvia/Gazelle/200SX/180SX/240SX
1995-1999 S14 Silvia/180SX/240SX
1999-2002 S15 Silvia
S13 has a special relationship to the Datsun 1200. It is the most common donor car for the turbocharged CA18DET engine, and for large S13 Brakes


Datsun Truck
Datsun Light Truck in Japan is known as "Truck", in the USA known as "pickup" and "half-ton ute" in other countries. Marketing names included "Navara", "Harbody" and "'Lil Hustler".
See Main Article: Datsun truck

Patrol
Nissan Shatai produced the Nissan Patrol jeep-type vehicle, the competitor to the Land Cruiser. They used straight-six (I6/L6) engines until in 2010 they switched to V8 engines.
Nissan Patrol
* 1950-1960 Nissan Carrier 4W70
* 1951-1960 4W60 Patrol jeep/pickup
* 1959-1980 60 jeep/wagon/pickup
* 1980-1989 160 (Datsun Patrol/MQ/MK, Nissan Safari)
* 1986-2002 260 EUR (square headlight)
  * four/six/V8 engines
* 1987-1997 Y60
* 1997-2010 Y61
* 2010-     Y62 Nissan Patrol/Infiniti QX56/QX80
  * wagon only, V8 only
  * Armada 2106 uses different glass/exterior panels

4W60

WIKI go to Wikipedia
Nissan Patrol 60 model series

WIKI go to Wikipedia
Datsun Patrol MQ (160 model series)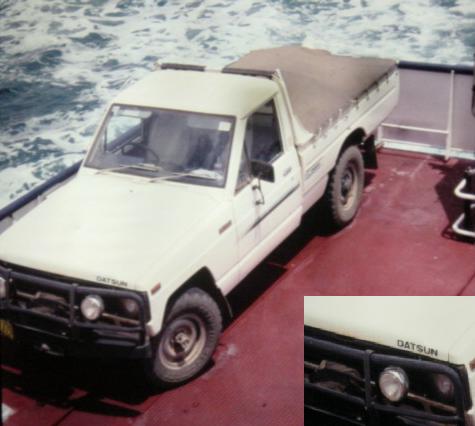 Album click to view
Nissan Patrol (Y60 model series, Safari Granroad Highroof Van)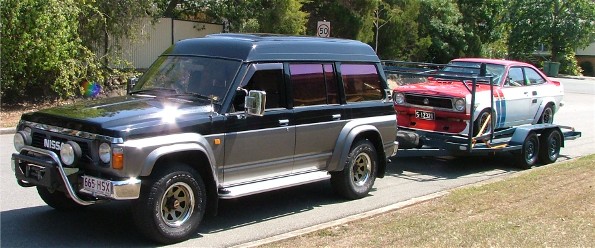 Album click to view
Nissan Safari (Y61 model series)

WIKI go to Wikipedia
Infiniti QX80 (Y62 model series)

WIKI go to Wikipedia
Truck Wagon
Pathfinder/Terrano/Xterra was Nissan's name for wagons based on the light truck. For example the WD21 was the wagon version of the D21 Datsun/Navara/Hard Body.
* WD21 1985-1995
* WD22 Xterra 1999-, based on D22 Truck
* R51 2004-2012, based on D40/Frontier truck

The Pathfinder name was transferred in 1996 to the R50 (Terrano/QX4), a non-truck-based model which used unibody suspension. It is slightly larger than the D22/WD22 truck & wagon. The R51 returned to the truck base with full-frame construction.
Other Trucks
* 260/Patrol/Patrol Pickup
* Y61/Safari/Patrol GR/Patrol
*  R50/Terrano/Pathfinder 1996-2005
* JR50/Terrano Regulus/Infiniti QX4
* R20/Terrano/Terrano II
* 140 Junior
* P23 Atlas/Cabstar
* TLO Cabstar-E
* TKO Atleon
* T30/X-Trail (SUV)

A60 2004-2015 Nissan Titan (North America full-size pickup) with 5.6 liter V8

Album click to view
WIKI go to Wikipedia
Others
For details see wikipedia:Nissan.
F50 Nissan Cima/Infiniti Q45 fullsize luxury sedan
A33 Nissan Cefiro/Infiniti I35/Maxima QX/Maxima FWD midsize luxury sedan
P11 Infiniti G20/Nissan Primera RWD midsize luxury sedan
WP11 Nissan Primera Wagon
G10 Nissan Bluebird Sylphy (sometimes marketed as Nissan Sunny)
Y10 Nissan Wingroad/AD Wagon/Tsubame
Y11 Nissan Wingroad/Pulsar Wagon
M12 Nissan Liberty/Prairie
V10 Nissan Tino/Almera Tino
Minivans
Sunny Cab & Cherry Cab (different names used for same vehicles) was Nissan's first modern mini-van models. Cabover truck versions (with an integral cargo bed) were also produced.
See main article: Vanette
* 1970-1978 C20 Datsun Sunny Cab, Nissan Cherry Cab. 
  These are A-series engine powered
* 1979-1986 Sunny Vanette/Vanette/Largo
* 1985-1994 C22 Vanette/Nissan Van
* C24 Serena

Other minivans:
V41 Nissan Quest minivan
E25 Nissan Caravan/Urvan
E50/Elgrand
W41 Civilian
Stanza
Stanza is a model name, at various times and places applied to #Violet Family or #Bluebird Family models.
Letter Series Names
Datsun export model names often featured a letter combined with the size of the engine, like 120Y for 1.2 liter Y-car.
A Models
Datsun 100A & 120A were export names for the Nissan #Cherry Family.
B Models
Datsun 180B & 200B were export names for the Datsun #Bluebird Family.
C Models
Datsun 200C, 220C, 240C, 260C, 280C, 300C were export names for the Nissan #Cedric Family.
J Models
Datsun 140J & 160J were export names for the Nissan #Violet Family.
K Models
Datsun 160K/180K/240K were export names for the Nissan #Skyline Family.
Y Models
120Y, 130Y, 140Y and 150Y -- "Y" was a #Sunny Family market name.
"120Y" is simply the marketing name for a B210 or B310 with A12 engine -- see 120Y.
Z Models
240Z, 260Z, 280Z and 280ZX models were export names for the Datsun #Fairlady coupes. 300ZX and 350Z were export names for the Nissan Fairlady coupes.
¤