The Fuji R160 differential was used in the Datsun 510 and most Subarus. It is an Independent Rear Suspension (IRS) setup, and strong enough to handle output from 2 liter engines, even turbocharged ones. Early Subarus and 510 R160s are bolt-in replacements for each other. The ready availability of this system in wrecking yards (Subaru) and the Datsun-ness of it all makes it an intriguing swap possibility. The 510 rear assembly track width only 1-inch wider than a Datsun 1200 rear axle assembly, so perhaps it is possible without narrowing.

Fuji Heavy Industries, owner of Subaru, makes these differentials. Nissan and Fuji have been partners over the years, even to the extent that many Datsun 1200s were made in the Fuji factory (per Cusumano's book).
Measurements
Track Width:
Datsun 1200 (B110): 49.0 inches (1245 mm)
Datsun 1600 (P510): 50 in
Datsun 240Z (S30): 53 in (1346 mm)
NOTE: track width is measured from the 
center of the tires 
 
It can only equal an axle "hub-to-hub" 
measurement if the wheels have zero Offset.

Drum-to-drum Width:
Datsun 1200 (B110): 51.36 (1305 mm)
Datsun 1600 (P510):
Datsun 240Z (S30):

Can the 1-inch wider 510 difference be mitigated by using highly-positive offset (FWD-style) wheels on the back? 5" wheels with 1" (25mm) offset fit fine under the stock fenders. 5" wheels with 2.5" offset can be had, so theoretically you might be able to fit -- with the right wheels -- a 2" wider axle under the stock 1200 fenders.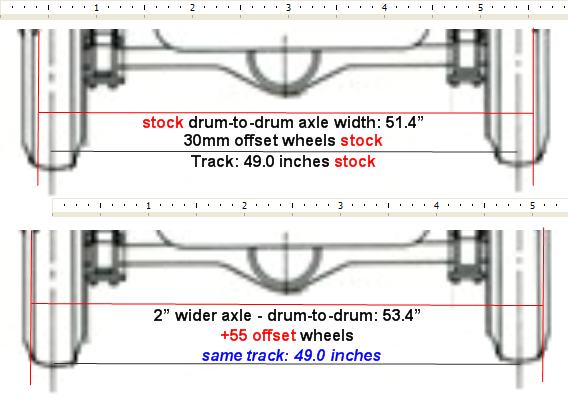 rear track: 49.0 inches (1245 mm)
wheel offset: 30 mm positive offset (1.18 inches) - mounting face is 30mm outboard of the wheel's center line
tire width: about 4 inches
Thus, rear overall width (outside of nominal tread width) is about 53 inches (49" track + 4" tire width).
Actual measurement on my B110 with stock wheels and tire size is 55" (~1397 mm). The difference from the calculated amount above is that the tire sidewalls stick out further than the tire tread.

Drum-to-drum measurement (outside of drum) of the stock B110 H145 assembly can be calculated at 51.36" (49" track + 2 x 1.18" offset) or 1305 mm
Ratios
Datsun 510 (IRS models, i.e. Sedan and Coupe)
3.70 - 1968 P510 (1600)
3.90 - 1969-1973 P510
4.38 - L13, L14 models

Subaru BRAT, Loyale, GL, RX, XT, etc (most pre-1990 models)
3.70
3.70 with clutch-pack LSD (non-USA models)
3.90
4.11
4.44

Starting in 2000 a wholesale switch was made to Viscous-Coupling LSDs. Unforuntately the newer units have different stub axles so they are no longer a straight bolt-in for the Datsun 510 diff.

LSD availability: See Hafer's article Installing Subaru Limited-Slip Differentials
Clutch-pack LSD is a performance advantage over Viscous-Coupling LSDs
Viscous-Coupling LSDs are good for all-wheel drive, but not as good as clutch-pack for RWD applications.