Spacers are used when lowering the front of the car. They sit between the steering arm and strut to preserve the original roll steer angle. By correcting the angle of the lower control arm they will restore the original suspension geometry. Sometimes called Strut Spacers or Bump Steer Adjusters, but the purpose is not actually to do either.
Overview
When the car is lowered significantly over standard, the suspension arms are closer to parallel with the ground and the tie rods are inclined up instead of down. Additionally, the steering linkage is no longer optimal.
click

Roll Centre Adjusters space the steering arms and LCA to their original position.
click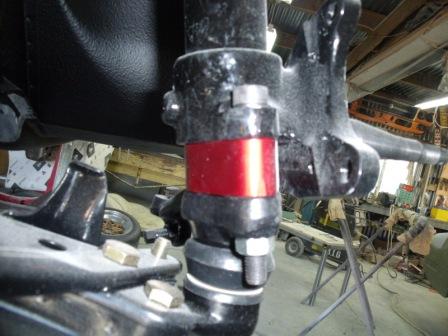 Sizes
Datsun 1200 and A12-powered B210 uses 75mm spacing for the bolts that attach the Steering Arm to the strut. Other Datsuns use 80mm spacing.

These offset kind will also widen your track by moving the strut outward (you could alternatively reverse them to move the strut inward):

Discussions