Rolling the fenders is a way to flatten the sheet metal lip inside the fenders (guards). This will allow about one cm more space for your tires. If done right, you won't see any difference before and after, but the sheet metal lip is rolled back. You can a use baseball bat or a 2" pipe, just do it really slowly a little at a time. Be careful and patient so as not to chip the paint. With lowered cars or larger than stock tires, you may to jack the car up a bit to get a fender gap big enough to get a bat in between the tire and fender.
Overview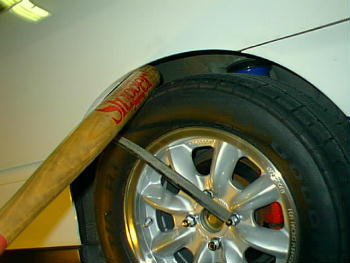 Tutorial

When rolling the idea is to flatten the lip a tiny bit at a time. Roll the bat back and forth while applying light pressure. Another method is to hold the bat while someone else pushes the car back and forth. You only need to roll the upper portion of the fender lip.
Alternatively, you can lightly beat the lip flat using hammers. This is more likely to chip the paint or dent the fender. This is not the same as 'fender rolling' but achieves the same result.
You can also do more radical clearancing using hammers. See Fender pulling.
¤