Kev Rowley's $4000 CA18DET-powered Datsun 1200 conversion. Government approved.
Zoom magazine, issue 30 pages 38-43
Zoom 30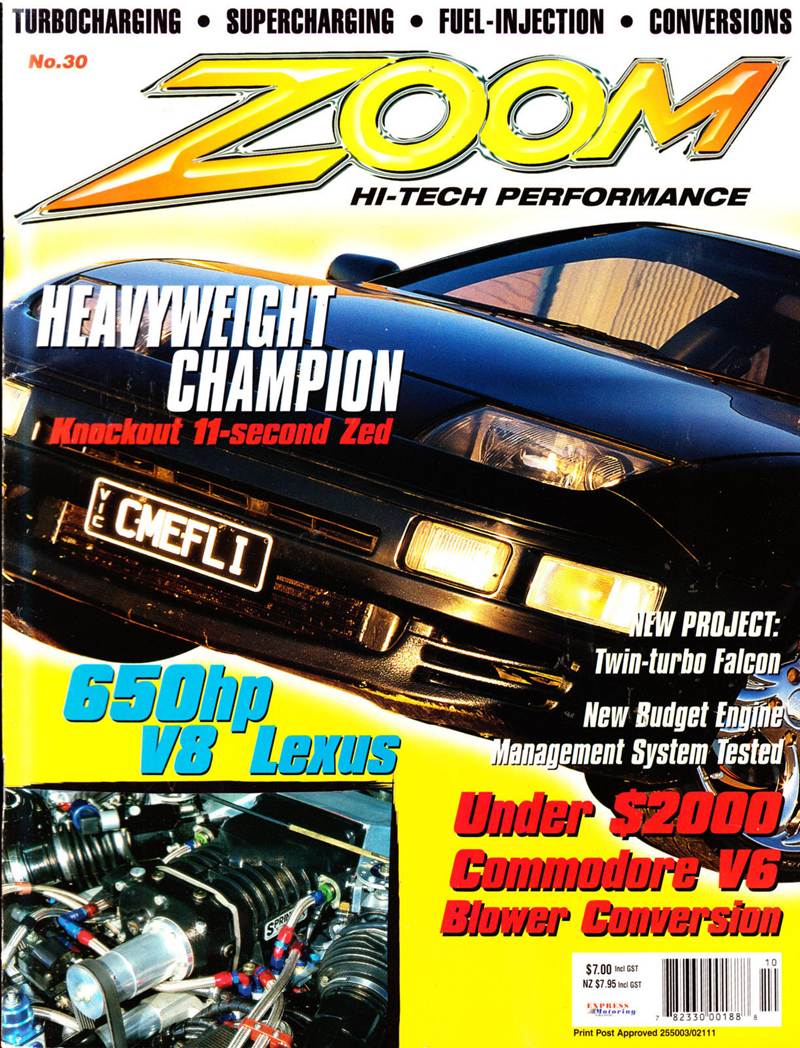 Album click to view
Album click to view
Album click to view
Album click to view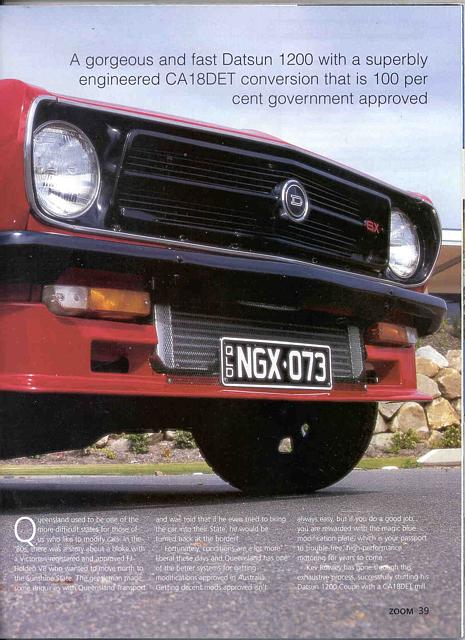 With a virtually standard engine, Kev had the car running mid-13s for only $4000. This really enlightend us to the potential of a motor that the FJ20 and SR20 oftern overshadow.

Zoom [newer issue]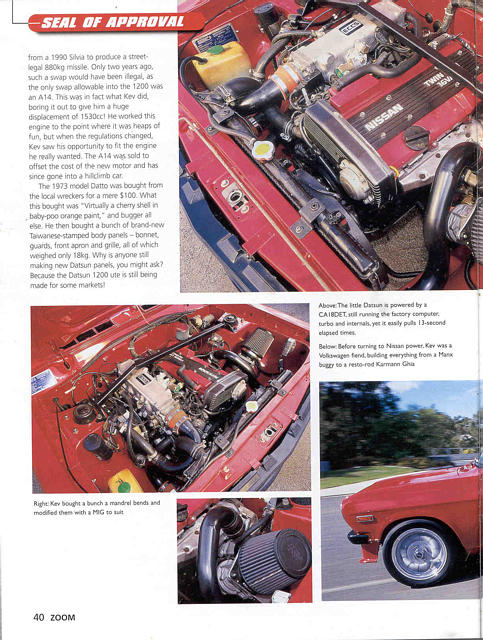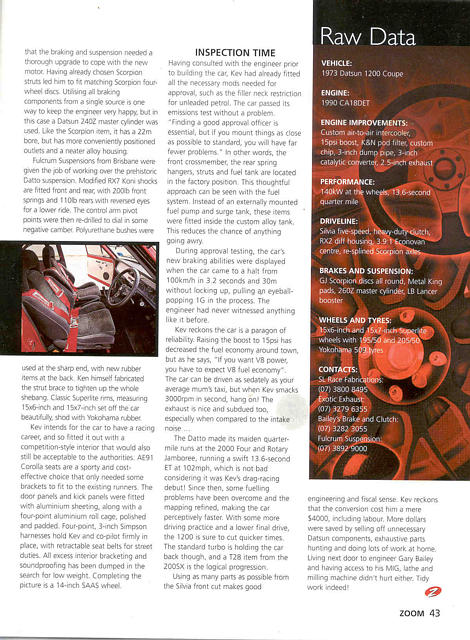 Page 38
Page 39
A gorgeous and fast Datsun 1200 with a superbly engineered CA18DET conversion that is 100 per
cent government approved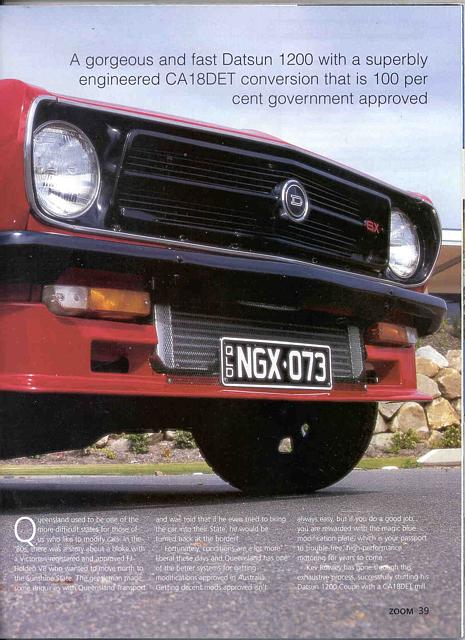 Q
ueensland used to be one of the more difficult states for those of use who like to modify cars. In the 80s, there was a story about a bloke with a Victorian registred and approved FJ Holden V8 who wanted to move north to the Sunshine State. The gentleman made some enquiries with Queensland Transport and was told that if he tried to bring the car into their State, he would be turned back at the border!
Fortunately, corrections are a lot more liberal these days, and Queensland has one of the better systems for getting modifications approved in Australia. Getting decent mods approved isn't always easy, but if you do a good job you are rewarded with the magic blue modification plate, which is your passport to trouble-free high-performance motoring for years to come.
Kev Rowley has gone through the exhaustive process, successfully stuffing his Datsun 1200 Coupe with a CA18DET mill
Page 40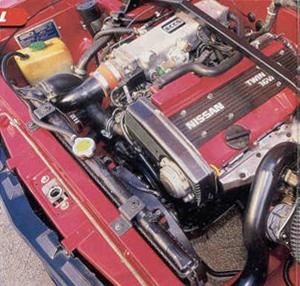 from a 1990 Silvia to produce a street-legal 880kg missile. Only two years ago, such a swap would have been illegal, as the only swap allowed into the 1200 was an A14. This was in fact what Kev did, boring it out to give him a huge displacement of 1530cc! He worked this engine to the point where it was heaps of fun, but when the regulations changed, Kev saw his opportunity to fit the engine he really wanted. The A14 was sold to offset the cost of the new motor and has since gone into a hillclimb car.
The 1973 model Datto was bought from the local wreckers for a mere $100. What this bought was "virtually a cherry shell in baby-poo orange paint," and bugger all else. He then bought a bunch of brand-new Taiwanese-stamped body panels -- bonnet, guards, front apron and grille, all of which weighed only 18kg. Why is anyone still making new Datsun panels, you might ask? Because the Datun 1200 ute is still being made for some markets!
Page 41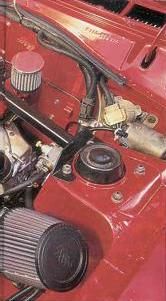 Neil Broad is the man responsible for making this Datto look so slick. You could say Neil is a Ford Zepher fanatic -- he has 22 of them! Kev did the prep work and then worked on other projects in Neil's yard while the Mazda Astina Red was laid on. The panels remain factory spec with the exception of the front spoiler, which was obtained after much searching from Spon Fibreglass in Canberra.
A Silvia front cut was obtained from Top Gun imports for a mere $1800. It had been in a serious front-end slam, but Top Gun offered to replace any non-usable parts for nix. The CA18DET might be seen as the poor cousin of the SR20DET, but the 'small block' has many fans in Nissan/Datsun circles. It makes good low-end power fits nicely into smaller engine bays and has heaps of potential. What's more, they are a lot cheaper to buy!
CONVERTING HEATHENS
The actual conversion process was not too taxing. The car had been previously fitted with a 1200 automatic transmission tunnel necessary to suite the rare Jap-spec SSS Stanza five-speed that had backed up the A14. This box was dumped in favour of an R30 Skyline five-speed, the advantage being that the shifter aligns with the existing opening in the floor pan. However, the Skyline box sprung a leak and was replaced with a Silvia five-speed, which now appears to be the better choice. While a new hole had to be cut for the shifter, the Silvia box has better-spaced ratios, improved teeth angles and cast-iron selectors. After shortening the tailshaft and relocating the handbrake, it slotted in fine. The clutch and pressure plate were modified by Jim Berry with double clamping pressure.
Instead of fabricating new engine mounts, the CA18 mounts were reatained as they are quite complex little items. Instead, the existing uprights were removed from the crossmember and new uprights fabricated to suit the CA18 mounts. The sump that came with the car had been smashed by the stablizer bar, and was replaced by Top Gun, as was the radiator. Utilising the original Silvia upper radiator mounts contributes to the factory appearance of the swap and because the outlets remain in the standard factory position, all Kev had to do was find some suitable hoses. Armed with a coat hanger wire that he had formed into the required shape, Kev headed down to his local parts shop in Ipswich and, after much searching, found that a pairing of early Bluebird and Mercedes 300SL hoses worked a treat. A Davies Craig V8 thermofan keeps the beast cool.
Kev approached SL Race Fabrications to build him a custom intercooler, with the instructions: "Make the biggest thing that will fit". They came up with a 660x3000x75mm tube and fin item. Basically it's huge! Kev plumbed up the cooler using 50mm mandrel-bent tube and joined with the trusty MIG. The battery meanwhile, was relocated to the rear of the car to tidy up the engine bay and improve weight distribution.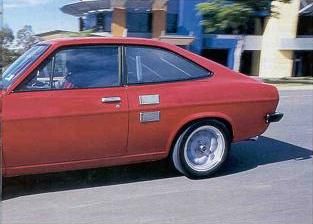 WIRE UP RIGHT
If the installation was a snack, the wiring was a long, hard slog -- three weeks of late night shortening and grafting the Silvia wiring onto the 1200 harness. Kev reckons he threw away 7kg of redundant wires and relays! The task was made somewhat easier because Nissan had kept its colour coding consistent for more than 20 years. Kev also had access to a Silvia circuit diagram which he manipulated with a CAD program to remove all unnecessary generic wiring as a guide.
The ECU was mounted in the passenger footwell and the Silvia instrument pod integrated into the 1200
Page 42
Not only does it have the standard internals and cam, but retains the factory turbo and computer -- without a blow-off valve in sight!
Kev has achieved Nissan GTR-like quarter-mile times in the 1200 by simply removing excess weight, winding up the boost, fitting a good exhaust and modifying the existing ECU. With the current set-tup, the turbo will make no more than 15psi and so he has disconnected the bleed valve and bypassed the wastegate totally. Exotic Exhaust made up a 3-inch dump pipe from the turbo, which flows to a 3-inch catalytic converter, ending in a 2.5-inch pipe to the muffler. The car retains its factory engine management, but modifying it was not a challenge for

Kev, who works in telecommunications. He was able to borrow a copy of the factory ignition and fuel maps, adjust them on a computer and burn a new chip to suit. Significant mods include deactivating the speed limiter, raising the rev limit and adjusting the fuel map so it now runs richer between 2500rp and 5000rpm. On a Dyno Dynamics chassis dyno, the little red rocket makes a very handy 140kW at only 6200rpm.
'If you want V8 power, you have to expect V8 fuel economy'
dash, with additional oil and boost pressure gauges. All the hard work was well worth it though. "The car started first turn of the key and all the electrics worked perfectly -- much to my relief," said Kev.
The results that are available these days with forced induction are amazing. Cars with standard internals and cams are often repoted making good power and having great success on the track. This car takes the bolt-on philosophy even further.
SUPER STOPPERS
With this much grunt, the Datsun rear end would have snapped like a twig and so was replaced by an interesting mix of componenets. An RX2 housing is filled with a Ford Econovan 3.9:1 centre, which is tough and offers lots of ratio choices. Axles are Mitsubishi Scorpion, suitably re-splined.
Kev is no greenhorn when it comes to making cars go fast, and knew very well
Page 43
that the braking and suspension needed a thorough upgrade to cope with the new motor. Having already chosen Scorpion struts led him to fit matching Scorpion four-wheel discs. Utilising all braking components from a single source is one way to keep the engineer very happy, but in this case a Datsun 240Z master cylinder was used. Like the Scorpion item, it has a 22m bore, but has more conveniently positionoed outlets and a neater alloy housing.
Fulcrum Suspensions from Brisbane were given the job of working over the prehistoric Datto suspension. Modified RX7 Koni shocks are fitted front and rear, with 200lb front springs and 110lb rears with reversed eyes for a lower ride. The control arm pivot points were re-drilled to dial in some negative camber. Polyurethane bushes were

used at the sharp end, with new rubber items at the back. Kev himself fabricated the strut brace to tighten up the whole shebang. Classic Superlite rims, measuring 15x6-inch and 15x7-inch set off the car beautifully, shod with Yokohama rubber.
Kev intends for the car to have a racing career, and so fitted it out with a competition-style interior that would also be acceptible to the authorities, AE91 Corolla seats are a sporty and cost-effective choice that only needed some brackets to fit to the existing runners. The door panels and kick panels were fitted with aluminium sheeting, along with a four-point aluminium roll cage, polished and padded. Four-point, 3-inch Simpson harnesses hold Kev and co-pilot firmly in place, with retractable seat belts for street duties. All excess interior bracketing and soundproofing has been dumped in the search for low weight. Completing the picture is a 14-inch SAAS wheel.
INSPECTION TIME
Having consulted with the engineer prior to building the car, Kev had already fitted all the necessary mods needed for approval, such as the filler neck restriction for unleaded petrol. The car passed its emissions test without a problem. "Finding a good approval officer is essential, but if you mount things as close as possible to standard, you will have far fewer problems." In other words, the front crossmember, the rear springs hangers, struts and fuel tank are located in the factory positions. This thoughtful approach can be seen with the fuel system. Intead of an externally mounted fuel pump and surge tank, these items were fitted inside the custom alloy tank. This reduces the chance of anything going awry.
During approval testing, the car's new braking abilities were displayed when the car came to a halt from 100km/h in 3.2 seconds and 30m without locking up, pulling an eyeballing 1G in the process. The engineer had never witnessed anything like it before.
Kev reckons the car is a paragon of reliability. Raising the boost to 15psi has decreased the fuel economy around town, but as he says, "if you want V8 power, you have to expect V8 fuel economy." The car can be driven sedately as your average mum's taxi, but when Kev smacks 3000rpm in second, hang on! The exhaust is nice and subdued too, especially when compared to the intake noise...
The Datto made its maiden quarter-mile runs at the 2000 Four and Rotary Jamboree, running a swift 13.6-second ET at 102mph, which is not bad considering it was Kev's drag-racing debut! Since then, some fuelling problems have been overcome and the mapping refined, making the car perceptively faster. With some more driving practice, and a lower final drive, the 1200 is sure to cut quicker times. The standard turbo is holding the car back though, and a T28 item from the 200SX is the logical progression.

Using as many parts as possible from the Silva front cut makes good engineering and fiscal sense. Kev reckons that the conversion cost him a mere $4000, including labour. More dollars were saved by selling off unnecessary Datsun components, exhaustive parts hunting and doing lots of work at home. Living next door to engineer Gary Baley and having access to his MIG, lathe and milling maching didn't hurt either. Tidy work indeed!
Raw Data
ENGINE
1990 CA18DET
Custom air to air intercooler
15psi boost
K&N pod filter
custom chip
3-inch dump pipe
3-inch catalytic converter
2.5-inch exhaust

PERFORMANCE
140kw at the wheels
13.6-second quarter mile

DRIVELINE
Silvia five-speed
heavy duty clutch
RX2 diff housing, 3.9:1 Econovan center
re-spline Scorpion axles

BRAKES AND SUSPENSION
GJ Scorpion discs all round
Metal King pads
260Z master cylinder
LB Lancer booster

WHEELS AND TYRES
15x6-inch and 15x7-inch Superlite wheels
195/50 and 205/50 Yokohama 509 tyres

CONTACTS
SL Race Fabrications
(07) 3800 8495
Exotic Exhaust
(07) 3279 6355
Baley's Brake and Clutch
(07) 3282 3055
Fulcrum Suspension
(07) 3892 9000

wiki_columns
¤