The Timing Chain drives the Camshaft. The cam pulley is twice as big as the crank pulley, so the cam runs at exactly 1/2 the speed of the crankshaft.
Also see: 
* Timing Cover
* Crankshaft Pulley

Overview
We have seen a couple of single link timing chains on A12, which is the original A10 single row chain. Insist on the factory specified double-chain, like Nissan did for later A10s.
super-strong Double-Roller chain is standard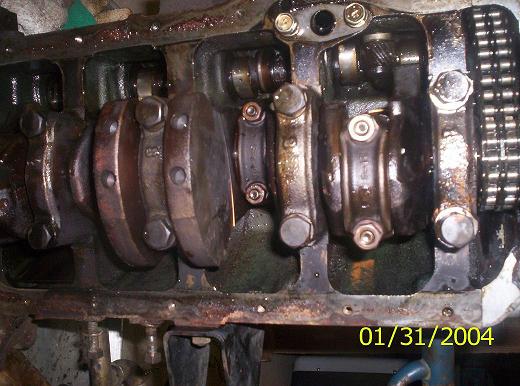 Album click to view
NOT GOOD - early A10 single-row chain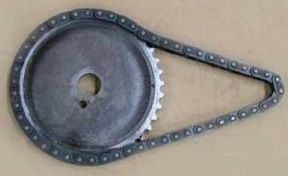 Album click to view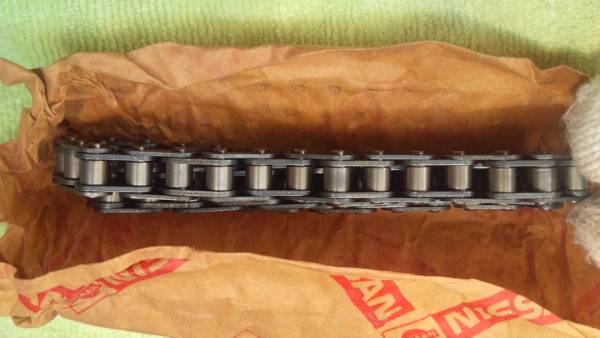 Album click to view
NOTE: A rattle can be the trait of a stretched timing chain. Pinging/pinking has also often been mistaken for timing chain rattle
A-series engine has a short timing chain -- and with an automatic adjuster -- it rarely stretches or goes bad.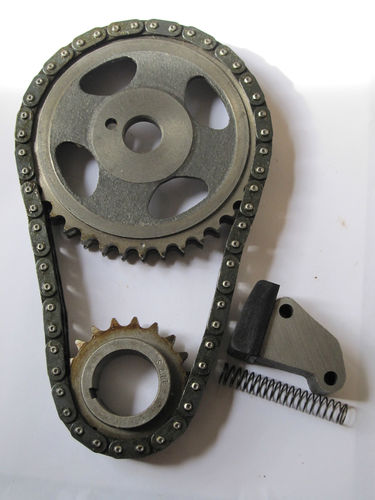 Album click to view
Compare to the loooooong chaing used in the Nissan KA24E engine:


KA24 often has timing chain problems
Checking For Wear
If tensioner spindle projection is more than 15mm, replace chain. Rotate the engine clockwise a bit, then check the distance.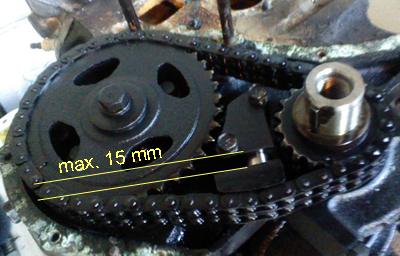 Album click to view
This ones looks to be at the limit: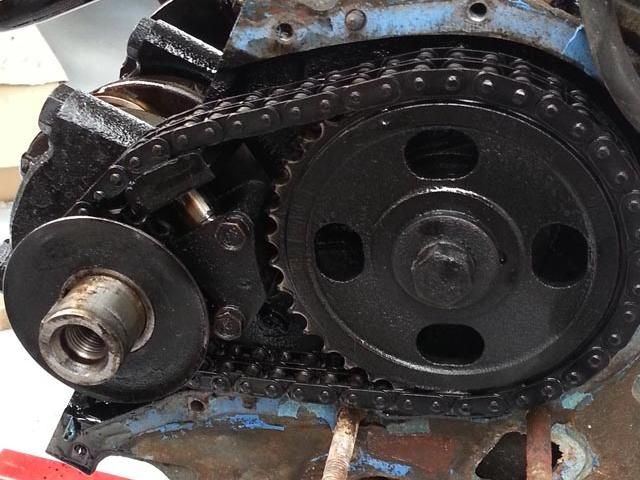 Album click to view
Replacement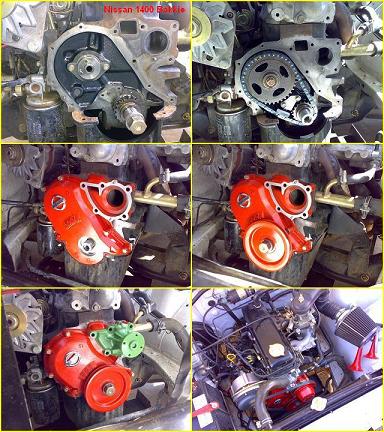 Album click to view
Alignment
Check the cam gear alignment. It should be exactly like this:

Upload click to view
If it is not lined up, see Camshaft_replacement#Timing.
Do not attempt to match up the bright/marked links on the chain. That only works the first time, as soon as you rotate the engine the links will no longer match (even though it is still in time)
Timing here is one tooth off (notice the key on bottom pulley)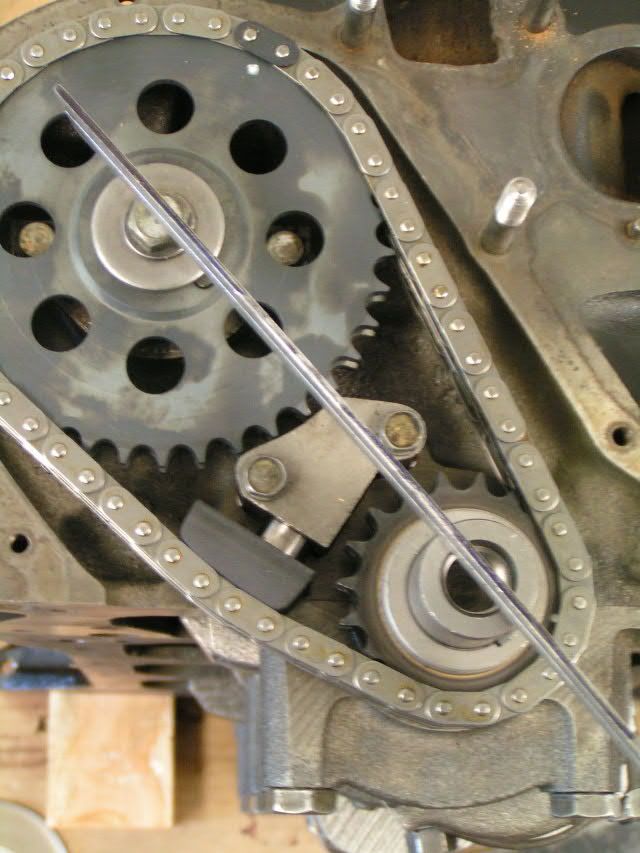 Slinger
Don't forget the oil slinger.
12302-18000 THROWER-OIL CRANKSHAFT

Album click to view
Part Numbers
Kit
The timing chain kit (timing set) includes: Cam, Crank, Chain, Tensioner
KIT SET
CLOYES Part # 94054S RockAuto.com $35.79


CLEVITE/PERFECT CIRCLE Part # 92602
ITM 05390500 RockAuto.com $32


STC SHIMIZU
Timing Kit NIS-A14 (includes sprockets)
Timing Chain Kit CK-NIS-A14 (no sprockets)


Cam Sprocket
38 tooth Cam Gear (timing gear)
* Sealed Power 223478 $3.50
* ITM 50022 $4.67
* ITM 50021 $4.67
* CLOYES Part # S47 RockAuto.com $9.41
  
* Beck/Arnley 0250282 $10.85
  

Cam Sprocket Bolt
Special bolt 13082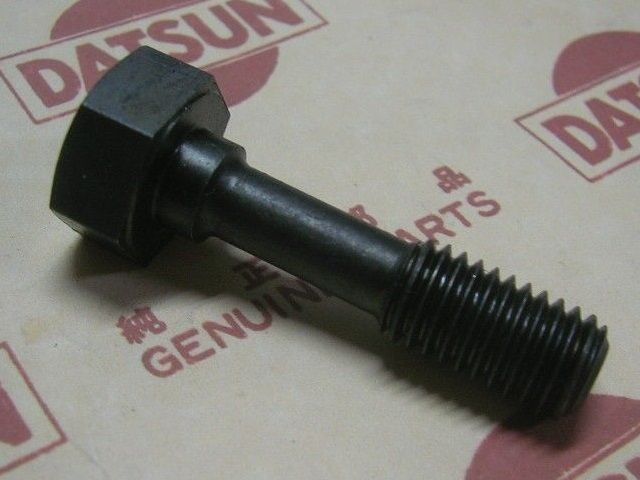 Chain
Same as SRL311 with U20 engine (for Jackshaft)
CHAIN RockAuto.com
* CLOYES Part # S478 $9.40
* CLOYES 94054 $9.70
  
* BECK/ARNLEY Part # 0240226
  
* ITM 2354 $7

specs
Links: 54
Pitch: 3/8 inch
Rollers: Double
Timing Marks: 2

Crank Gear Key
Same key is used for the engine crankshaft pulley.
12316-30000 KEY-WOODRUF 5X16 2

Tensioner
* CLOYES Part # 95005 RockAuto.com $3.90
   
* ITM 60004 $6.37
  

Early non-return tensioner (A10 engine)
* 13070-18010 ASS'Y-TENSIONER, non-return B10 [double-chain]
  

Early A12 engines (to April 1970) also used a tensioner on the Tension side of the chain. Apparently this was deemed unnecessary so was omitted starting May 1970.
13083-18001 TENSIONER-CHAIN TENSION SIDE -0470
13084-18000 SUPPORT-TENSIONER TENSION SIDE -0470
08110-62010 BOLT M6 FIXING TENSIONER -0470


Crank Sprocket
19 tooth Crankshaft Gear (Timing Crank Sprocket, Timing Crank Gear)
RockAuto.com
* CLOYES Part # S477 $8.87
  
* Sealed Power 223477 $6.17
* Beck/Arnley 0250258 $7.36
  

Adjustable Cam Gear
Fitting an adjustable Camshaft gear lets you fine tune the timing. The cam vendor's recommendations are usually best, but retarding the cam a degree or two will generall shift the torque curve higher up in the RPM range. Advancing the cam will (usually) lower the power curve a few RPM.
Adjustable gears come in a few basic kinds:
Multi-key. Rollmaster had one with nine adjustible keys in the crank sprocket
Multi-hole. Using different holes
Variable: Slotted holes allow a continuously variable range
fine-tuning the cam (Timing the camshaft)

Album click to view
Album click to view
Datsun100ATurbo homemade camshaft pulley

Album click to view
Pitroad

Album click to view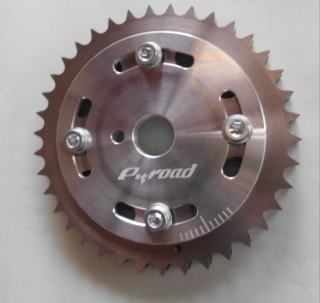 Post click for topic
Tomei

Album click to view
Album click to view
Post click for topic
Post click for topic
Rollmaster

Album click to view
Album click to view
Kameari - buy at Brojects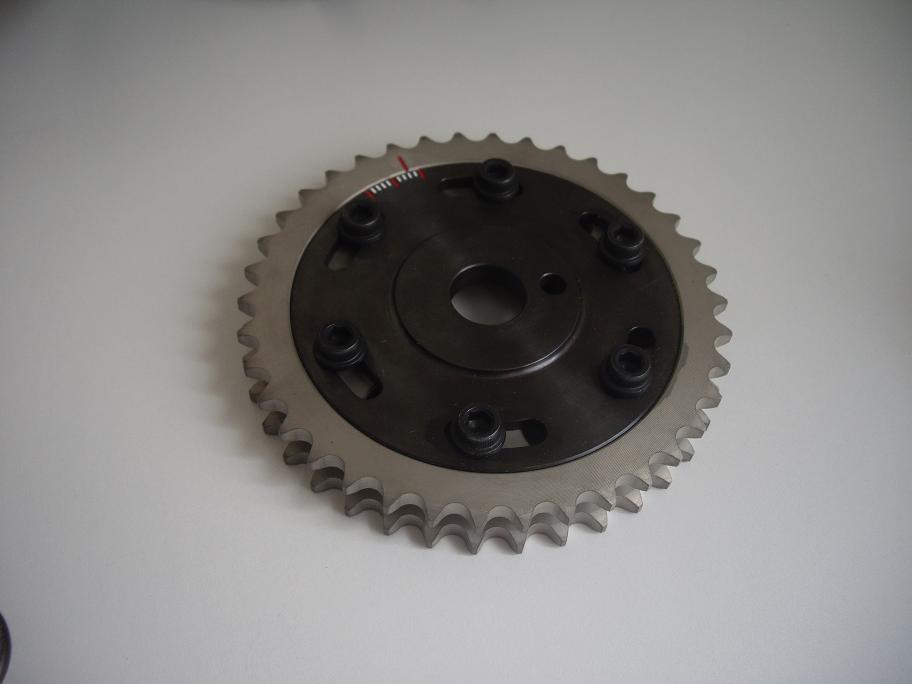 Album click to view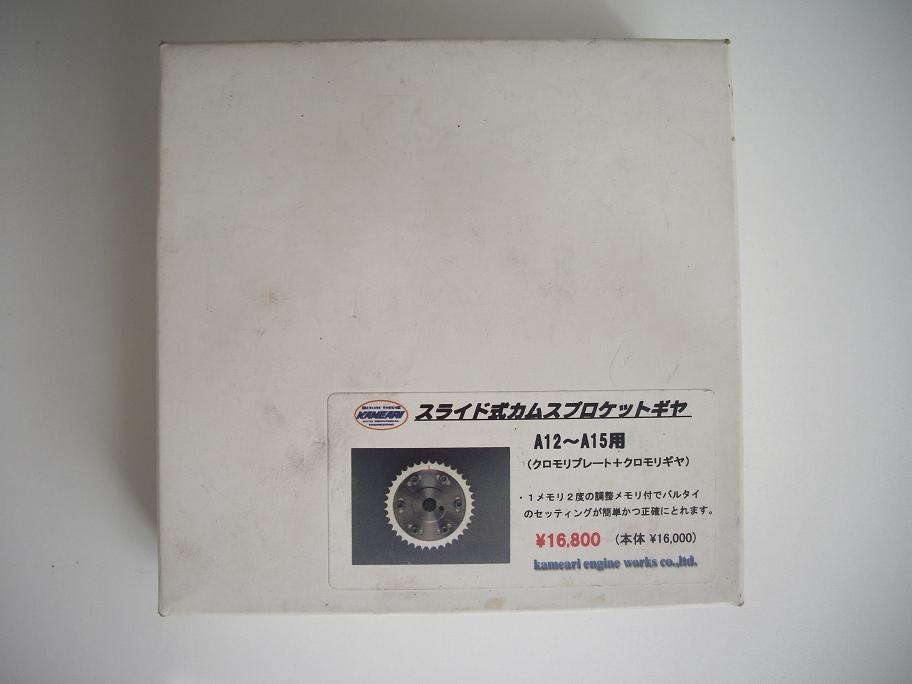 Album click to view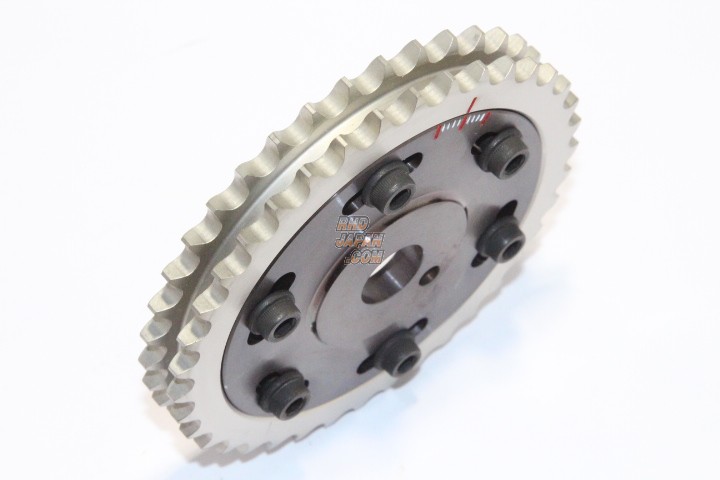 Post click for topic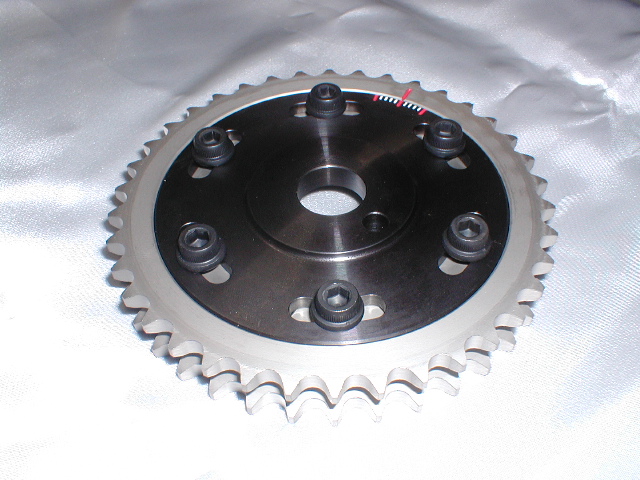 Post click for topic
Post click for topic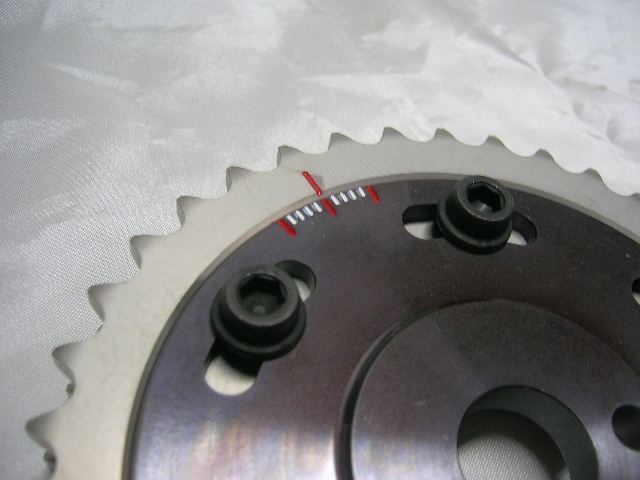 Post click for topic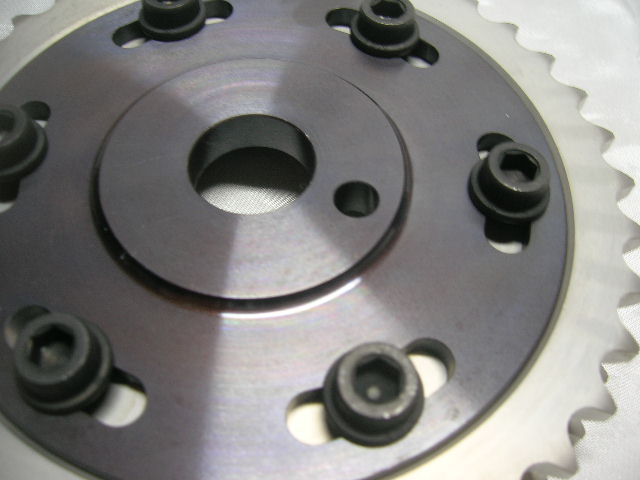 Post click for topic
Post click for topic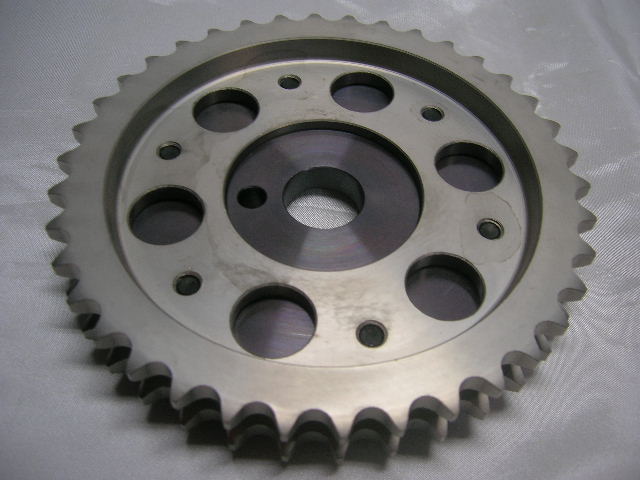 Post click for topic
Gear Drive
Touring Sedan (TS) style

Album click to view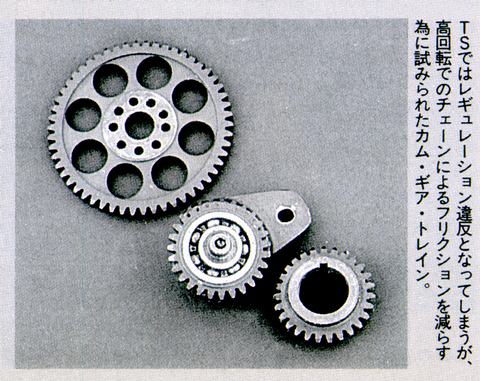 Album click to view
¤