Wheel alignment specifications for camber, castor and toe-in.
Overview
Modern alignment is recommended:
camber: -25' to 0°
caster: 2°05' to 3°10'
toe-in: 4mm
Since the strut-type suspension is normally non-adjustable, changes to the camber & caster may be requires modifications. See Front Suspension Adjustment.
Toe-in
Toe-in (tracking) is the easiest to check and the only adjustable setting.
The tires should be pointing slightly together at the front, so when moving they will be not be pointing outwards. When car is moving the suspension "give" lets the toe-in vary.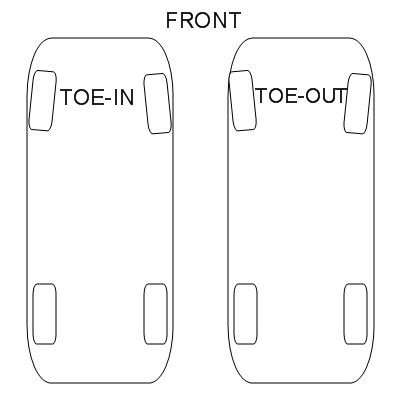 Too little toe-in (toe-out) results in darty alignment, moving the car randomly from side to side.
More toe-in results in a more straight-line stability. Too much toe-in makes the turning sluggish.
Measuring
Compare front width to rear width

Park on a level surface

Adjusting
Loosen the Side Rod Bar nuts.

NOTE: They are left-hand thread
and right-hand thread

Rotate the Side Rod Bar in the same direction evenly on both sides.
B110
The stock settings follow. These are old-fashioned settings, designed for old road standards.
All
Steering angle In: 43°
Steering angle Out: 36°

Sedan & Coupe
Camber: 5' to 2°05'
Caster: 20' to 1°50'
Toe-in: 4-6mm (0.08 to 0.32 inch)
King pin inclination: 7°55'

Van
Camber: 45' to 1°45'
Caster: 1°05' to 2°05'
Toe-in: 5-7mm (0.20 to 0.28 inch) 
Steering angle In: 43°
Steering angle Out: 36°
King pin inclination: 7°45'

Van with Heavy Duty Spring
Caster: 40' to 1°40'

B310
B310 12" wheel models
camber: -25° to 1°05'
caster: 1°40' to 3°10'
toe-in: 0 to 2 mm (0 to 0.08 inch)
kingpin inclination: 7°40' to 9°10'
turning angle inside: 41° to 45°
turning angle outside: 33.5° to 37.5°

B310 13" wheel models
camber: 0° to 1°30'
caster: 1°40' to 3°10'
caster (wagon): 1°55' to 3°25'
toe-in: 1 to 3 mm (0.04 to 0.12 inch)
kingpin inclination: 7°50' to 9°20'
turning angle inside: 38° to 42°
turning angle outside: 31.5° to 35.5°