<-- back to 1200s of John Wayland
White Zombie is a 1972 Datsun 1200 2-door sedan. As of 2014 it is the world record holder for street legal electric vehicle, running the 1/4 mile in 11.4 seconds @ 114 mph. White Zombie is optimized for 1/4 mile runs, rather than range (miles before it needs a recharge). It's now run 12.99 @ 101 mph☁ and is a member of the "100 mph Club". See POST Wayland's 1200 Breaks World Record.
Overview
Zombie

Album click to view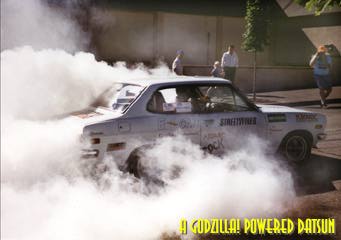 Album click to view
Album click to view
Album click to view
NOTE: Current specifications are listed at evalbum☁

---

320 Horsepower

540 pound-foot Torque (estimated)

1/4 mile in 13.00 seconds at 100 mph

---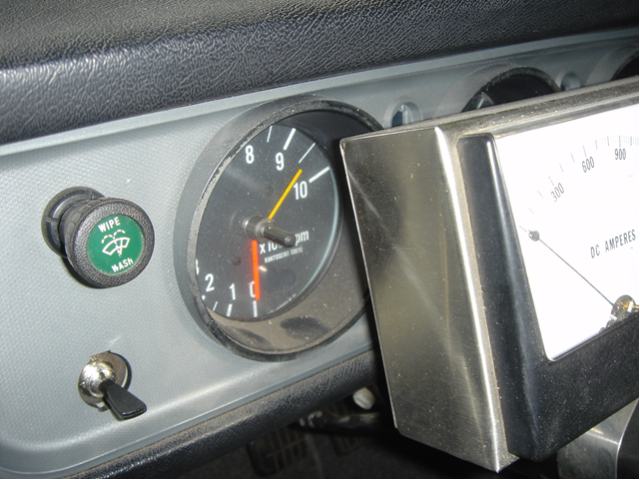 ---

1995 pounds

336 volts

1/4 mile in 13.18 seconds at 99.19 mph ... with a 3 year old aging battery pack

---
Before it was Zombiefied, it was a GX-powered 1200:
---

While I was playing around with electric power and still being weaned from gasoline, I picked up a

---
Album click to view
White Zombie 2004 Specification
Dual 8 inch Warfield series wound motors advanced 12 degrees, connected shaft-to-shaft, and wired to either run in series for 0-~70 mph or wired in parallel for 70-115 mph or so (100 mph 6500 rpm)
10 mile (max) range, or put another way, 40 lazy quarter-mile runs or 1 full-on run
0-60 mph time: 4.5 seconds (estimated)
Charging time: Fast-charged in 8 minutes between runs (200 amps)
24 Exide Orbital 12volt batteries -- 288 volts, each battery weighs 40 pounds
Previous run with 336 volt pack, but that's a heavy pack!
Motor is controlled by a 1400 amp Godzilla motor controller, modified by Otmar, plus my 'Afterburner' controller bypass that connects the paralleled motors around the controller directly to the full pack voltage with ~ 2600 amp power rush...enough to break traction on a sticky drag track at speeds around 70 mph
No transmission. Direct drive with a beefy drive line from the rear motor's output shaft, through a center carrier bearing, and onto the input flange of the differential
Ford 9 inch rear end with a 4:56 ratio. Currently, the rear end setup has twisted axles, a damaged pinion, damaged gears, a mini spool that locks both axles together, and the smaller street sized 28 spline axles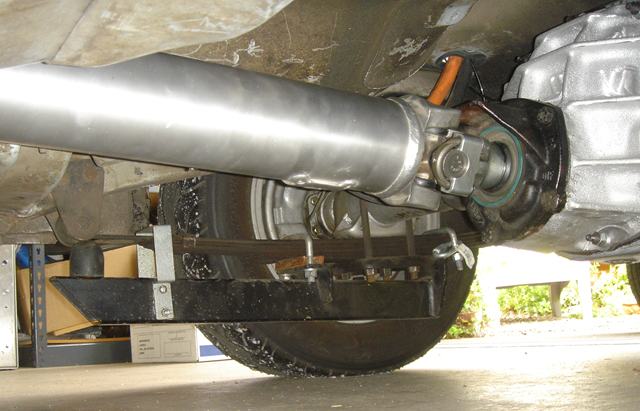 Album click to view
Plans for drag racing spec Detroit Locker ratcheting-full locking differential section with the bigger 31 spline axle drives, custom machined drag duty racing spec 31 spline axles
street-legal drag tires
Tires: Rear....BF Goodrich DOT approved, 215/60/14 'Comp T/A Drag Radials' on Ford 5 bolt, 14 X 7 five spoke Eagle polished alloys
Tire: Front...Nitto DOT approved, 175/50/13 'Exit GS' on Nissan 4 bolt, 13 X 5.5 five spoke Eagle polished alloys
Wheels: The front are 4-lug (standard Datsun suspension) with spacers. The rears are 5-lug to match the Ford 9" diff assembly, which is considerably wider than the stock axle
"slapper-bar" style traction aid
rare Datsun Competition 10 grand tachometer (Kantoseiki, optional, not the 8k rpm option tach)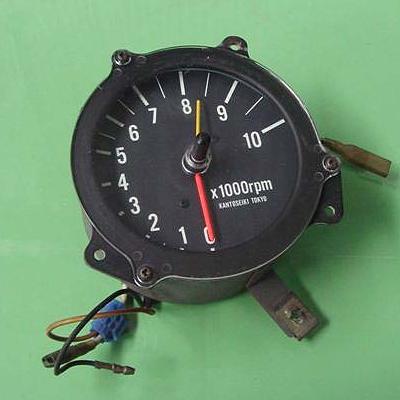 Post click for topic
White Zombie 2000 Specification
High Voltage, Low Weight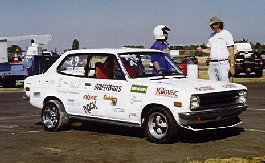 Album click to view
White Zombie was a feather weight at exactly 1995 lbs. with just 378 lbs. of batteries
28 Hawker 16 amp-hour batteries in series at 336V, each battery weighed 13.5 pounds
single-motored direct drive version, massaged 11 inch Kostov motor
Car: White Zombie 1972 2-dr Sedan
Transmission: None (direct drive)
Fuel: 408v array of Hawker Genesis low-resistance batteries
Driveline: Thick-wall two-piece driveshaft with center bearing
Album click to view
Differential: Ford 9"
Suspension: leafs (on standard 1200 spring mounting points) with slapper bars
Tires: front 175/70-13, rear Nitto DOT (street legal) 205/55-14 at 5 lbs pressure
Gauges: Standard 1200 gauges + dual voltmeters front and center, 10,000rpm Datsun 1200 tach by Kantoseiki, and electronic ammeter
Interior: Standard Datsun 1200, except racing bucket seats, rear seat removed, Plasma-melted headliner (which is how he got the name "Plasma Boy". John dropped a tool on the racing battery pack, and a weird ball of fire appeared inside the sedan).
tiny tweeters on the dash under the windshield
badgeless grill & chin spoiler (air dam)
Album click to view
ran a class SC/A best of 13.18 seconds @ 99.19 mph at the May 27th Denver races
---

After the record low 13 second run, the Hawkers started their downward decline in performance as they aged and had ever more racing cycles put on them, and the ET's began to get worse, averaging mid 13's, then high 13's. I fried the Kostov at the 2000 Labor Day weekend Woodburn races when the armature's copper windings melted.

In time for the October Sacramento NEDRA drags, I switched to running dual 8 inch motors with the same tired pack of Hawkers. The change to twin smaller motors was encouraging, when White Zombie with no other changes made, dropped down from the high 13's to the mid 13's.

Two years after White Zombie's peak of performance, though the Hawkers were pretty much shot, I tried one more trick at the 2002 Woodburn drags...408V, by adding a booster pack of 6 extra Hawkers in a controller bypass affair, the car was able to maintain high 13's with an old battery pack.

---
How Reliable is White Zombie?
---

As far as 'tearing up the car', that used to happen all the time ... the electric motor has twisted off tranny input shafts, sheared off too many axles to list, discintegrated clutches, mangled drivelines, etc. However, as the car is now, without a flywheel, clutch, and tranny, there's only the driveline and rear end to

worry about, but with the custom-made extreme duty driveline and a big 'ol Ford 9 inch rear end, there's not too much to break anymore and mechanically, the car is very reliable.

reference: POST Clutches...Tearing up car?

---
On the other hand, White Zombie is a race car. It's always pushing the limit, so things are bound to break. The racing team slogan is "We blow up things, so you don't have to". Compare it to Blue Meanie which is a street car.
How Does the Inline Twin-Motor Setup Work?
POST quote:

---

The two motors are mounted in a long-ish aluminum tray that serves as both motors' engine mounts, and they are bolted and clamped into place, end-to-end. Each motor has twin shafts, with the ouptut shaft of the forward motor (closest to the radiator opening) connected to the rear shaft of the rear motor (the one that is about halfway into the tranny tunnel) with a toothed colar that meshes with gear-like spools on the motors' shafts that locks them together so they run as a team. The output shaft of the rear motor has a keyed hub that looks like the yoke of a rear end, and this attaches to a cutom-made, extreme duty driveline I had made for the car. There is a center carrier bearing mounted near to where the original tranny cross member was. The driveline goes straight into the yoke of a 9 inch Ford diff with 4:11 gears...no flywheel, no clutch, no tranny.

---
Where do the Batteries Go?
Rear seat area

---

14 [Exide AGM 26 lb. batteries] went into the rear seat area battery box that used to hold all 28 of the smaller Hawkers ... [or] 8 Orbital batteries

---

The area where the sedan gas tank fits (behind the rear seat, in the trunk area)

---

an aluminum piggy-back tray mounted close to the rear wall of the trunk. It spans up and over the sunken spare tire well tray. It was made so that it could hold a total of 6 extra Orbitals, but there are just two are in it right now, one at each end.

---

under the hood (bonnet)
1200 sedan's spare tire area

---

Marko Mongillo and I came up with a plan to make a new area for battery storage by redoing the car's original and unused sunken spare tire well under the trunk floor. We cut out the well and made up a new one in the metal shop. We made it a bit larger and more angular to specifically hold batteries, not a tire :-) Stamped ribbing was designed into the floor of this new well to make the sheet metal strong enough to support battery weight without flexing. At the same time, in keeping with my attention to detail, the new well still has gently rounded lower rear corners and its exterior is painted flat black. Viewed from the rear, there is no awkward looking square edged 'box' hanging down, instead, the car looks like it came with this larger sized piece. The inside was painted gloss white to match the rest of the trunk. We then designed and built a drop-in aluminum box shaped just so to hold 14 of the [Exide] batteries

---
Videos
Search: YouTube Search: John+Wayland+Datsun
Search: YouTube Search: Electric+Car+White+Zombie
General References/More Reading
Rev
Each year, the Vancouver Electric Vehicle Association (VEVA) organizes an electric vehicle show and ride. This event has run since the 1990s and was known as as "Ride Electric Vehicles!" (REV!). It is now called ElectraFest.
rev☁
Rev!2000
Rev!2004
¤