I recently bought some new clips from nissan, I am now on the hunt for the monting bolts for each end [ther are 2 two types, early and late] The early ones look like this.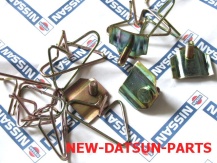 and the later one have a plastic moulded part incorporated.
If anyone has either of the end parts and dont need them, please shoot me a PM.
cheers
Benny