Ok, I'm new to most of yall but I've been browsing for years. I absolutely love these cars. A couple friends of mine own them and I've had my hands on one many times.
Not to toot my own horn but,
I'm a welder/fabricator/machinist/electrician by trade. I've logged thousands of hours standing in front of a Rockwell lathe and a Bridgeport Mill. I've got a few hundred hours logged for TIG welding and have worked for a few successful race teams in the past.
I'm now working at a shop in the Dallas, Texas area that specializes in custom fabrication, wiring, crazy motor swaps (LS1 S13, J32A2 in a DC2) and all sorts of one off chassis and suspension work.
Here's a car a friend of mine dropped off a couple days ago for a full drift build, it will be insane when done. I know some of you will say "don't tear this thing up drifting" or whatever. It will never tandem with another car and won't be at tracks with walls, worst case scenario is hitting a cone or some rock chips.
Current mods are:
Mitsubishi Starion 2.6L (eeeewww)
SDS efi (even worse)
Precision SC61 turbo meant for a Buick Grand National (bad bearings)
Isuzu Impulse (turbo) rear axle (this thing might be crap)
Mismatched stock front 13's and terrible 17's out back
2" lowering blocks
1" front drop due to retarded heavy motor
Planned mods:
S13 SR20DET (here)
GT2876R turbo
Tial v-band turbine housing
Apex'i Power FC ecu
AW11 steering rack (here)
Custom inner and outer tie rods (have material on the shelf)
Custom steering knuckles (have material on the shelf)
AE86 Front coilovers
3-link rear suspension (need to order tube and spherical bearings)
Some custom rear dampers to match front damping/spring rate
Ikeya Formula sequential shifter
PPG dogbox gearset with helical cut 5th gear
OS Giken twin disk clutch
Custom tubular steel subframe connectors
6061 Aluminum floors with trans held in by quarter-turns (have material)
Roll cage with front strut towers integrated (this car scares me now with 300hp)
Wilwood pedal assembly
300zx TT front and rear calipers
Honda Prelude front rotors (biggest cheap rotors that'll fit in a 15" wheel)
S13 4 lug front rotors on the back
Wilwood hydraulic e-brake
Tubular front lower control arms with roll center adjustment
Tubular tension rods with clearance for more steering angle
Sparco FIA approved seat
Custom fender flares (material on the way)
Duckbill rear spoiler (material on the way)
Chin spoiler (material on the way)
Lexan windows
and a whole bunch of wheels in 15x8 0 offset. Most are going to be XXR's since they're dirt cheap and one set of either Hayashi Racings or Work Equip 03's (one set here, baller set when closer to done and the rest when the car is racing)
Havn't done much on the car in the past couple days since I've been sick. But the owner wired money today for the SR20 and materials for the chassis.
Here's the pics, I'll post more and update more as this continues
Cheap fiberglass front fenders (not mounted yet) from some random shop, With one of those cheap wheels I was talking about. Quite sure now it needs fender flares regardless of how much camber or how small of a tire I put on the front. I'll machine spacers to fill out flares once I get tires mounted and set ride height.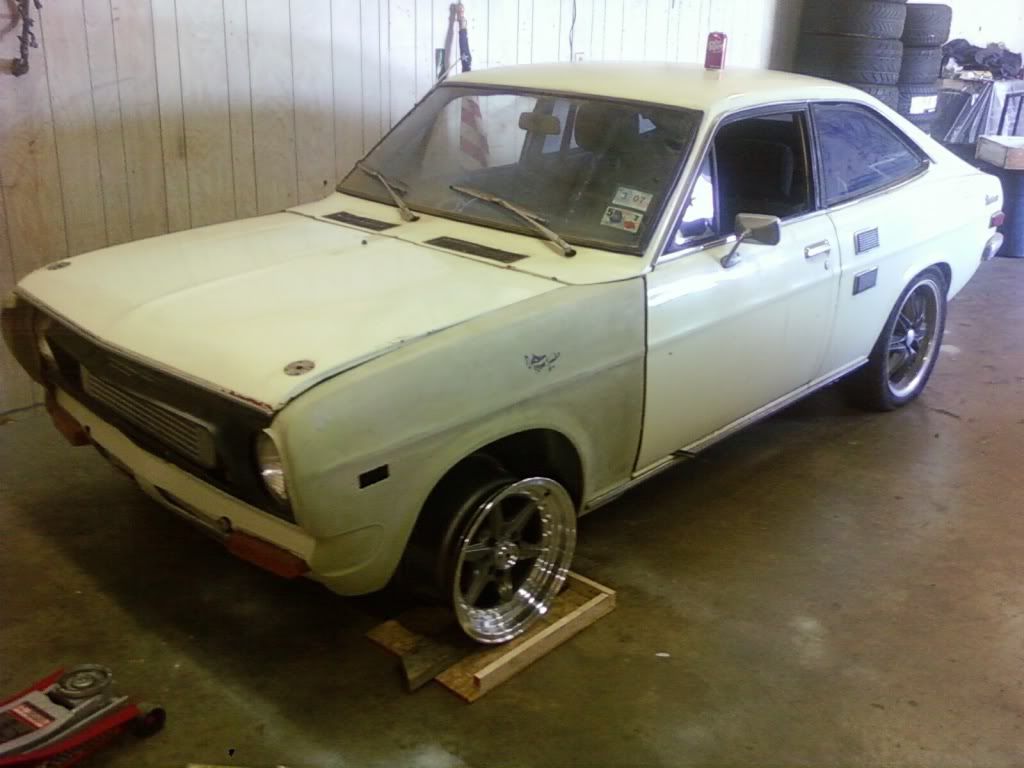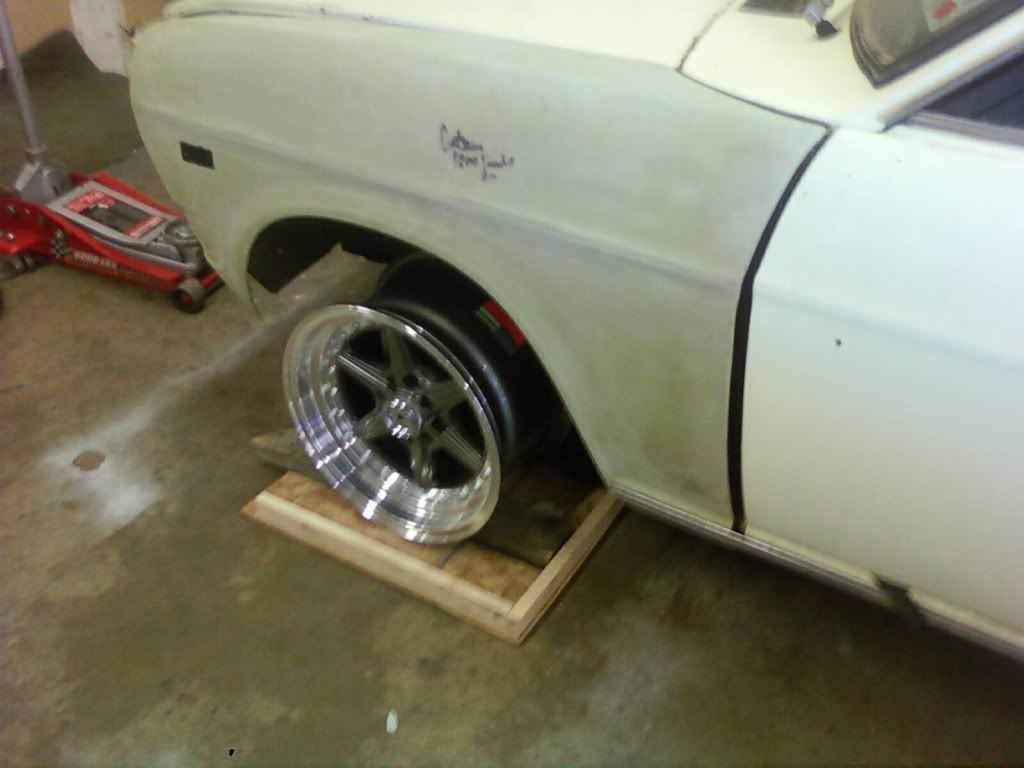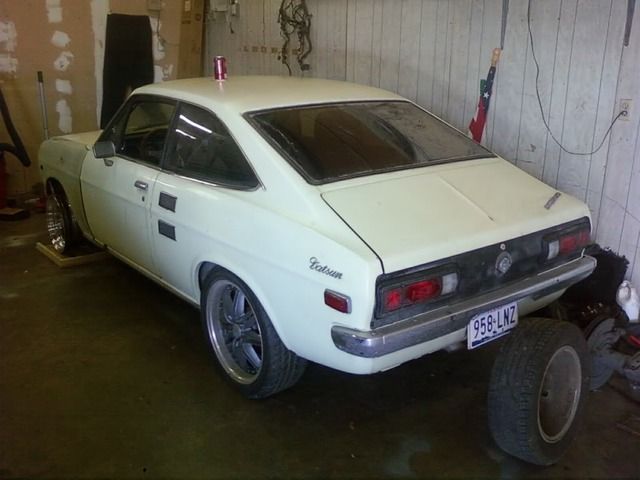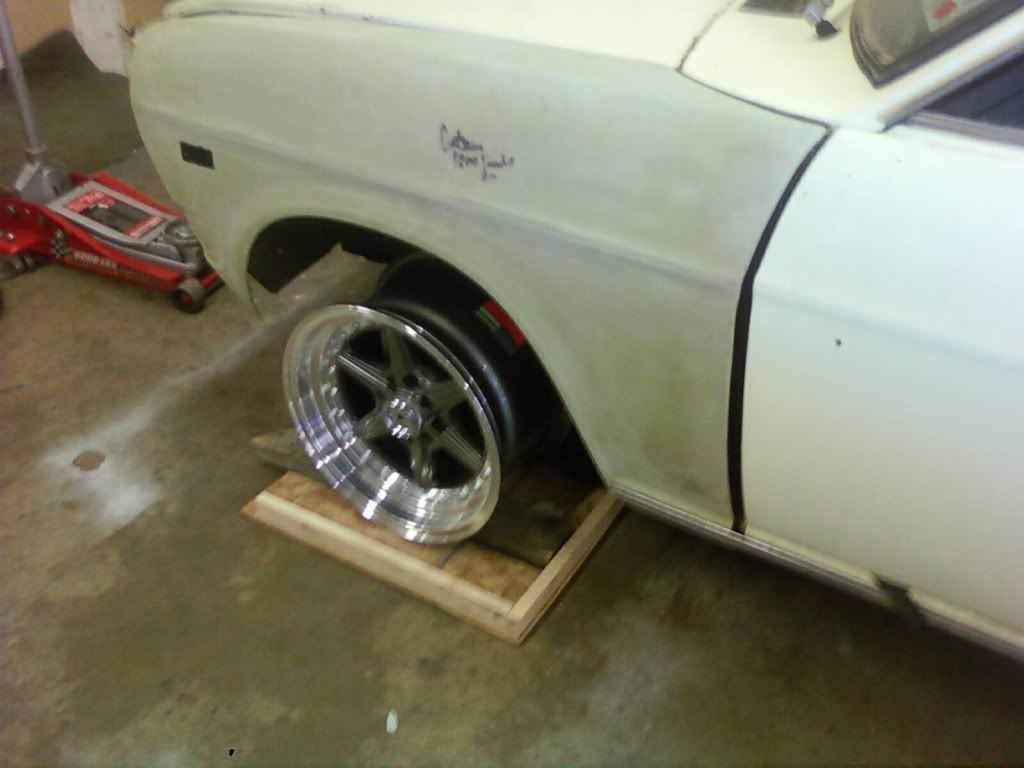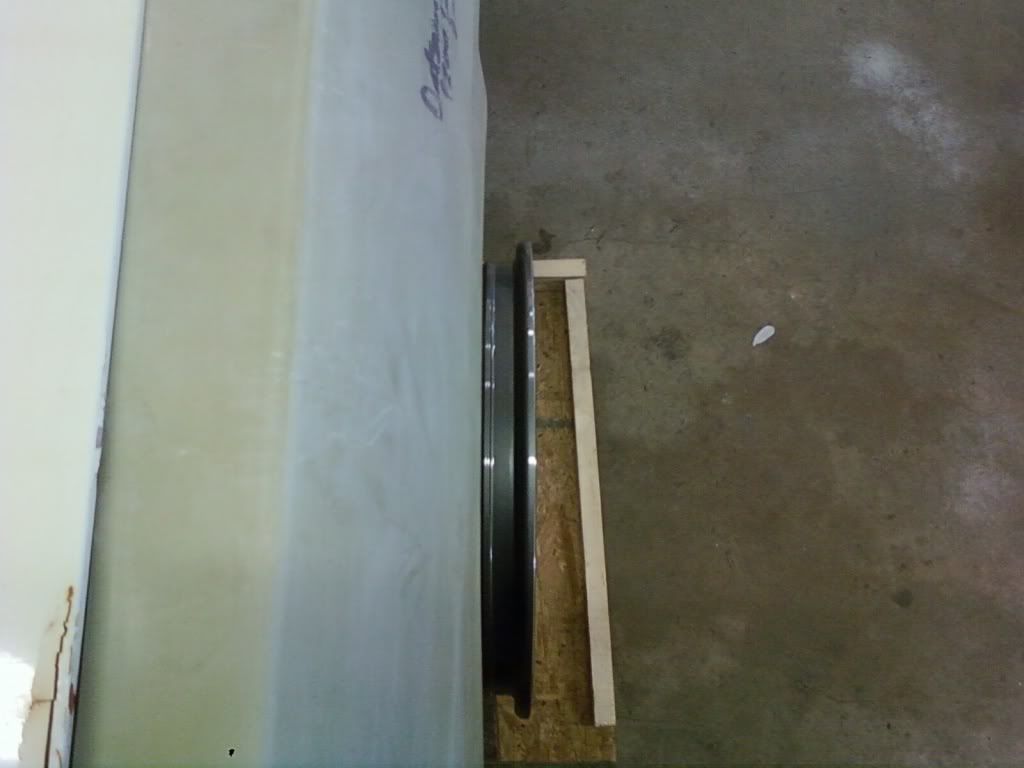 Checking to see what kind of angle I can get to see if stock steering would be adequate. Not much for us Texas boys, we get crazy in our drift cars. This is why I'm going with an MR2 rack and custom steering bits.
I was told a long time ago that this is a Nissan Motorsports steering wheel, I can't verify but its crap either way. Missing a chunk and has a couple cracks. I'll aquire a Nardi wood grain steering wheel for this car. The only other person I know of locally that has one of these cars has an original Nissan Motorsports tach and clock for this car I need to get.
And finally the Starion motor coming out of this thing. I despise these motors. They suck in every way. If the Starion didn't have a turbo with this motor no one would have bought one.