Hi good people, thought I should introduce myself, my girls and our car.
A fair few of you have already answered many of my questions and aided in making our 1200 ute become a more enjoyable car. Its not a project car (trying to stay away from big builds after the R32 rb30/26det power monster got finished, never used and then sold) but I do have trouble sitting still after the kids go to bed without thinking about what I can modify or make for oot. So this thread is more of a what I slapped together last night update thread... I'm probably going to forget about it and never update but I'll try.
Oot got its name from the day I picked it up a few months ago. My oldest, Ava (now 2.5 year old)was sitting in the back on the potty when she tried to say "nice ute" but came out with "nice oot" instead. Now Jaylah (now 16 month old)and Ava talk a lot about oot and absolutely love working on it.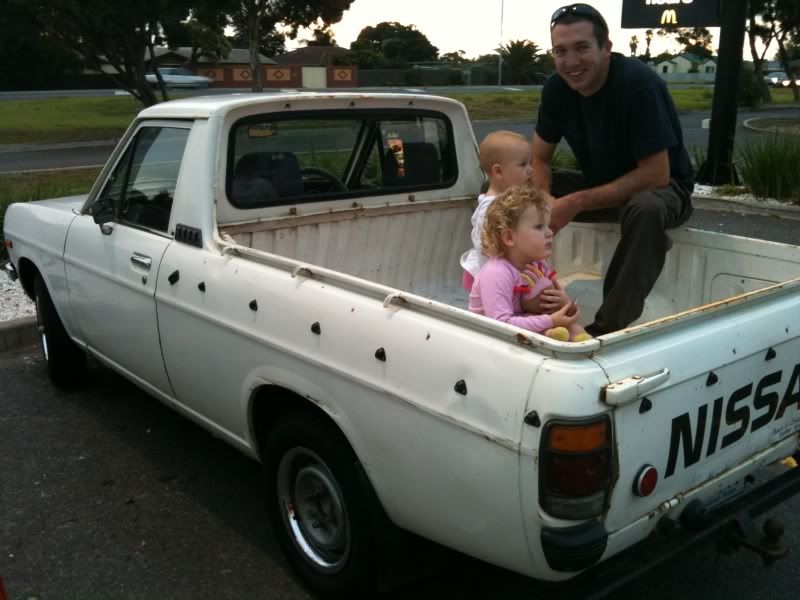 First thing that bugged me was the toyota steering wheel that was way too close. I had kept the nardi wheel from my drift car so started looking for a boss kit. After the first two ebay kits were too big I decided to cut up the toyota wheel and make my own offset boss kit. I had to bend the indicator lever back but the wheel sits at a perfect arms reach now and far enough off the dash not to be a concern.
We have removed the brown floor coverings (I don't like brown) with the intent to continue until its black trim/dash and white where body is visable. We also fitted a set of gauges but one was faulty and other was for a high pressure fuel system so now we just have oil pressure, warning light and two spare holes for when I come across a tacho and good water temp that's cheap.
Every car I've used for motor sport has had a hydro handbrake and even though oot is a work/fun car i thought it was best to make one for it. Trouble is utes don't have much room so the design is as compact as I could think of and make from scrap metal around the shed.
A couple of times now oot has carried heavy loads or trailers and the drum brakes are useless not to mention the overly soft and worn out suspension. In the last week oot has been given stanza struts shortened with R31 inserts and all the stock stanza bits. Very happy with it apart from having +0.5 camber one side, -0.3 on the other and about 29mm per side wider track than the rear. I have access to adjustable lower arms and might get tops to try and fix this without getting any more track.
The rear has been lowered with 2 inch blocks, HYB shocks and a full 20 liter bottle to counter the sag in the right leaf. I'll also be selling my 5 stud spacers so I can get 4 stud spacers for the rear.
While I was welding the struts I made a sheet metal duck bill spoiler but chopped the ends wrong, still looks ok but could be better.
Little things have been fixed like door locks, interior light, tail lights, front grill, trailer plug, horn, AM radio wiring (was hanging out under dash) and good lockable tool box installed.
It would be nice to spend a little money on it and get some good old JDM wheels, flare the guards or attach my bolt on zg's and plumb up my old oil cooler right in front of the bumper but for now I'm happy not to be frowned at by the enforcers of SA traffic laws.
So next question... should I repaint the duckbill white?