So I bought a 1974 Datsun 120y in a weird two-tone colour a few months ago but haven't posted any photos yet(not original, looks to be painted with a paint brush haha) .. paint is starting to flake off pretty badly.
Bought off a guy who had bought it of the original owners (there poor father died and it was his car!) it was towed to his house from South Australia to NSW with the intentions of putting an SR20DET in this little 120y but that never happened and he had it sitting rotting away under a tree for around 3 months with no clue to why it would not start haha, so he sold it.
When i bought it it came with logbooks and owner manuals and rego papers since 1975 (unfortunately no receipt for the purchase of the car :P ... that would have been cool)
When I bought it , She wasn't running, Alot of things were wrong / missing.
Not too sure whats going to happen with this car but everytime I fix something, something else breaks/goes wrong lol. But its fun learning about old cars.
At the moment it's an un-reliable daily-driven car to work :)
When I bought it, it wasn't running, the first thing I done was check to see if motor had compression, oil and coolant and if the fuel gauge was working properly, and all was okay, but i drained oil, coolant, replaced fuel filter and oil filter anyways just to get those things out of the way.
The thing still wouldn't start, so I started to do some more Diagnostics.
Checked Spark plugs, there were Fu**ed, So new plugs went in!
Check Ignition Leads, haha the rubber insulation feel apart in my hands when i removed them :P so it got a new set
Points were worn on a cute angle, so they got replaced as well as the condenser
While i was doing the points i removed the dizzy to check condition and the shaft had a large amount of play in it so i swapped it with a spare I had lying around :D
I charged the battery at work but it wasn't holding charge so i replaced it with a new one with higher Cranking amps to make starting easier because in future i will be adding amp/subwoofer/speakers etc
Dizzy cap/rotor button and balast resistor, didnt bother testing, i just replaced them.
The car had the wrong alternator, LOL It looked like it had a holden badge on it, so i replaced it with a spare i had lying around
Statermotor was making a weird noise, removed it and found a large amount of wear on the teeth so i replaced it with a 2nd hand one my friend had lying around
The carby was leaking fuel all over the place, so carby and exhaust manny came out, fresh manny gasket went on and a spare carby and clean manifold i had lying around already rebuilt went in to defeat any carby issues
Fuel pump wasn't working for some reason so i replaced it with a new one... and it started to work, barely... tested the new fuel pump on a friends 120y and it was working fine so i went home and used a air blower into my fuel lines and heard a big gulk noise :P it was full of crap! .. i cranked the car and it just got filled up with gunk again.. so fuel tank got drained and that still wasn't enough... fuel tank was removed and cleaned.. you wouldn't beleive the #OOPS# that was in there! i wish i took photos haha. And the fuel was a orange color, I purposely spilt some on the floor and used a lighter on it and it didn't flame up, it was not burnable!! the fuel was sitting in the car for 8 years (that was the last time it was registered on the road!) haha!
After all this stuffing around the car started!! and she was running awsome!
there is stil alot of stuff that need replacing and fixing
I made some coil overs for it with 100mm shortened 120y struts and golf mark1 strut inserts and s13 cambertops.. Kinda broke my Drivers side front brake hard-lines on the caliper so i removed it to get remade, then figured what ever, i removed all the front brake lines and had them remade lol (can probably see how shiny they look in the engine bay hehe )
At this point my 2nd hand SSR Starshark (2 piece.. i can unbolt the centers and paint/touch up if i wanted to) 13" Rims arrived from japan after 9 weeks and I'm so happy about the condition, they need re-painting and maybe a new lip in the future but for now they will do and look fine as a rat-sun look
Also my friend at the exhaust shop hooked me up with a cheap deal on a 2" exhaust with a muffler... but im not really happy with how it sounds, might remove muffler and put a hotdog there, but for now it will do (old exhaust fell off going over a speed bump and was ripped out of the manifold and welds broke haha so i needed it fixed asap)
At the moment the only issue causing the car to be un-reliable is that its overheating, really badly.
flushed out the coolant twice, replaced water pump with a new one and a new thermostat... still overheating
sooooo ...(this took me like three hours haha so easy) I done a head gasket on it thinking it would fix my issue because the rear of the head was leaking coolant and slightly from the drivers side and when i inspected the gasket it was cracked in like three different places so i was SUUUUREEE that this would fix my overheating issue ....but it didn't lol
at this point i thought the water temp sensor was faulty but i got a laser thermometer and it was at around 120 degrees and I tripped out so im not driving it at the moment.
I'm thinking about replacing the radiator (inside of it was all brown.. flushed it out like 10 times still full of crap!)... Just trying to decide if i should get a 3core alluminium one or a new gemini/pulsar n10/s13 radiator.. hmmm... i just want it to stop overheating ! lol
for now.. this is were i stand with the car and not sure whats going to happen with it next :P
Tell me what you guys think?
Hopefully I didn't upload TOOO many pictures HAHA. sorry !
Here is a pic of when i inspected the car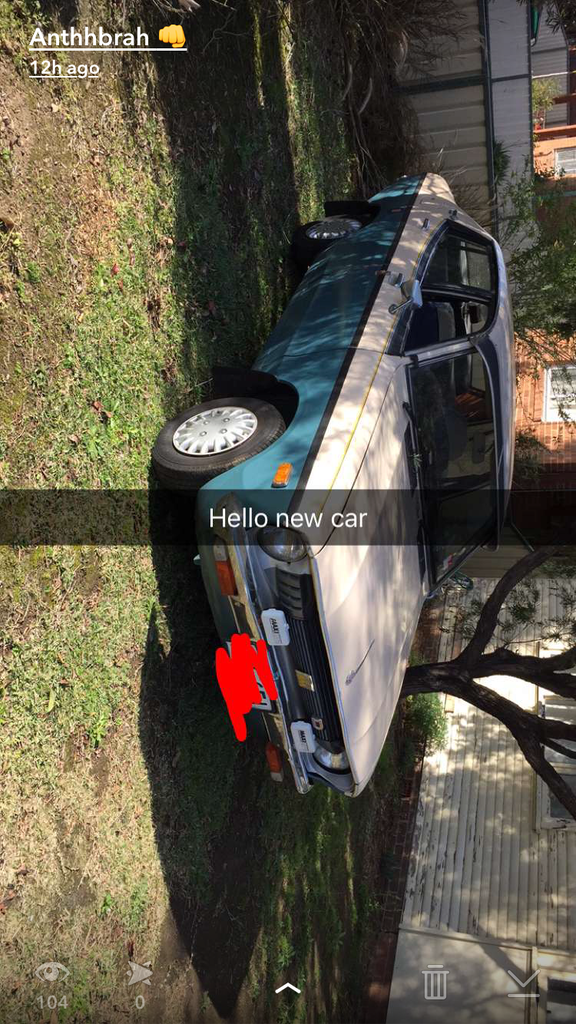 When I Got home: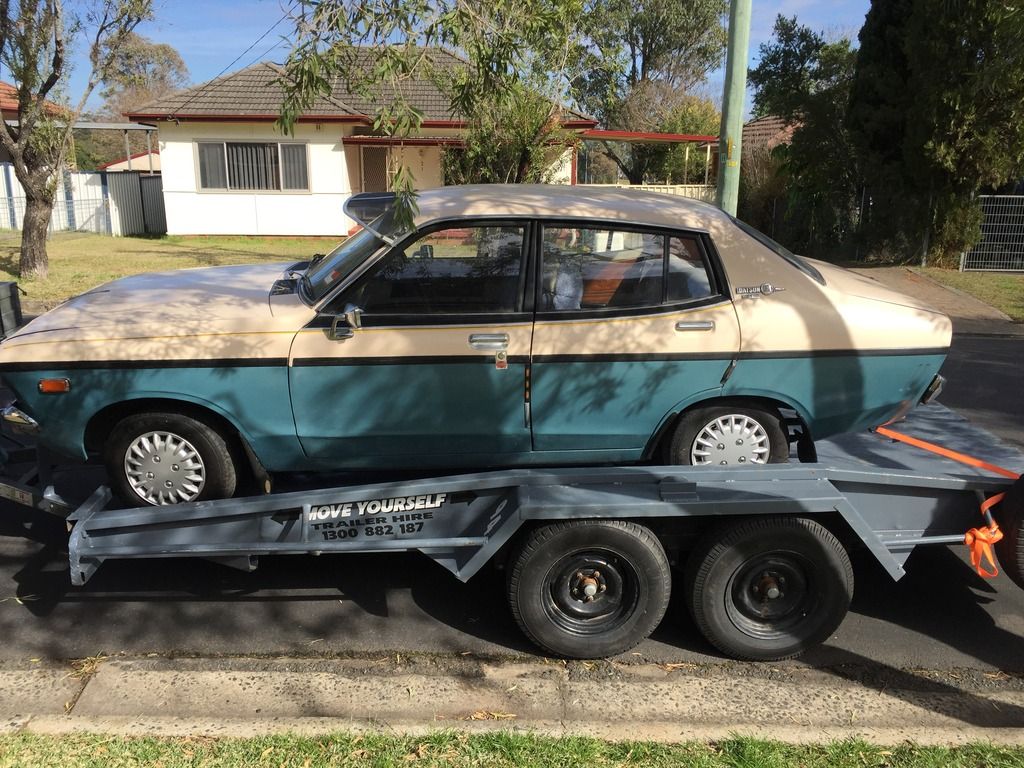 Draining the fuel, LOL (no pics of removing the tank!)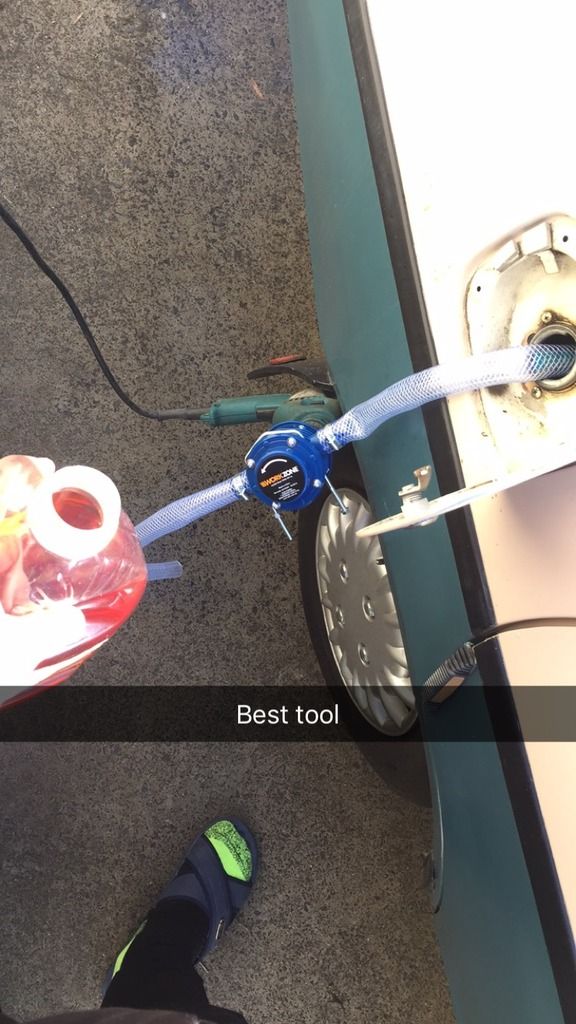 Pics at work under the car: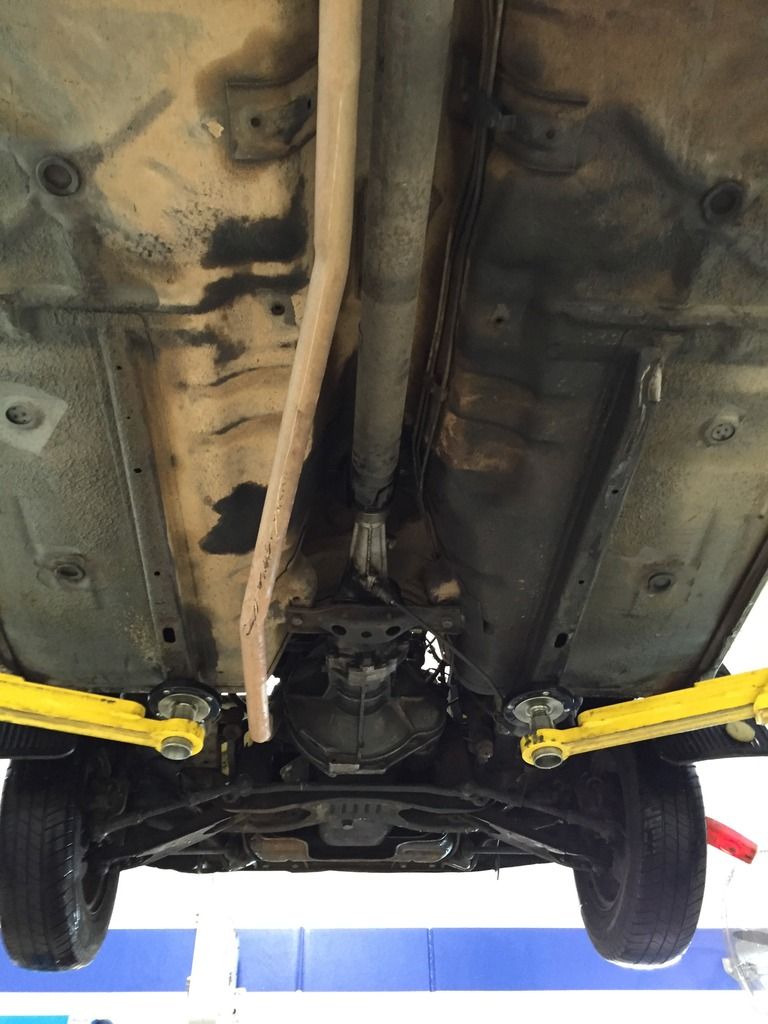 Rims / When they arrived (felt like christmas)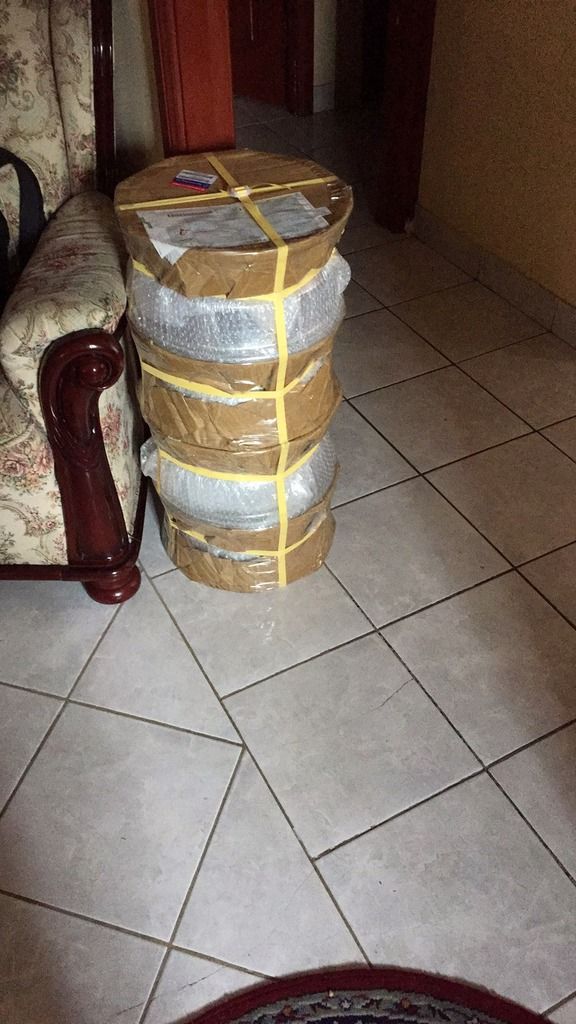 The coilovers that I made and had Tig welded
How it currently looks