how much more improvement are you hoping for vs a non crossflow race setup?
From the view of the mini head, the chamber and valve angles are not ideal for
the exhaust as they were angled that way for non crossflow ports.
Med heads for example uses larger offset rollers.....
http://www.turbominis.co.uk/forums/index.php?p=vt&tid=339188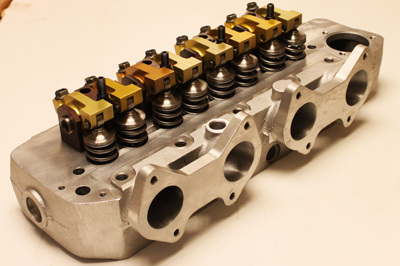 Quote:
A-series experts MED Engineering are developing a new cast alloy cylinder head for the Mini, and here is an exclusive photo direct from MED. Lee from MED explains that "the photo shows the fully modified head with 6mm stem valves, titanium retainers and lash caps fitted. The rocker arms themselves we have special made with a larger offset on the rollers to accommodate the offset valves in the head.
For example Fontanas New Gen engine is still based off the chevy 4 and does well
Quote:
Fontana's premier product, the New Generation midget engine, based on the GM four cylinder, is the result of 25 years of on-going development. It meets the expressed needs of today's racer. Reliability, drivability, a wide, smooth power band, lightweight, best left side weight in the industry, and most importantly, an engine that can win any race – a Championship engine!
Id say the gains for just going crossflow with no hemi chambers like the E15 is an expensive
and not hp increasing exercise except better packaging for boosted apps and looks great!
Mini as you know also has the bmw head kit which is superior in every way to 8v crossflow heads
packaging is the same issue as carbs hit the mini bonnets in either ohv or ohc layouts.
The BMW head looks factory and fits nicely even in mini hoods when boosted.
http://www.dep-o.co.uk/features/ultimate-a-series/
The Mazda Miata head conversion is possible as you know but water and oil galleries need
massaging, later heads have better angled ports and improvements compatible versions to
A series blocks dont.
Maybe a Miata head in billet with better ports like on the ZC head with matched oil and water
passages would make an A series an easy 200hp engine that revs with no pushrods clunking around.
There would be a Japanese market to consider as they like bolt on kits that offer more than what
hss already been tried and available from 8 valves. You would then just use mazda aftermarket
parts for easier overall costs and headaches for the consumer.
Custom one off everything destroys more than one project in due time as it limits the market