Datsun 1200 came with very antiquated
Wheel alignment
settings. They didn't drive very straight even when new.
A little more caster will fix that!
Cut the Tension Rod rubber bushings in half, and shorten the metal spacer and put it back together. It will pull the wheels forward just enough to track well, with no wandering. Even with hands off the wheel it will drive straight.
1. Park on a level surface and measure the toe-in. Mine was right on spec, 3mm closer at front of tire compared to rear of tire (or 4mm measured from tread centerline, but as you can see I measured closer to the hub)
I used the long stick to go clear across the car and measured front tape to rear tape.
2. Remove the Tension Rod (castor rod). Undo the front nut, then the two bolts on the LCA, then pull it out.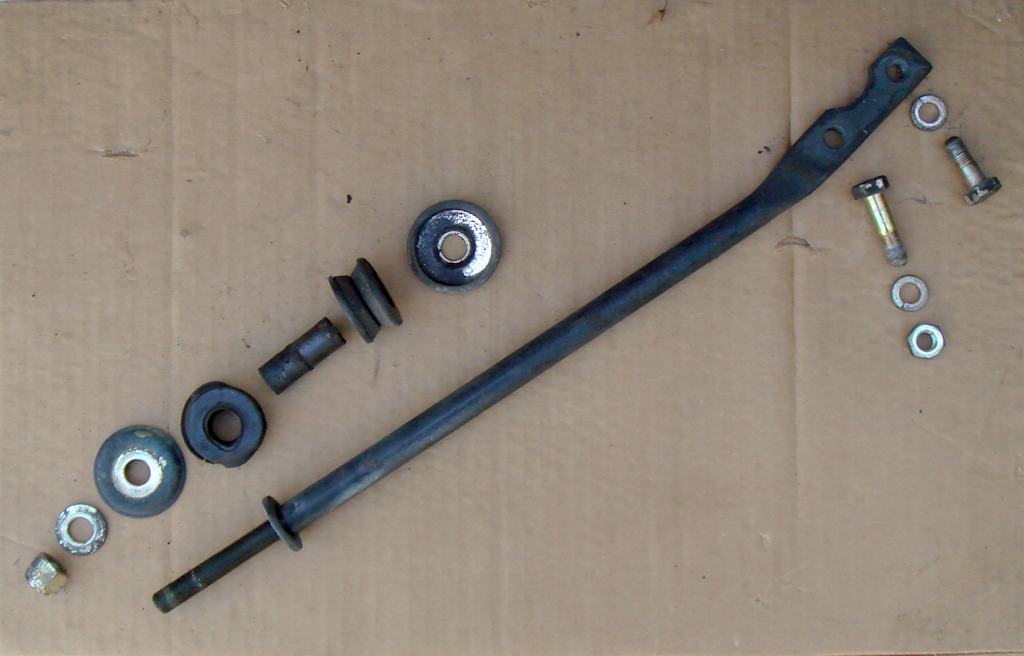 3. Cut rubber bushings in half. Cut the metal spacer tube down from 42mm to 18mm. Stock used bushings were 21mm thick.
4. Insert back through the Tension Rod Bracket and tighten bolts to specification. Remember this is suspension parts, you life depends on them, so do not weaken the fasteners by overtightening. 5.5 to 6.5 kg-m (40 to 47 ft-lb)
5. Re-measure the Toe-in, and if out of spec (4-6mm) then evenly rotate the side-rod ends until Toe-in is correct.
Enjoy driving.
* Before: two hands gripping the steering wheel, making frequent steering adjustments on straight roads
* After: two hands lightly holding the steering wheel, making occasional steering adjustment