Hitachi DCH-306 carburetors starting with 1975 B210 California models employ an Altitude Compensator mechanism. So the car runs in tune both at sea level and at high elevations -- and everywhere in between. This system can be easily retrofitted.
Overview
Altitude Compensator was fitted to California models AND to cars delivered to Datsun dealers in 41 high-altitude counties in the USA outside of California.
The Altitude Compensator used three different types in different years:
Automatic system: Bellows + hose from air cleaner
Manual system, using a switch that is similar in looks to the A.T.C.
Same castings with and without the holes drilled:

Album click to view
1975
1975 B210 for California uses a totally automatic bellows system. The bellows ("Altitude Compensator Assembly") is fitted to the body side. Hose runs from air cleaner to bellows. Then two hoses run to carburetor air bleeds.
Hitachi with 2-hose air bleed fittings.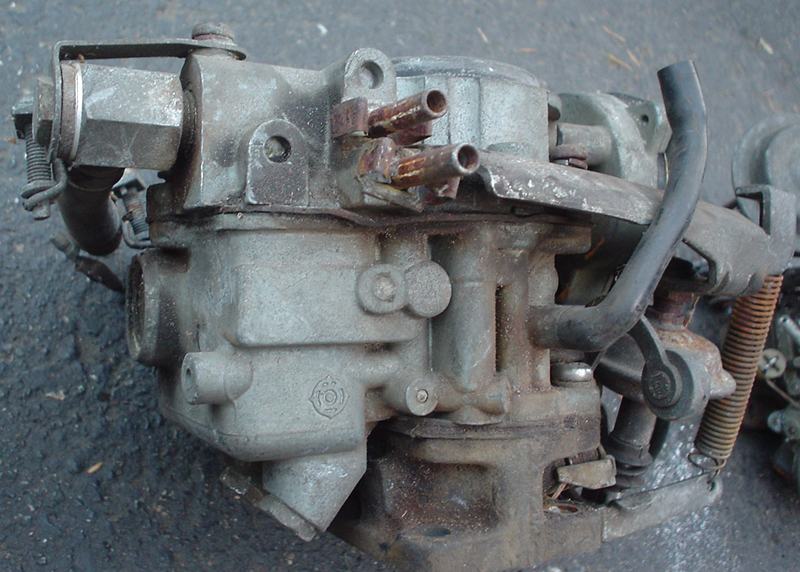 Album click to view
* 16044-H7301 ASSY-ALTITUDE COMPENSATOR CARB A14 CAL 0475-
* 08513-51212 SCREW-TAPPING (2)

1976
B210 comes with carburetor fittings plugged. FSM refers to it as an installable option:
Drill hole in bottom of air cleaner, insert fitting
Run hose over the to Bellows. Mount that on the side of the coil/electronics cover (on strut tower)
Run two small hoses from Bellows to Carburetor (remove the plugs)
Set idle speed and mixture
1977-1978
California (V) models use a carburetor with two fittings which lead to the air jets. A valve in the air cleaner connects to those via hoses. The valve is manually configurable to either H or L position.
Counties in USA 1,219m (4,000 ft) or more above sea high have been designated "High Altitude Counties" (see 1977 B210 Service Bulletin).
At low altitudes: closed
At high altitudes: open
Remember to move the switch when you get to a legally-designated HAC -- and then readjust the mixture and idle speed. This is not an automatic system.
1979
Apparently 1979 models did not use a compensator.
1980
Bellows system like 1976 adopted. On above 600 m (1,978 ft). Non-adjustable. California models use the 3rd Altitude Compensator port on the carburetor to improve fuel economy by leaning the mixture at certain times. This occurs with the engine coolant is below 35F OR when it is above 35F and above 40mph. This only leans the Primary-side of the carburetor via the main air bleed port. At high altitudes the Altitude Compensator opens this line, so the MRRLES has no effect at high altitudes.
1981-1982
1981 used an Altitude Compensator with totally automatic operation. It works by a bellows moving per altitude, exposing more or less air to the air bleeds inside the carburetor.
Operates above 500 m (1641 ft)
Adds a third hose, for primary slow air bleed

4-fitting bellows
3-fittng carburetor
Diagram from the 1981 B310 Factory Service Manual

Album click to view
Hitachi with vacuum secondary and 3-hose compensator.

Album click to view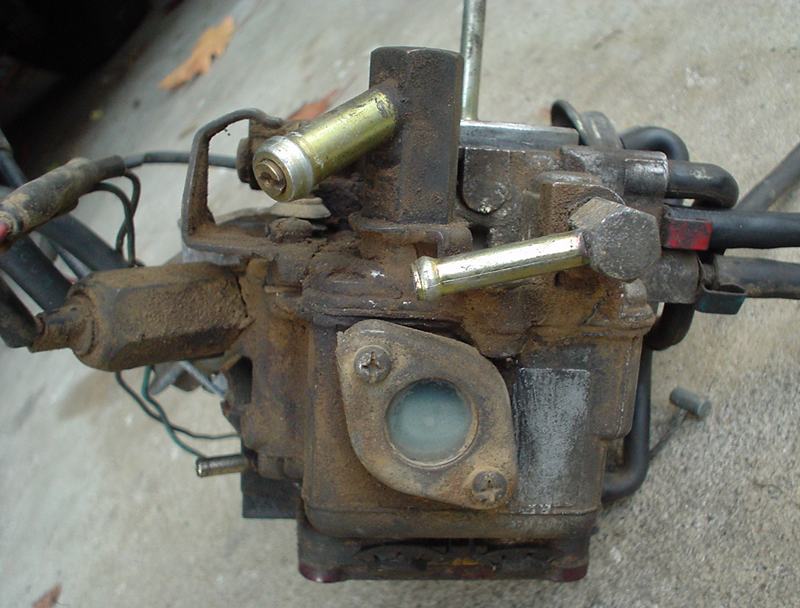 Album click to view
* 16044-H9810 COMPENSATOR ASSY-ALTITUDE A15 CAL 0880-
* 16044-H9910 COMPENSATOR ASSY-ALTITUDE A12A CAL 0879-
* 08360-62514 SCREW-HEX W/WASHER(M6)(2)

Testing
If below 4,000 ft (1,219m) elevation, you can simply plug the Compensator ports on the carburetor. It will run as normal.
If it runs better than before, something is wrong with the Compensator external parts (hoses, manual switch, or bellows).
¤