The Datsun B10 model line was marketed as the "Datsun 1000", starting in 1966. This was the very first Datsun Sunny. Variations included KB10 (Coupe), VB10 Wagon and B20 (truck). KB10s were introduced in Japan as the 1969 model Sunny Coupe in October 1968, & this '69 model was made untill June 1969. The 1970 model was introduced in Japan from July 1969 & according to the info available, manufacture ended in December 1969. Van and Truck are the commercial models.
For the Nissan B10, see Nissan Almera Classic/Nissan Sunny

Overview
園田善三 (Zenzo Sonoda) was the head of development for the Sunny.
The Datsun 1000 community is still alive and well in Japan:

B10 body number


Name
The "Sunny" models started in 1966 with the B10 "Datsun Sunny 1000". The "Sunny" name was a trademark owned by Sony, so Nissan had to make a deal to get access to the name. Why go to all the trouble? Because "Sunny" was picked by consumers in a Japan-wide contest!
http://www.ratdat.com/history/1959to1972/1959to1972.html Quote:]

---

1966 was also the year that the very first Datsun Sunny arrived. The B10 model was a simple but well engineered car that was received well in both home and export markets. It provided just the right combination of comfort, performance and economy for a small car and in Japan heralded the beginning of what was to be known as the "my car" era, a time when everybody could have their own personal car. The name "Sunny" was actually chosen by the general public after Nissan ran newspaper ads inviting people to name the new model to be launched soon. Nissan received nearly eight and a half million reply postcards in a month! The name Sunny was finally chosen because it fitted the cars image of "bright, lively and youthful".

---
In Japan, the B10 was marketed as the Datsun Sunny 1000. All the Japan-market brochures say Datsun Sunny. However, the new Sunny brand-name was emphasized, with Datsun in smaller letters.
Japan-market brochure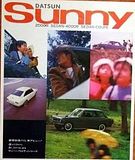 This one has Datsun in katakana (ダットサン) between the 'S' symbol and Sunny 1000 (サンー1000)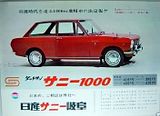 Notice it also says "Nissan Sunny" at the bottom (日産サンー)
Export
In Export markets, the name Datsun Sunny 1000 was not used, but only Datsun 1000.
Australia didn't see the Datsun 1000 Coupe version of the KB10 until sometime in the first half of '69 and of course, cars still held in stock were still being sold well into 1970 & possibly even into 1971. The only info I have on the model year is the chassis bumber KB10-080,001. From this number & upward, they were '1970 models' while anything under this number is a '1969 model' regardless of when they were actually constructed.
In Thailand, there was an assembly line where 2Dr, 4Dr and VB10 were built.
In Canada, left-hand drive versions of the Datsun 1000 2-dr and 4-dr sedan sales started October 1968.
Advertising
2-door Sedan
<overview here>
For more details and pictures, see B10 2-door.
4-door Sedan
<overview here>
For more details and pictures, see B10 4-door.
Van
Datsun 1000 was also available in a 2-door wagon (VB10). No 4-door wagon was offered.
For more details and pictures, see VB10.

V8 Datsun 1000
Datsun 1000 Truck
aka ute <overview here>
For more details and pictures, see B20
Colours

B10 colors
No. 637 (Sunshine White), Interior is black (Deluxe) or red (Standard)
No. 640 (Sunrise Red) interior is red
No. 641 (Sunset Gray) interior is red
No. 703 (Sunnyside Green) interior black (Deluxe) or red (Standard)
Optional Equipment
The Datsun 1000 had a full line of optional equipment. Almost as many choices as for the next generation Datsun 1200.
Production Dates
Japan
1966 Apr intro of 2-door sedan
1967 Apr intro of 4-door sedan
1967 Jul first minor change
1968 Mar intro of Coupe (fastback)
1968 Oct minor change
1969 Aug intro of GL trim
1970 discontinued. B110 production begins Jan 1970

Australia
1966 Oct to 1967 Sep (1967 model year) 2-Dr sedan & van only
1967 Oct to 1968 Sep (1968 model year), mild facelift
1967 Oct 4-Dr Sedan added
1967 Dec Truck (B20 Ute) added as 1968 model
1968 B10 Sunny Coupe added Jul or Aug as 1969 model
1968 Oct to 1969 Jun (1969 model year)
1969 July to 1969 Dec (1970 model year) No additional body styles
Canadian Sales
Datsun 1000 2-dr and 4-dr sedan in Canada sales started October 1968 with an initial estimate of 200-300 per month. With 62 "wild horses". 2-dr from $1845 CDN. The 4-dr costs $100 more. Both have white walls. Costs less than $2000.
Performance
For comparison with other Sunny models such as B110, see Performance.
Power-to-weight Ratio is class leader:
B10 2-dr: 22.88 lbs/hp
Austin Mini: 25.57 lbs/hp
Austin 1100: 37.40 lbs/hp
reference: Motor magazine Road Test

Acceleration:
Top speed: 83 mph  [Datsun 1200: 90 mph]
Standing 1/4 mile: 21.3 seconds [1 second slower than Datsun 1200]
0-60 mph: 15.9 [About equal to Datsun 1200]
reference: Motor magazine Road Test

Braking
60-0 mph: 148 feet [very excellent! Datsun 1200: 160 feet]
reference: Motor magazine Road Test

Fuel Economy
42.7 mph per Motor magazine Road Test [Datsun 1200: 38 mpg highway]
reference: Motor magazine Road Test

Indicators
Datsun 1000 was fitted with different indicator lamp lenses depending on the year and trim.
See main article: B10 Lights
Deluxe
Deluxe sedan has, among other unique features:
Locking fuel filler door
Deluxe badges
Front & Rear Window chrome moulding trim
Bumpers
Door arm rests (instead of pulls)
Seats
Badges
See main article: B10 Badges
Wheel Covers
Datsun 1000 hubcaps
Coupe

???

Do not confuse with this 12" Corolla hubcap

Identification
Paint Code

Chassis
Production Figures
This table is Record of Sunny 1000 - Export Results from the book Nissan Information, Datsun Sunny 1200 by Nissan Motor Co., Ltd. (1970).
The first column is Year. Showa 41 is 1966. Notice that '44' (1969) only includes the first 11 months -- is that because B10 production stopped then or because the book was published before the full-year results were available?

サニー 1000 登録・輸出実績
Sunny 1000 JDM Registration and Export Results
年
(Year)
国 内 販 売
(JDM sale)
 輸 出
(Export)
計
(sub total)
41昭和 1966 all vehicle
53,242
82
53,324
passenger car
(25,372)
(78)
(25,450)
42昭和 1967 all vehicle
140,874
11,589
152,463
passenger car
(65,314)
(8,567)
(73,881)
43昭和 1968 all vehicle
203,810
26,323
230,133
passenger car
(121,913)
(19,513)
(141,426)
44(1~11月) '69 Jan-Nov
222,353
34,212
256,565
passenger car
(141,901)
(27,038)
(168,939)
累計 (ALL Total)
620,279
72,206
692,485
passenger car
(354,500)
(55,196)
(409,696)
( ) は乗用車で内数
( ) amount of passenger car, included in amount of all vehicle (all vehicle includes commercial: van/wagon and truck/ute)
Source: Nissan Information Sunny 1200, 1970
Translation: Thanks to sunny_coupe110
Photo Index
See B10 Photo Index