B110SSS David Hudson's Datsun 1200 SSS
Fast Fours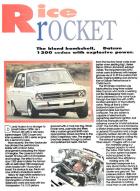 Album click to view
Album click to view
Rice Rocket
The blond bombshell, Datsun 1200 sedan with explosive power.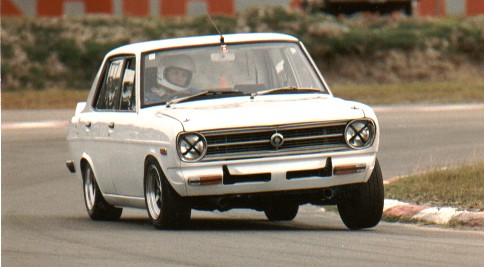 Album click to view
Page 1
Album click to view
David Hudson is no stranger to small Datsun 1200s. He's thrown dirt with a rally-spec supercharged 1200 Coupe and later squeezed a SSS L-series engine into a second Coupe.
More recently, the New Zealander has climbed the performance ladder with a full-on turbo arrangement pressuring the Nissan A14 engine. The cause is a hybrid Garrett T2 turbo with CA18 impellers and housings. The effect is a four-door 1200 able to blister the tarmac with an estimated 180 horsepower when loaded with 14 pounds of boost. It is obvious to say, this is not your ordinary stock-block sedan.
Below its virgin white exterior is a demented soul. The A14 is a homologation of standard balanced crank and rods with low compression 7.5:1 E13 piston grooved with a moly top ring. Stock rocker arms pushrods and lifters ride a custom ground Smith cam appropriately lobed and timed to the turbo's respiratory rate. The engine breathes deeply througha ported and polished GX head. This hot-from-the-factory head works even better seating big L-Series 35mm (29mm standard) exhaust valves. The long stemmed OHC valves were shortened with keeper grooves recut to fit the pushrod GX head. Engine building was done by Kee of Sabah Performance in Christchurch.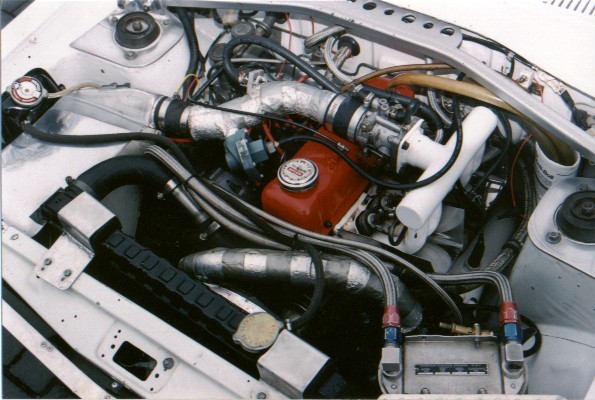 Album click to view
The EFI intake manifold was fabricated by long-time rodder Mike Duncan who holds a welding rod like Shakespeare held a pen. Fuel is delivered to the valve face through four injectors with a fifth located upstream of the butterfly valve. Firing all five is a New Zealand-made Linx-EMX programmable fuel injection computer. The Linx system is capable of electronically regraphing electronic ignition, but Dave has manually set the advance curve for a total advance of 23°. The hot little A14 is fronted by a Starion intercooler mounted aside a Leyland P76 radiator and a huge capacity Harrison aircraft oil cooler to complete the engine chilling trio.
The exhaust system is a pipe fitters dream. It begins with a cast iron manifold using a J-shaped adaptor to wind the turbo. Post turbo, the 2½-inch system has been hand sculpted to be extremely flow efficiency.
Holding onto 180 flywheel horsepower is a very sturdy Datsun Sunny 5-speed case housing a 180B cluster and gear set. The pressure plate is 180B and clamps against a lightened flywheel. The back half of the drivetrain is nothing more than a well sorted Mk
Page 2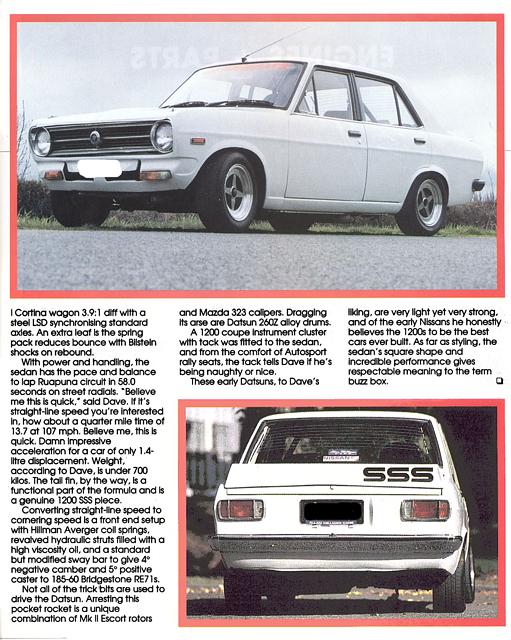 Album click to view
I Cortina wagon 3.9:1 diff with a steel LSD synchronizing standard axles. An extra leaf in the spring pack reduces bounce with Bilstein shocks on rebound.
With power and handling, the sedan has the pace and balance to lap Ruapuna circuit in 58.0 seconds on street radials. "Believe me this is quick," said Dave. If it's straight-line speed you're interested in, how about a quarter mile time of 13.7 at 107 mph. Believe me, this is quick. Damn impressive acceleration for a car of only 1.4-litre displacement. Weight, according to Dave, is unders 700 kilos. The tail fin, by the way, is a functional part of the formula and is a genuine 1200 SSS piece.
Converting straight-line speed to cornering speed is a front end setup with Hillman Avenger coil springs, revalved hydraulic struts filled with a high viscosity oil, and a standard but modified sway bar to give 4° negative camber and 5° positive caster to 185-60 Bridgestone RE71s.
Not all of the trick bits are used to drive the Datsun. Arresting this pocket rocket is a unique combination of Mk II Escort rotors and Mazda 323 calipers. Dragging the arse are Datsun 260Z alloy drums.
A 1200 coupe instrument cluster with tack was fitted to the sedan, and from the comfort of Autosport rally seats, the tack tells Dave if he's been naughty or nice.
These early Datsuns, to Dave's liking, are very light yet very strong, and of the early Nissans he honestly believes the 1200s to be the best cars ever built. As far as styling, the sedan's square shape and incredible performance gives respectable meaning to the term buzz box.
¤