The Datsun 1200 was the first car to receive the Samuri treatment. The Samuris were built in England by Spike Anderson of Race Head Services in Harbury, Warwickshire, England. The Samuri 1200 had 105bhp. Other Samuri specials followed including Datsun Cherry KE10 and Datsun 240Z Super Samuri.
Overview
NOTE: It was spelled Samuri as the regular spelling was already in use.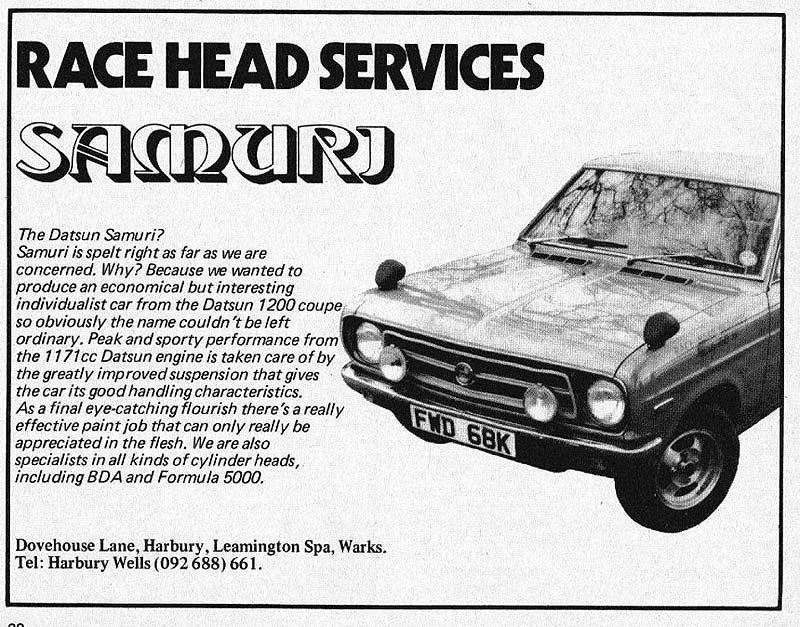 Album click to view
Samuri 1200 with sponsor badging 'Normandale', 'SpecFab' and 'Race Head Services'
'FWD 68K' 1200 Coupe protoype Samuri
Spike: [I] modded the engine in my 1971 Sunny Coupé and called it a Samuri. It revved its nuts off and was quicker than a [Mini] Cooper S, but remained remarkably economical. Its basic engine was far superior to what we were used to in the UK. I drove it for a year and then part-exchanged it for [a brand new 240Z] -- Motor Sport magazine May 2007 page 104
Car & Car Conversions Apr 1973 - Datsun 1200 Coupe by Samurai is tested "#Ah So! Samurai"
Autosport magazine 122 February 1973 page 29 tune in: Datsun Samuri and Wildboar Moskvich
Auto Enthusiast magazine 1973
Motor Sport magazine 1976 "#Requiem to a Dead Datsun"
Ah So! Samurai
Cars and Car Conversions magazine, April 1973, page 67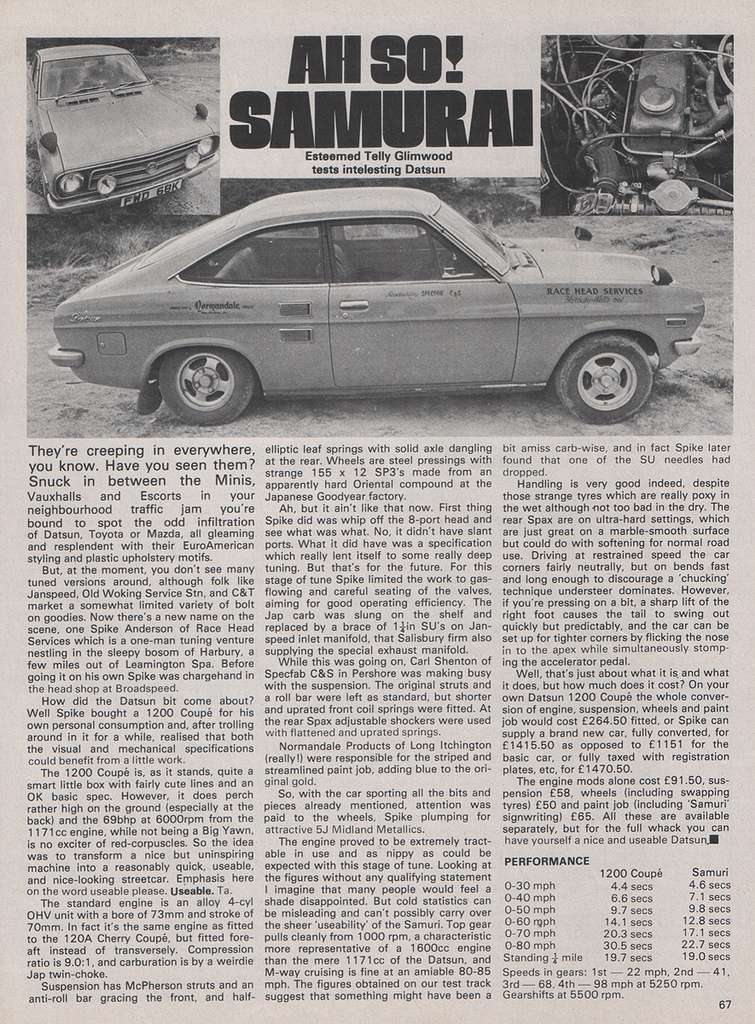 Album click to view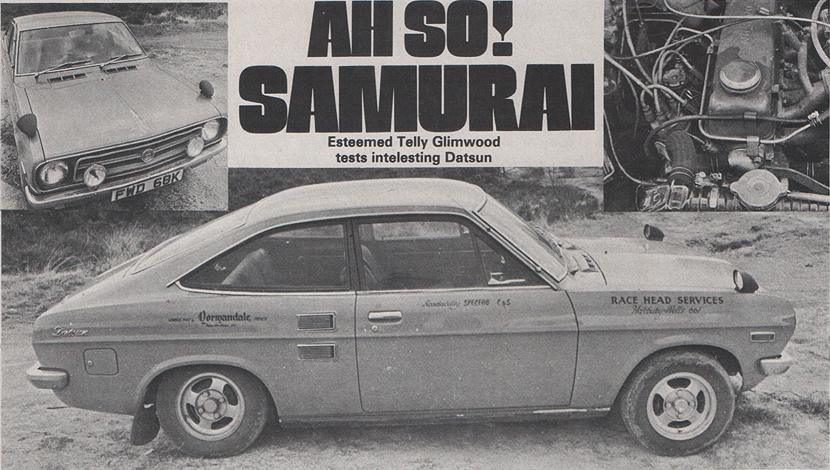 Album click to view
AH SO!
SAMURAI

Esteemed Telly Glimwood tests intelesting Datsun
They're creeping in everywhere. Have you seen them? Snuck in between the Minis, Vauxhalls and Escorts in your neighborhood traffic jam you're bound to spot the odd infiltration of Datsun, Toyota or Mazda, all gleaming and replendent with their EuroAmerican styling and plastic upholstery motifs.
But, at the moment, you don't see many tuned versions around, although folk like Janspeed, Old Working Service Stn, and C&T market a somewhat limited variety of bolt on goodies. Now there's a new name on the scene, one Spike Anderson of Race Head Services which is a one-man tuning venture nestling in the sleepy bosom of Harburyᵂ, a few miles out of Leamington Spa. Before going it on this own Spike was chargehand in the head shop at Broadspeedᵂ.
How did the Datsun bit come about? Well Spike bought a 1200 Coup for his own personal consumption, and after trolling around in it for a while, realised that both the visual and mechanical specifications could benefit from a little work.
The 1200 Coupé is, as it stands, quite a smart little box with fairly cute lines and an OK basic spec. However, it does perch rather high on the ground (especially at the back) and the 69bhp at 6000rpm from the 1171cc engine, while not being Big Yawn, is no exciter of red-corpuscles. So the idea was to transform a nice but uninspiring machine into a reasonably quick, useable, and nice-looking streetcar. Emphasis here on the word useable please. Useable, Ta.
The standard engine is an alloy 4-cyl OHV unit with a bore of 73mm and stroke of 70mm. In fact, it's the same engine as fitted to the 120A Cherry Coupé, but fitted fore-aft instead of transversely. Compression ratio is 9.0:1, and carburetion is by a weirdie Jap twin-choke.
Suspension has McPherson struts and an anti-roll bar gracing the front, and half-elliptic leaf springs with solid axle dangling at the rear. Whees are steel pressings with strange 155 x 12 [Dunlop] SP3's made from an apparently hard Oriental compound at the Japanese Goodyear factory.
Ah, but it ain't like that now. First thing Spike did was whip off the 8-port head and ports and see what was what. No, it didn't have slant ports. What it did have was a specification which really lent itselft to some really deep tuning. But that's for the future. For this stage of tune Spike limited the work to gas-flowing and careful seating of the valves, aiming for good operating efficiency. The Jap carb was slung on the shelf and replaced by a brace of 1-1/4 in SU's on Janspeed inlet manifold, that Salisbury firm also supplying the special exhaust manifold.
While this was going on, Carl Shenton of Specfab C S in Pershore was making busy with the suspension. The original struts and a roll bar were left as standard, but shorter and uprated front coil springs were fitted. At the rear Spax adjustable shockers were used with flattened and uprated springs.
Normandale Products of Long Itchington (really!) were responsible for the striped and streamlined paint job, adding blue to the original gold.
So, with the car sporting all the bits and pieces already mentioned, attention was paid to the wheels, Spike plumping for attractive 5J Midland Mettalics.
The engine proved to be extremely tractable in use and nippy as could be expected with this stage of tune. Looking at the figures without any qualifying statement I imagine that many people would feel a shade disappointed. But cold statistics can be misleading and can't possibly carry over the sheer useability of the Samuri. Top gear pulls cleanly from 1000 rpm, a characteristic more representative of a 1600cc engine than the mere 1171cc of the Datsun, and M-way cruising is fine at an amiable 80-85 mph. The figures obtained on our test track suggest that something might have been a bit amiss carb-wise, and in fact Spike later found that one of the SU needles had dropped.
Handling is very good indeed, despite those strange tyres which are really poxy in the wet although not too bad in the dry. The rear Spax are on ultra-hard settings, which are just great on a marble-smooth surface but could do with softening for normal road use. Driving at restrained speed the car corners fairly neutrally, but on bends fast and long enough to discourage a 'chucking' technique understeer dominates. However, the you're pressing on a bit, a sharp lift of the right foot causes the tail to swing out quickly but predictable, and the car can be set up for tighter corners by flicking the nose in to the apex while simultaneously stomping the accelerator pedal.
Well that's just about what it is and what it does, but how much does it cost? On your own Datsun 1200 Coupé the whole conversion of engine, suspension, wheels and paint job would cost £264.50 fitted, or Spike can supply a brand new car, fully converted, for £1415.50 as opposed to £1151 for the basic car, or fully taxed with registration plates, etc, for £140.50.
The engine modification alone cost £91.50, suspension £58, wheels (including swapping tyres) £50 and paint job (including 'Samuri' signwriting) £65. All these are available separately, but for the full whack you can have yourselft a nice and useable Datsun.■
PERFORMANCE
                1200 Coupé     Samuri
0-30 mph          4.4 secs    4.6 secs
0-40 mph          6.6 secs    7.1 secs
0-50 mph          9.7 secs    9.8 secs
0-60 mph         14.1 secs   12.8 secs
0-70 mph         20.3 secs   17.1 secs
0-80 mph         30.5 secs   22.7 secs
Standing ¼ mile  19.7 secs   19.0 secs

Speed in gears: 1st — 22 mph, 2nd — 41,
3rd — 68, 4th — 98 mph at 5250 rpm.
Gearshifts at 5500 rpm.

67
References
Sukati Samuri
In 1976 Spike created the two-off Sukati Samuri, with Datsun L24 engine in a 1200 Coupe. It had triple Webers and red, white and bronze paint scheme. It also had a Capri 3.0 diff with LSD. R.C. raced it, rolling it multiple times. A road-going version was also made.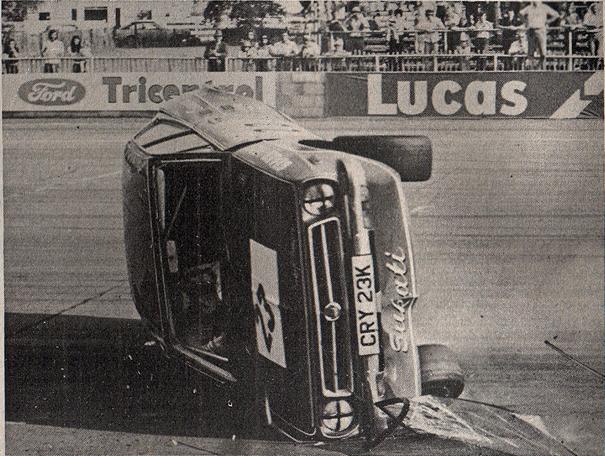 Sukati 'CRY 23K' overturned at Silverstone
I nearly bought a road-going Sunny a couple of years ago. It was parked on a forecourt on my way to work. For weeks I looked at this brown, white and orange car with the flared arches and the wide wheels, thinking "Samurai"! Eventually I gave in to temptation and stopped to have a look. It was an original Samurai conversion, but where I expected to see a tweaked four pot under the bonnet, there was a full-on 260Z motor on triple webers!!! The engine was so far back in the car that the windscreen wiper motor had to be relocated to the glovebox, and the propshaft was less than nine inches long! You couldn't change the back two spark plugs (of six) with the engine in the car. There was a portfolio of data with the car, documenting its history from the day it was built by Spike Andersson's Samurai concern. -- 10/10.com 2009
Later Janspeed built a similar 1200 fitted with a full-race L24 (130bhp) and close-ratio 5-speed. R.C raced it three times -- lastly in the 1976 Simoniz Special Saloon Car Championship finals at Brands Hatch where it finished fifth in the 1300 class. Poole won class in a Thruxton race later in 1976.
Requiem to a Dead Datsun
Motor Sport magazine 1976 July

Album click to view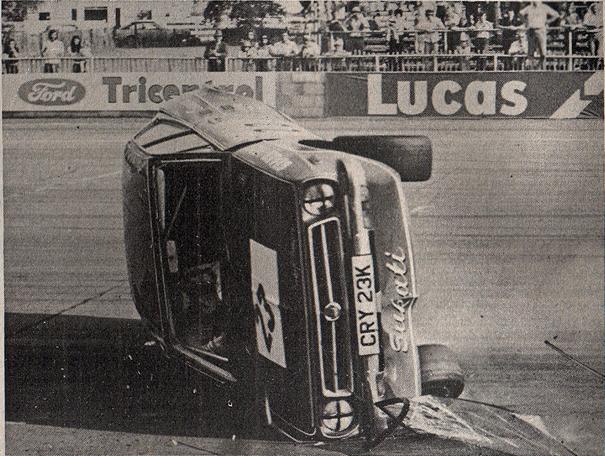 The Assistant Editor's steadfast application of opposite lock seems to be having little effect upon the little, three-wheeled Datsun's tendency towards roll-oversteer. A splendid shot of the Silverstone disaster from the camera of a quick-on-the-shutter Chris Davies.
C.R.'s PROJECTED season of special and super saloon racing with a 240Z-engined Datsun 1200 Sunny Coupe came to a violent and premature end at Woodcote Corner on the Silverstone club circuit last month. The immaculate Grand Prix Models with Samuri Conversions car, named Sukati Samuri, didn't take too kindly to losing the nearside rear wheel on the Woodcote apex on the first lap of this Tricentrol Super Saloon race. As the car went sideways, the errant wheel tucked itself under the car, acted as a launching ramp and fired 15-1/2-cwtᵂ of road/race Datsun and Assistant Editor into the air. BARC marshall Bob Bigmead tells us the car rolled at least 4-1/2 times before coming to rest on the driver's side on the grass just past the marshall's post on the outside of Woodcote. We're told the engine had caught fire in mid-flight, though the pilot wasn't aware of it at the time, seeing only blurs of tarmac and Aley roll cage while contemplating his ultimate end. Marshals quickly extinguished the fire, while a totally unmarked C.R. scrambled through the empty windscreen aperture of the written-off Datsun. Thanks indeed to the efficient BARC marshals.

Untested, save for a tenth place after a spin on road tyres in a wet race at Mallory Park the previous week, memorable for total brake failure and a big moment at the Esses in practice, this mixture of heavy six-cylinder engine and short wheelbase handled appallingly. But if judged by the sheer hard work and midnight oil put into the project to date by Samuri's Spike Anderson and his mate Graham Smart, who runs GDS Flame Spraying welding business in Brackley, the car would have been made to work in the end. With no finance left for a new shell, Sukati Samuri would seem to have met its end.
¤