A <sunroof> can be added to the Datsun 1200. But should you?
Overview
Sunroof ad circa 1972

Album click to view
Manual folding vinyl sunroof (sliding ragtop) with 30 inch opening. This was an ad from Distribution and Auto Service (DAS) in the United States -- the company that prepped all new Datsuns for sale.
Cloth Sunroof on 2-dr sedan

Album click to view
This sunroof was made from cut the sunroof off of an old Renault Le Carᵂ (Renault 5). It was about 3ft square...huge!! The big downside of the LeCar sunroof is that it flips open insteads of sliding back. That means you have to stop to open it or it will "parachute" and rip -- and also rip your arm off.
Quote:The novelty of this sunroof never wore off. It was a canvas/rubber type and was surprisingly water tight. Yes it would leak if you sprayed right at it with a water hose, but in a downpour it would not. I had it open anytime it was not raining. It totally opened up an otherwise cramped cabin. It did eventually crack and leak. By the time I found a good replacement top, this car was gone.

For all the positives, I don't think I could ever bring myself to cut the roof on my current sedan.
More common is the "glass flipup" (popup) style of sunroof. If not professionally done, it will leak. Even pro jobs sometimes leak. You can try to fix it with silicone rubber sealant but that doesn't usually work. An auto body shop can take it out and put in a patch panel then redo the headliner.
Flip-up hinged sunroof

Album click to view
Post click for topic
Ute sunroof

Album click to view
Album click to view
Sliding roof

Post click for topic
1981 B310_Brochures#United_States - optional on SL models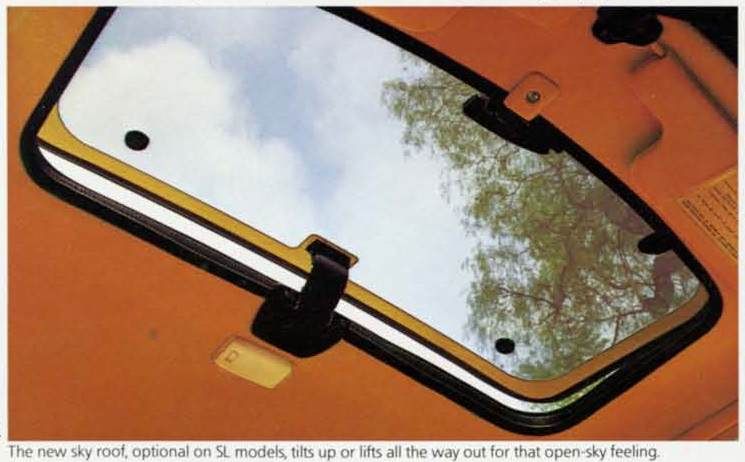 ¤