The W-series is a 4-speed or 5-speed manual transmission built by Aisin. It is super strong transmission which will just fit in the Datsun 1200 transmission tunnel.
Overview
W50 5-speed Steel Case (all others are alloy)
W55 5-speed 0.850 overdrive, 3.566 1st
W56 truck extra-low 1st gear 3.954 1st
W57 5-speed 0.861 overdrive, 3.285 1st
W58 5-speed 0.783 overdrive, 3.285 1st
W59 truck extra-low 1st gear 3.954 1st

W50
1973-1981 Celica, Carina, Corona, Supra, Hilux

W55
1981-1995 
2002-2005 USA Lexus IS300

W56
1983-1986 Supra Japan
1986 Crown
1986 Cressida
1982-1985 Celica with 21R engine

W58 (same as W57 except for 5th gear ratio)
1982-1998 non-turbo Supra, Celica, Cressida, Soarer
1982-1985 Celica USA
1992-1997 Lexus SC300


Swap Notes
3Rotor and Cameron_Datto have fitted W gearboxes to Datsun 1200.
To adapt to the Nissan A Engine:
album
3Rotor: remove the cross-member mounting pods in the tunnel, open up the shifter hole a bit to the back. Cameron had do to "some heating & beating" in the tunnel
topic
Find/fabricate a 180mm clutch plate to fit the splines of the W
Newer Ws must swap the electronic speed sensor for a cable drive
Wogboy: The clutch is original datto 1200. I used the datsun clutch fork and cut the opposite side of the bellhousing on the t50. Then is used the toyota thrust race, ground down the datto clutch fork to clear , then welded a couple of allen keys(strong steel) to reinforce the clutch fork. The result was the sweetest clutch action I have ever felt.
Cut-n-Shut
racinaround cut the front 3" off a FWD SR transmission, then welded it to the Supra gearbox. This is handy because Nissan doesn't make RWD 5-speeds that fit the FWD SR engine.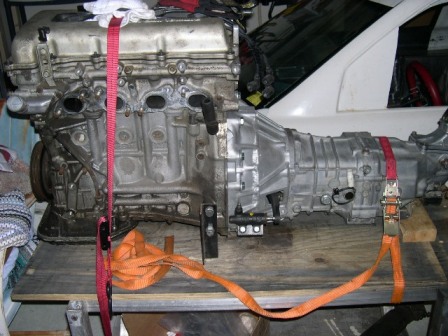 Album click to view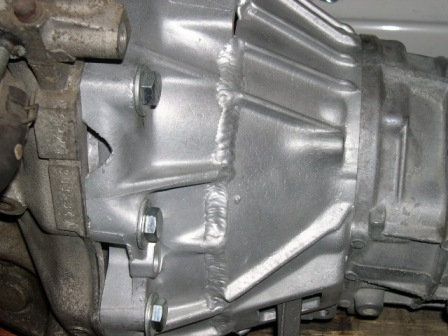 Album click to view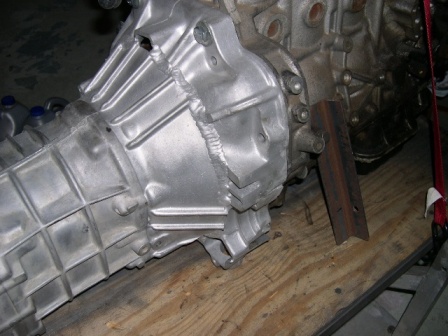 Album click to view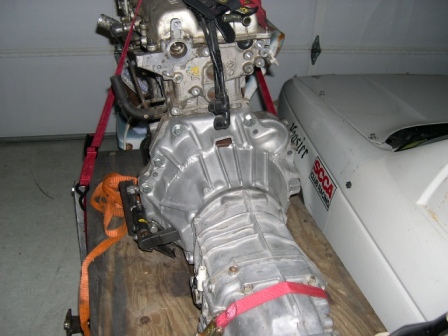 Album click to view
W50 Adapter Plate
The W50 Toyota 5-speed can be fitted to a Datsun A-series engine. Use an A-series automatic transmission bellhousing with an adapter plate to fit the W50 gearbox. The W50 is a non-alloy gearbox, and the thickness of the adapter plate would be different for any alloy W gearbox.
album
album
album
Bare adaptor plate to suit an A series auto bell housing and a W50 steel case Celica 5 speed


Adaptor plate bolted to Celica box, clutch fork pivot fitted.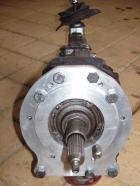 Datsun 56A 4-speed verses a Celica W50 steel case 5-speed fitted with an A series auto bell housing and adaptor plate.


Above: A series 56A 4-speed
Below: W50 Celica 5-speed below. Modified Datsun clutch fork fitted to Celica thrust bearing. Slot cut through the side of an A series auto bell housing . Clutch fork retaining spring and clutch cable mount still to be made.

The input spline lines up exactly
The spigot fits into the back of the A-series crankshaft as per standard but a machined spigot bearing needs to be made to suit the Celica input shaft.
mods need to be made to the clutch fork , thrust baring carrier
A new cross member needs to be made , the tunnel needs a bit of a massage
the speedo cable matches up to the Celica box with no mods.
A clutch needs to be sorted out , a new spiggot baring needs to be made and a new tailshaft is needed.
funkeyman photos 

clubman adapter