Toyota overdrive 5-speeds are light, strong and readily available. Most have ratios are closer the common Datsun 5-Speeds. But you need to adapt it to the A-series engine as it uses a different bellhousing bolt pattern.
 Also see: T50 5-speed

Overview
The Toyota gearboxes, being of the split case design, make it easy to maintain should you be the type to switch gearsets or perform your own overhauls. Toyota and aftermarket suppliers offer a large range of different gear ratios to suit your needs. The T50 has a shorter throw than the 1200s gearboxes.
Sources
T40 (A3)
T50 (4AGE)
K40
K50 
W50 (Celica)
W57         steel Sandwich plate
W58 (Supra) steel Sandwich plate
W59 (Hilux) Rock-crawler 1st gear

Ratios
               1     2     3     4     5     R
T40 (A3)     3.587 2.022 1.384 1.000 ----- 3.484
T50 (4AGE)   3.587 2.022 1.384 1.000 0.861 3.484
W50 (Celica) 3.566 2.056 1.384 1.000 0.850 4.091
W58 (Supra)  3.285 1.894 1.275 1.000 0.783 3.768

Dellow Swap Kit
Dellow Engineering (Australia) sells an installation kit to fit a T50 five-speed into Datsun 1200.
See main article: T50 5-speed


Dellow also makes adapters for Rover/Buick V8 to Toyota Supra W57/W58 gearboxes for your more radical Datsun 1200 swaps.
W50 Adapter Plate
Bolt an adapter plate to a Celica W50 gearbox, then bolt A-series automatic bellhousing to it.
See main article: W50 5-speed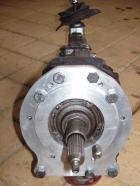 T50
See main article: T50 5-speed

K50
See main article: K Gearbox

W57/W58
Supra gearbox W55/W57/W58 are strong transmissions which will fit in an standard 1200 tunnel with some effort.
See main article: W Gearbox

More info