First, the photo is misleading. The top dash is a mutt, we don't know exacty what. For example someone has used an early glove box lid on the later dash
Quote:
The 'double hump' dash pad was exclusive to the Sunny Excellent.
Is that true? I don't think so
Quote:
there was a Sunny Excellent 'GL' which had a clock and 160kph speedo but there was also a Sunny Excellent 'GX' which had the tacho and 180kph?
I think so as standard equipment, but the tachometer was optional? So photos of cars 30-40 years later don't tell the whole story. The factory parts catalogs and brochures can be consulted to figure out how they were outfitted back in the day
Quote:
The Excellent GL and GX is not to be confused with the Sunny 1200 GL & GX which had single humped dash?
I used to believe that, but have since researched it more. See these two photos of the very same dash:
From this angle this 1200 dash looks like a double-hump
But ... from this angle looks like a single-hump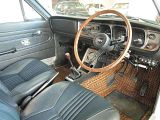 The car in question is
GX-5 photo feature