[< Previous 173 174 175 176 177 178 179 Next >]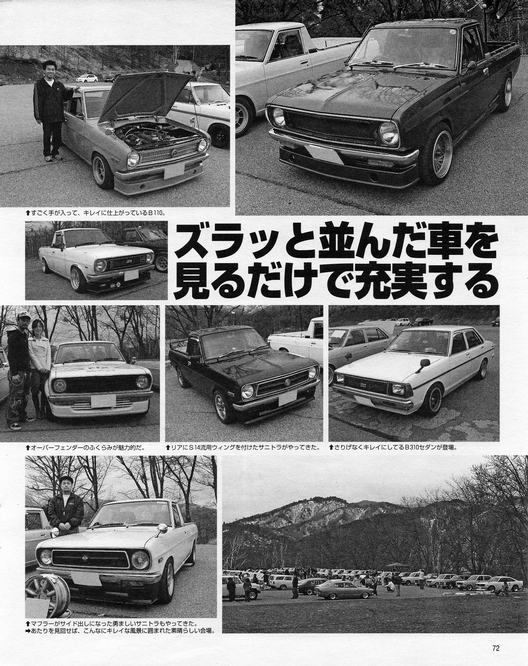 Nagano Sunny Meet 2006 page 5 of 6

ddgonzal

2009/1/18 10:05

Tell a friend
1560

2

0.00 (0 votes)


グラット並んダ車を見るだけで充実する
* すご<手が入って、キレイに仕上がっているB110.
* オーバーフィンダーのふくらをが魅力的だ。
* リアにS14流用ウィングを付けたサニトラがやってきた。
* さりげなくキレイにしてるB310セダンが登場。
* マフラーガサイド出しになった勇ましいサニトラもやってきた。
* あたりを見回せば、こんなにキレイな風景に囲まれた素晴らしい会場。
[< Previous 173 174 175 176 177 178 179 Next >]
The comments are owned by the poster. We aren't responsible for their content.
Poster
Thread
wolki101

Posted:

2009/1/19 7:10

Updated:

2009/1/19 7:10

Home away from home

Re: Nagano Sunny Meet 2006 page 5 of 6

babelfish

B110 where like [guratsuto] is just looks at the [da] car is complete * < the hand entering, is finished enormously cleanly. * The over wing you wipe, and others is attractive. * [sanitora] which attaches the S14 diversion wing on the rear did. * The B310 sedan which has been made clean without the [ri] [ge] appears. * You did also brave [sanitora] where to the MIRV raga side it put out and became. * If hitting was looked around, the splendid meeting place where it was surrounded in the so clean scenery.