All Hitachi DCG306/DCH306 have barrel sizes of:
26/30
So they have much smaller barrels than the Weber 32/36.
According to my Nissan factory books:
The A12 (and A12A) got venturis of 20/26.
Most A14s are 23/27, but some were 22/27.
A15s mostly use the 22/27, but Canadian A15s had 23/27.
You can look at the size of you carb, the numbers appear as is this photo. You can shine a flashlight down the air cleaner to see them: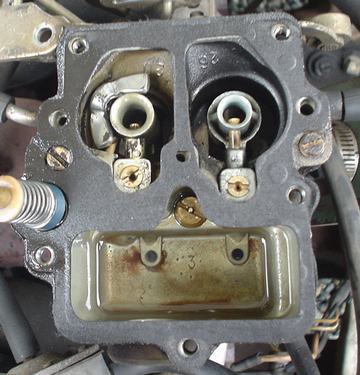 7888
From the text, it seems this chart applies to a "single carburetor" feeding all the cylinders (i.e. using a plenum), whether that carb is one or two barrels. So why a smaller primary? Well, the usual goal of a progressive carburetors is to give better low speed flexibility. The primary and secondarys will be matched on synchronized carbs like the Weber DGAS 38/38. I don't see why you couldn't do the same with a progressive carb. But if your goal is max performance, the synchronized carb (or carbs) is the usual choice.
Which brings us back to the first post: it doesn't matter if it's a 4-cylinder or 6-cylinder engine, Weber recommends to use the same size carburetor. And it doesn't seem to matter if it's a one barrel or two barrel carb.
But now I'm wondering about it. Why does it say multiple 2-cylinder engines by two? I wonder if it is a typo and meant to say "for two-
stroke
engines, multiply the engine capacity by two".