The Datsun 1200s of John Wayland
The Cars
2600 amp power rush...enough to break traction on a sticky drag track at speeds around 70 mph
#Blue Meanie | #White Zombie

Album click to view
Album click to view
Both are 1972 models, both converted to electric power, and both kept in garages.
2-dr Sedans, of course.
---

I've had my blue 1200 since 1980 and my white one since 1985, and I still, never tire of them and always get a big smile on my face when I go play with my 1200's.

---
The Man - Who is John Wayland?
John is an electric vehicle hobbyist and promoter from Portland, Oregon USA.
Album click to view
But more importantly :-) John is a Datsun 1200 fan and occasional member of this club (boltman336 now eVdude):
---

I am one of the world's biggest fans of the Datsun 1200...what a terrific little car!

---
John is also a Datsun fan in general, having owned more than 80 Datsuns, including seventy-seven 510s, 'Purple Phase' show truck (Datsun 520) and 'Bay Blue (Datsun 521). He also has 'Red Beastie' an electric-powered '95 XtraCab Toyota truck with 120 mile range
From our Datsun1200.com Main Forum: John Wayland, an introduction:
---

I'm sure most of you know of Ron Folk's 1200 sedan with the 6 cylinder turbo Z engine? That car is one I found in a wrecking yard for my brother, Chris Wayland. I've also had lots of fast 510 Datsuns, too, including a turbo 510 wagon that had an L20B pumped up with 18 pounds of boost, a roadster 5 speed, and a Nissan 4:38 posi rear end. I've had my share of V8s, owned a '78 [Porshce] 911 SC, and have played with rotaries, too. Electric power for me, was the next evolution.

---
Why 'Boltman336' and not 'Voltman336'?
quote:

---

When my 1200 was featured as the world's first electric soundoff car in the March '95 issue of 'Car Audio and Electronics' magazine, they did a cool picture of the car inside a hydroelectric dam, and made it look as if lightning bolts were coming from my hands...hence, 'Boltman'...the '336v' part is the voltage of the battery pack in my other 1200, White Zombie, my drag car. http://www.austinev.org/evalbum/036.html

---
boltman336
* is also known as
boltman97220
and John 'Plasma Boy' Wayland.
The 411 Horsepower L20B-powered 1200
Album click to view
Ron Folck's 1200 (ex-Chris Wayland)
I'm sure most of you know of Ron Folk's 1200 sedan with the 6 cylinder turbo Z engine? That car is one I found in a wrecking yard for my brother, Chris Wayland. He and I dropped an L20B into it, modified it for turbocharging, and jammed it with 31 lbs. of boost with a double pumper Holley 750 carb, and a tubbed the rear stuffed with a Ford 9 inch. This was back in the early 80's, when the whole import drag racing scene wasn't even around. We really blew the muscle car crowd's minds with a four banger Datsun that kicked butt! The car's best ET was somewhere around 11 seconds, if I recall correctly.

reference: John Wayland, an introduction
Blue Meanie
NOTE: Current specifications are listed at evalbum
Album click to view
Blue Meanie was acquired by John in 1980 and eventually built as an audio 'sound-off' competition car.
---

I built my first [electric car], 'Blue Meanie', back in 1980, a primitive EV by today's standards with just 48v of batteries and a small aircraft motor/generator. The first time I 'hit it', it layed rubber for 30 feet, but the zero rpm high torque of the 6 inch electric motor twisted the driveline and cracked the transmission case. Today, Blue Meanie is much more refined with 156 volts and 1200 amps of juice being fed to a robust 9 inch Advanced DC electric motor. The car is quick and fun, hitting 60 mph in about 8 seconds and running past 120 mph. Since 1980, it has never needed an oil change, antifreeze, a tune up, exhaust work, belts, hoses, or a trip to the DEQ [Oregon State Department of Environmental Quality test center] for a smog test. Blue Meanie was featured in 'Car Audio and Electronics' magazine in the March '95 issue, as the world's only electric soundoff car. The car is still in immaculate shape and is my daily driver.

---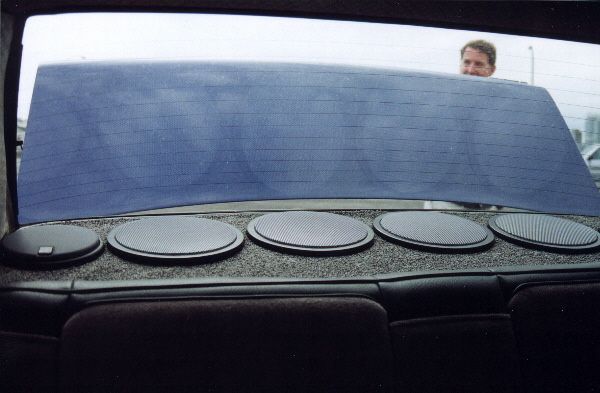 amps in 1200 sedan spare-tire location
Custom interior and e-meter gauges
Datsun 1200 coupe-style ammeter gauge
Album click to view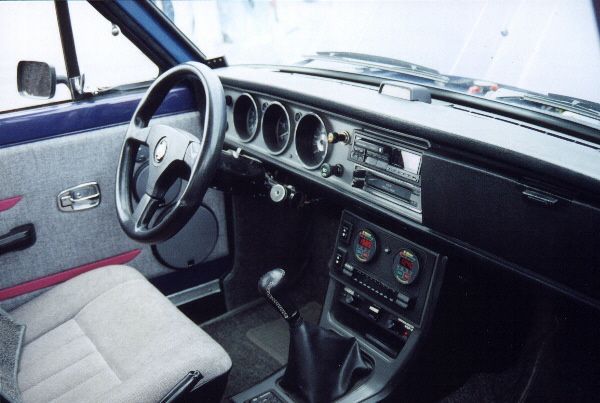 Drivetrain: Original Datsun 1200 4 speed transmission with clutch
Motor: Advanced DC FB-4001
System Voltage: 156 Volts
Range: 20-25 miles reliably, 37 miles pushing things!
Curb Weight: 2340 pounds
Suspension: Front and Rear competition anti-sway bars
Clutch: KC Tool 'Borris Style' racing clutch ('It vill not schlip!')
13- Optima YellowTops, 156 volts
tilt-away front seats with access to under-seat mounted components
competition stereo system: 300 watt, 14 speaker (4 subs), AM/FM/DAT source unit and 10 disc CD changer
Aluminum adapters and motor mounts
Stainless steel used in all battery trays, brackets and supports, and in stereo component housings
Front suspension: Datsun 240Z front springs
Rear suspension: extra Datsun B210 rear leaf spring combined with stock springs
Tires: 175/70 R 13 GoodYear Invicta GLR (low rolling resistance)
remote controlled motorized rear battery tray
Controller: DC Power Systems 'Raptor' monster controller, 1200 amps @156 volts
Engine
Album click to view
Paint: violet pearl over royal blue
Interior: found a wrecked Soob [Subaru] wagon with just 1500 miles on the clock that had 'as new' grey cloth seats that I scooped up in a hurry. These seats are shaped similar to the factory 1200 seats, but are far more supportive and look vaguely Recaro-like. I had the Soob rear seat cover fitted to the 1200 rear seat frame. With cutom door panels covered in grey cloth with violet vinyl insert, matching rear quarter panel covers, and salt & peper style grey carpet that also covers the kick panels, the Soob seats blend in nicely, and are still in mint condition today. A trio of MB Quart separates [speakers] are also mounted in each door, and they have custom painted grills that blend in well with the interior scheme.
The Ultimate in Stealth
quote:

---

Yes, there's nothing quite as fun as crusin' in Blue Meanie, pulling up to a light, and after the guy next to you looks over your little 1200 and the light changes and he stomps on his tricked out Honda, I blow him away with electric power, as the rear tires bite in after a bit of squealing, and I rocket away from the Honda like it has been put into reverse!

---
White Zombie
White Zombie is a 1972 Datsun 1200 2-door sedan. It is the world record holder for street legal electric vehicle, running the ¼ mile in 11.4 seconds @ 114 mph.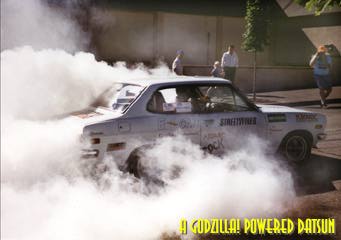 Also See
* Electric 1200s 

¤