"Drag racing's toughest little car", this Datsun 1200 is powered by a 1974 L26 engine from a 260Z.
Ron Folck's L26-powered (260Z engine) 1200 race car
The 411 Horsepower L20B-powered 1200
Ron Folck's 1200 (ex-Chris Wayland)
---

Iím sure most of you know of Ron Folkís 1200 sedan with the 6 cylinder turbo Z engine? That car is one I found in a wrecking yard for my brother, Chris Wayland. He and I dropped an L20B into it, modified it for turbocharging, and jammed it with 31 lbs. of boost with a double pumper Holley 750 carb, and a tubbed the rear stuffed with a Ford 9 inch. This was back in the early 80ís, when the whole import drag racing scene wasnít even around. We really blew the muscle car crowdís minds with a four banger Datsun that kicked butt! The carís best ET was somewhere around 11 seconds, if I recall correctly. reference: John Wayland, an introduction

---
---

Let's see: 400 hp in a 1640 lb car v 600 in a 2800 lb car ... the Datsun had a power-to-weight advantage.

---
More details:
---

Hello Datsohollics and 1200 fans,

Years ago, my brother and I stuffed an L20B into a 1200 sedan....the beginnings of our 411 hp (dynoed) 31 lbs. of boost, 1/4 mile drag Datsun. Knowing we were going to use a Corvette crossflow radiator, and thus the engine would sit a little farther into the engine bay, and knowing we were also going to use a Z 5 speed tranny with its larger bell housing, we cut the firewall and built a new tranny tunnel. While we were at it, we also tubbed the rear and put in a huge Ford 9 inch rear end with 5:17 gears, too. I believe it is possible to put in an L series motor without cutting up the bodywork as we did, though, but at the time, this how we did it. This same 1200 is alive today but now belongs to Ron Faulk who is well known for this wheel-standing, now 6 cylinder turbo powered car.

See Ya.....John Wayland

reference: Re: L - series engine conversion

---
700 HP: Ron Folck Pours on the Power
Ron Folck


Ron Folck of Sandy, Oregon, celebrating his 60th birthday, prepares his car, a modified Datsun 1200, for a qualifying heat in the Super Pro Class at Woodburn Dragstrip
The Oregonian by Jerry F. Boone

Folck is one drag racer who is programmed to race

The Sandy [Oregon] driver gets the most out of his Datsun 1200 by turning to his computer and high-tech for improving engine performance on the track
NIRA Nationals: 9.40 seconds at 145 mph

2000, Bremerton, WA: 2-dr sedan vs HEMI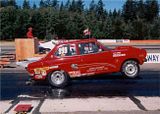 Many time national event winner and runner up import & NHRA. This car was the first turbocharged w/ automatic trans to stall on a 4ths pro tree in NHRA or import, This car is light years ahead of any import as it can run in national events in the nhra and stand up to any car in it' class. It has beaten Abell Abira in 1999 world finals in pheonix,beaten many many NHRA national event bracket cars. Extremely reliable and has never broke and is set up to run 9.90 in super gas can run 8s at 150. There are to many parts to list as we have worked on it for 12 years.
700hp inline 6 Nissan
Factory backed turbonetics ceramic ball bearing 60-1 turbo
Handmade fuel injected intake plenum
Hand made exhaust system
Turbonetics wastegate
Two speed Powerglide /w protree transbrake
turbonetics intercooler
Remote water pump
NHRA certified chromoly full cage
Wheely bars
Simpson chute
Goodyear slicks
9' ford funnycar lenco 35 spline differential
Biondo Mega 400 w/ throttle stop
HALtech EFI controller
Laptop computer and all programs to run it
Canadian Nationals 2001, vs big block rear engine dragster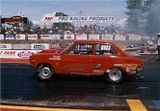 Canadian Nationals 2001, vs big block Chevy camaro.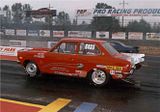 2000, Winner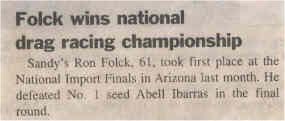 Sport Compact Magazine has an article
Where is it now?
Ron has since retired, and at last word 'Drag racing's toughest little car' was for sale at $25,000 USD.
Photo Gallery