<-- back to B310 Brochures
Title: 5-Door Sports Sedan - Sunny California [yellow woodie]
1979 Datsun B310 Sunny California WB310
Format:12 pages Size:unknown Publication Number:unspecified
Comments? Questions? More photos or info? Reply to main forum: POST Datsun 1000 brochures: sedan 2-door RED
Variations
1979 January
1979 March
1979 October

Cover
WB310 5-Door Sports Sedan - Sunny California - with NAPS
昭和54年3月 サニー カリフォルニア カタログ 1400 5ドア

Album click to view
Pages 2-3 New Style
新風
日本の道に新登場! New style
New appearance on the road in Japan!

Album click to view
Pages 4-5 California in California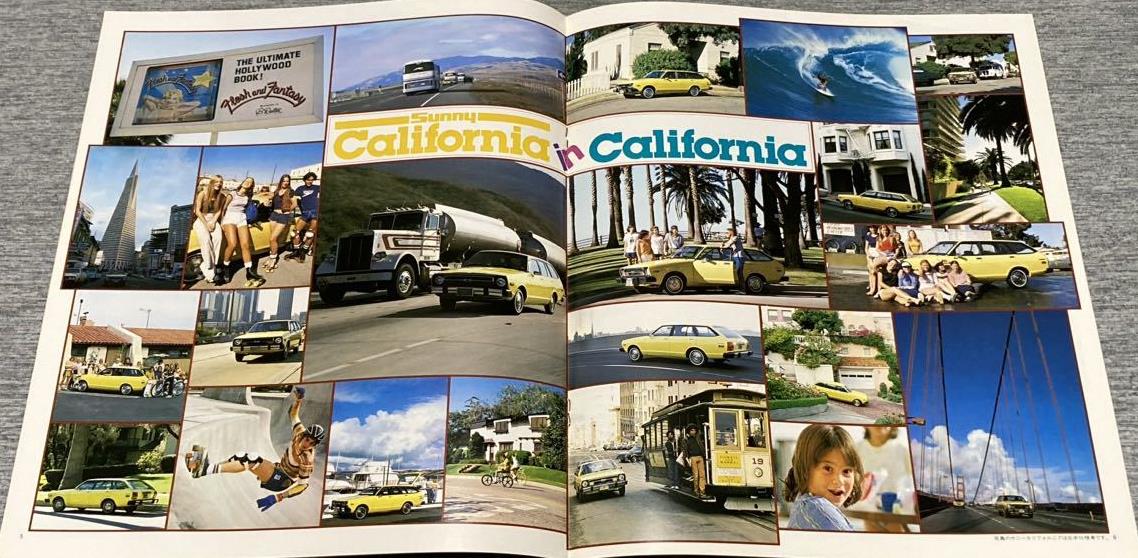 Album click to view
roadside billboard: The ultimate Hollywood Book! Flesh and Fantasy
line of buses on the freeway
Sunny California in front of adobe house
Big wave surfing
Sunny California parked in front of San Francisco house
Sunny California pulling away from adobe house (milk truck left behind)
man walking dog in on palm-shaded walk in front of hi-rise apartment building
nine highschool girls in front of Sunny California (sign says "oil change & filter $9.95")
Sunny California on Golden Gate Bridge
sunny little girl
Sunny California on "the crookedest street in the world" Lombard Street (San Francisco)ᵂ
Sunny California on San Francisco–Oakland Bay Bridgeᵂ
Sunny California next to Powell & Market No. 19 cable car - San Francisco cable car systemᵂ
kids riding bicycles in front of old house
Sunny Calfornia at the marina
Sunny Calfornia overtaking tanker truck
skater in skate park
Sunny Calfornia on freeway above downtown skyline
Sunny Calfornia on tree-line street
Sunny Calfornia with large family at abode-style townhome
Sunny Calfornia in front of the Transamerica Pyramidᵂ
Sunny Calfornia with roller-skating teens
(center) Sunny Calfornia with family at palm-studded park
Pages 6-7 Sports in Sports Car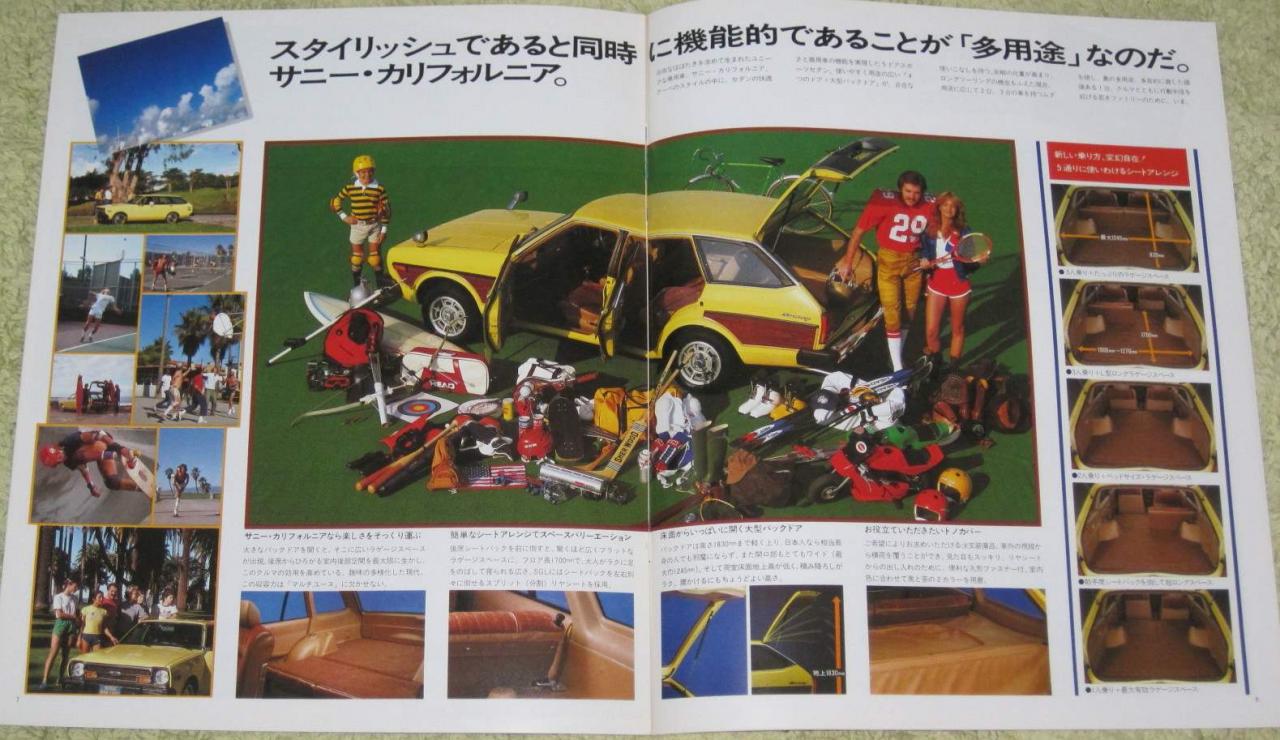 Album click to view
Pages 8-9 Luxury & Mechanism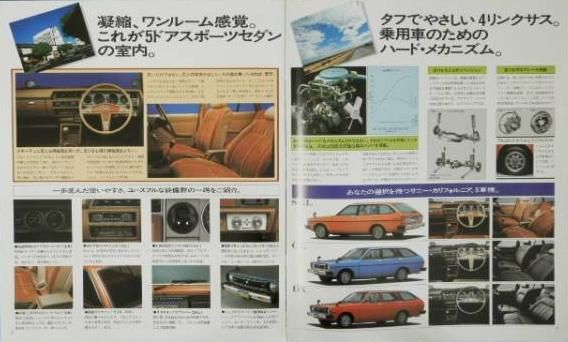 凝縮、ワンルーマ感覚。
これが5ドアスポーツセダンの室内。 Condensed, one-room feeling.
This is the room of 5-door sports sedan.

Album click to view
* 1400cc engine
* McPherson Strut front suspension
* 4-line coil-sprung rear suspension
* Front disc/rear drum brakes
* Aluminum road wheel & radial tyre

タフでやさしい4リンクサス。
乗用車のための
ハード・メカニズム。 Tough and easy 4 link suspension.
For passenger cars
Hard - mechanism.

Album click to view
3 models: SGL, GL, DX

Album click to view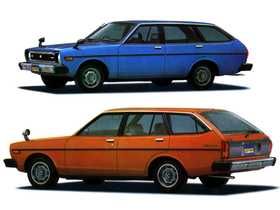 Pages 10-11 Free, California
自在の、カリフォニア Free, California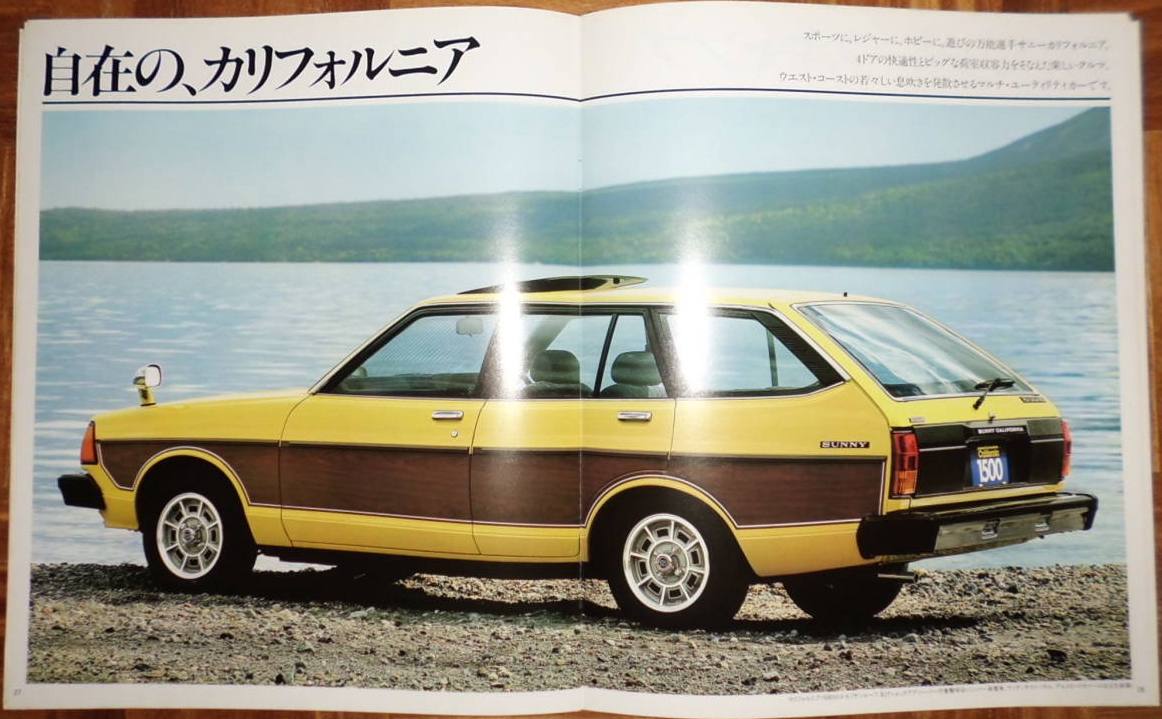 Album click to view
Back Cover
Album click to view
colour detail


Album click to view
BODY COLORS
208 yellow
629 カッバー metallic
663 silver metallic
603 red metallic
216 white

MODEL seat ground
DX    vinyl leather
GL    brushed tricot (fabric)ᵂ
SGL   luxury moquetteᵂ 

¤