Datsun 620 used a variety of mirrors, which all look exactly like 1200 mirrors.
Japan
01221-00033 NUT
96319-H1000 WASHER-LOCK
96315-H1000 BASE-MIRROR, OUTSIDE

Round - Standard
96301-B5010 MIRROR ASS'Y-out side (R.H.) Standard
96302-B5010 MIRROR ASS'Y-out side (L.H.) Standard
photo

photo


Deluxe mirror -7790: trapezoidal 
96301-B5000 MIRROR ASS'Y-out side (R.H.) Deluxe
96302-B5000 MIRROR ASS'Y-out side (L.H.) Deluxe 
photo


Aero 7709-: looks like stock late-1200
96301-B9500 MIRROR ASSY-OUTSIDE RH
96302-B9500 MIRROR ASSY-OUTSIDE LH
photo


Custom -- stock mirror mounted on door

USA
Dealer-fitted "west coast" type mirror - very common

Lil Hustler

Mooneyes sell 510/620 mirror
http://item.shopping.c.yimg.jp/i/j/mooneyes_dat96301u
96302-B5510 ASSY-MIRROR,DOOR LH $72.45 <> 96302-B5500/96302-B5501
96301-B5510 ASSY-MIRROR,DOOR RH OP $72.53
620 with 510-style mirror (thin and long)

Tripod mirrors -- official Datsun Accessory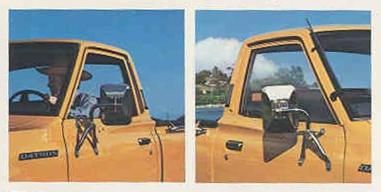 Custom
Aftermarket bullet mirror

Door-mounted camper type

Room Mirror
Looks identical to 1200 Rear-view Mirror.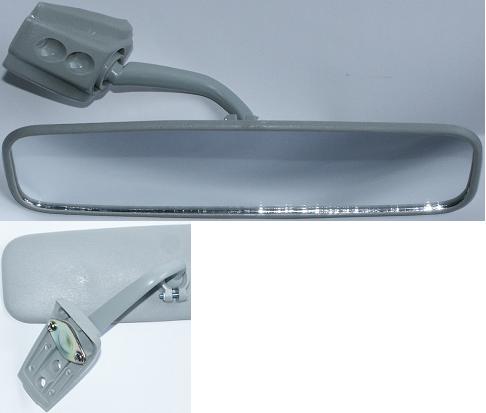 69321-B5000 MIRROR ASS'Y-back, inside <> 69321-B5100
69321-B5100 MIRROR ASS'Y-back, inside (74-08 - )
08330-51612 SCREW (2)
96327-H6200 BASE-MIRROR, INSIDE
96319-H1000 WASHER-LOCK

96321-B5601 MIRROR ASSY-INSIDE PU [coupe utility]

EVER WING Made In Japan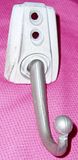 bracket