Aoba Auto--'The Sunny Truck Shop'--in Yokohamaᵂ specializes in Datsun 1200 trucks. They also sell cool accessories and parts. And from time to time they have the Aoba Auto Sunny-Truck Meeting.
Album click to view
有限会社 青葉オート
神奈川県横浜市青葉区恩田町2073-6
TEL:045-962-0671 
FAX:045-962-0672

Aoba Auto, Ltd.
post code 227-0065, Yokohama City, Onda Town Ward
Tel:045-962-0671
Fax:045-962-0672
E-mail:sunnytruck@aobaauto.jp

POST quote: I just have to say that Aoba Auto is one of the coolest places. It is a small place, but the staff is friendly (Matsuo and Yuki), they had a dozen or so Sunny Trucks for sale, also a B310, had the advertised Sunny parts in stock (even a new 5-speed!) and it is right by the train station.
Aoba Auto is in Yokohama, so it take a few hours to go out there by train. There are some places in Tokyo that occasionally have B122 (newer Sunny Trucks), but as far as is known only Aoba specializes in them.
The owner Matsuo and mechanic Yuki are both friendly. Yuki speaks a fair bit of English. The trucks are all nice varying from original to modified. They had a NISMO 10,000 rpm Sunny speedometer but of course it was not for sale (it was different from the Datsun Competition 10k model). Sunny Truck Shop is a must see if you've never seen B120/B122 utes.
Album click to view
If you want to buy a part or a truck contact them by email. Aoba Auto is willing to ship overseas, ask for Yuki. Send them an email and let us know how it works out.
Yuki's Sunny Truck

Album click to view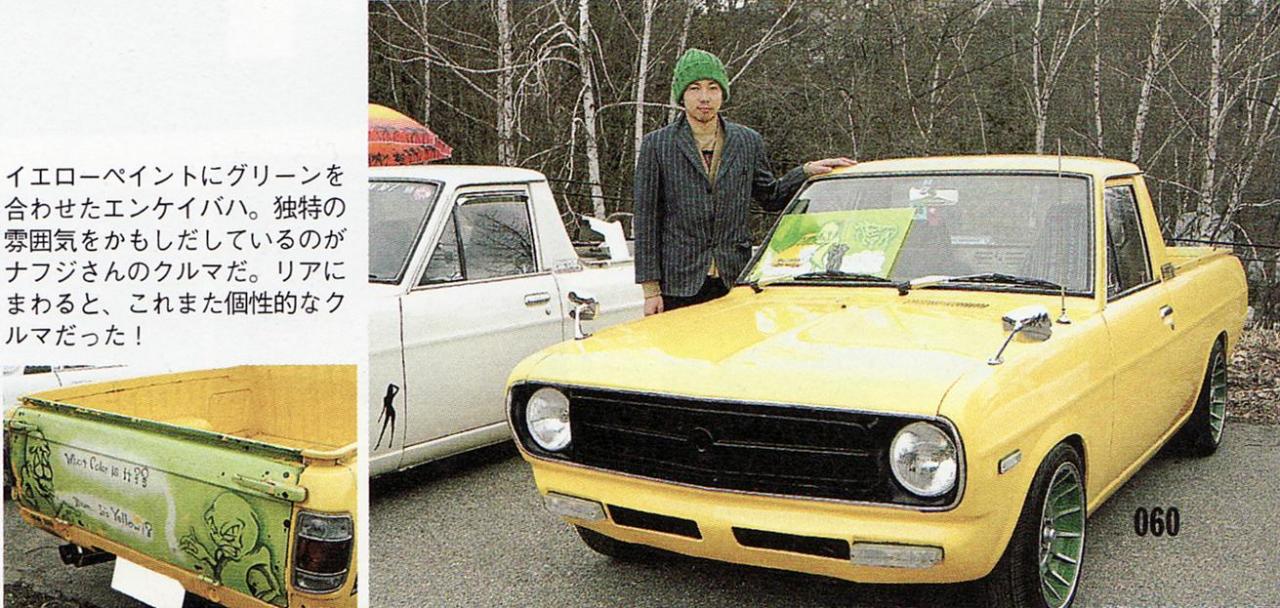 Album click to view
Directions
The Shop is straightforward to get to by train:
From Tokyoᵂ, take Keihin-Tohoku line to Higashi-Kanagawa station (station map PDF)
Take Yokohama line to Nagatsuta station
Take train to Onda station. You can see the Shop from the station (look for the Jomo gasoline station sign)
Datsun1200.com Member Visits To Aoba Auto
Album click to view
¤