Buy MegaSquirt II (or MicroSquirt 2) fully assembled about $400 USD or $500 AUD off eBay.
Manifold and Injectors
Obtain an A14 or A15 EGI factory Datsun fuel injection manifold.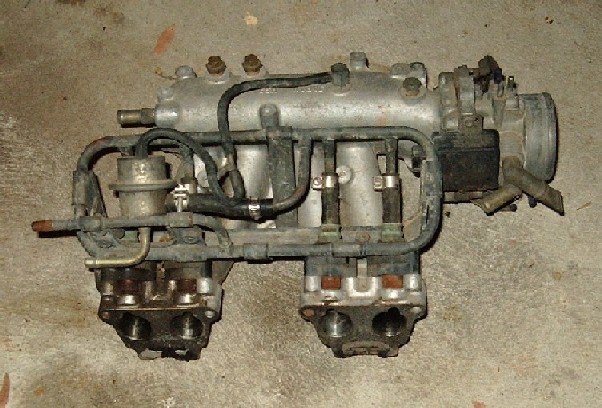 Album click to view
Make sure it includes:
the factory rising rate regulator and fuel rail
the fuel injectors included
the factory 2-pin water temp sensor
the throttle body. The Factory one is good for 92 hp
the air regulator. It will run without this if you want to hold your foot on the throttle while engine is warming up to 120F/45C
Everything else may be removed from the manifold.
if you remove the EGR passage, fit a blocking plate
an O2 sensor is not required
TPS is not needed
the only vacuum hoses needed are
one to the fuel regulator
one from the throttle body to the distributor
manifold to MegaSquirt
Sensors
With MegaSquirt you won't need the Datsun airflow meter. Instead, Megasquirt will calculate the air mass using a MAP sensor and and IAT sensor.
MAP sensor is built into Megasquirt. Connect vacuum hose to manifold
Obtain GM IAT sensor from a Chevrolet or Holden. Drill hole in your air cleaner-to-throttle body pipe, and hot-glue the IAT in place. Or use JB-weld. Threaded bungs are available if you want to get really fancy.
* MegaManual
* GM IAT Sensor 12146312 $10 RockAuto.com

* GM sensor connector 12162193 $5 RockAuto.com 


Fuel System
Use a 280ZX fuel pump (or Walbro inline pump), connected to the stock fuel line coming from the tank.
* 280ZX Fuel Pump $45 RockAuto.com

Run a regular fuel line back to the the filler hose and Tee it in. If you keep the tank above 1/4 full no baffles or surge tank are needed.
From the fuel pump output to the fuel rail, use EFI-rated fuel hose and EFI hose clamps. Use a 280ZX-style fuel filter.
Nissan EFI fuel pump with damper can be mounted in rear of car or in engine compartment

Album click to view
280ZX EFI fuel filter $3 RockAuto.com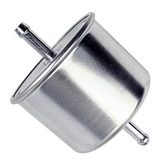 Wiring
Wire up the MegaSquirt harness
12V
earth/ground
fuel pump relay
injectors
IAT signal & ground/earth
Air Regulator
EFI Water Temp
Tach signal (coil negative terminal)
For full details, see http://www.megamanual.com/mtabcon.htm#wire
Obtain a dropping resistor pack, and connect to injectors

Album click to view
See main article: Dropping_Resistor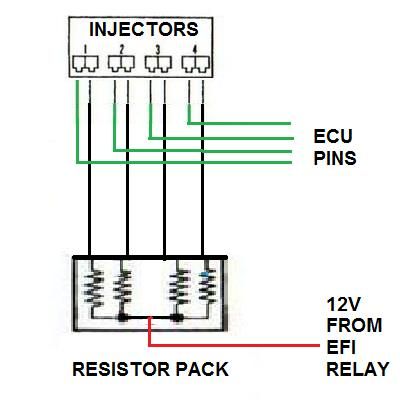 ECU Configuration
Download at http://www.diyautotune.com/softwarelinks.htm
You have a choice:
TunerStudio free version (most popular software for MegaSquirt)

Free version supports all MegaSquirt features

SuperTunix open source
In the software configure
Fast Idle Valve (FIdle): Solenoid
Fast Idle Threshold: 120F

Nissan temp sensor
-40F 30-33000 ohms
 80F 2000-2500ohms
160F 360 ohms

CONSTANTS
Required Fuel
* displacement 1397cc (A14) or 1488cc (A15)
* # of cyl 4
* injector flow rate 188
* desired AFR 13
Injector open time 1.0ms
batt V correction .20
PWM current limit 1000%
PWM time threshold  25.4
Fast Idle Threshold
Barometric Correction: Off
Control Algorithm: Speed Density [non-TPS]
Injections per Engine Cycle: 1 squirt
Injector Staging: simultaneous
Injector Port Type: multi-port
Engine Type: even fire

VE TABLE

Generate a new table based on your peak horsepower and torque figures ('Settings/VE Table/Tools/VE Specific/Generate VETable').
ENRICHMENTS
EGO Step (%): 0
Warmup enrichment
-40F 180%
-20F 150%
 0F 140%
 20F 135%
 40F 130%
 60F 125%
 80F 118%
100F 110%
130F 103%
160F 100%

Afterstart Enrichment: between 25-45%for 100 to 250 cycles,
Software Tuning
Start your engine and let idle. Go to http://www.megamanual.com/v22manual/mtune.htm
And start tuning.
A big help in turning is to fit an Air Fuel Ratio Gauge. MegaSquirt 2 can directly read the wideband output of the wideband controller, but more importantly you can see the A/F Ratio on the gauge.
 See Main Article: Oxygen_Sensor#Air_Fuel_Ratio_Gauge

The paid version of TunerStudio has a software auto-tuner which is supposed to be great, but it still requires some work (it's not totally automatic).
¤