An electric fuel pump can be fitted if the stock mechanical Fuel Pump goes bad. Carburetor applications call for 4 psi max, so using a low-pressure pump is recommended.
Overview
Advantage:
Easy to troubleshoot
Primes the carb fuel bowl (no more cranking and cranking just to get fuel to the carburetor)
Disadvantage
Extra wiring needed
Noisy
Danger of fire in a crash if pump keeps pumping fuel. For safety fit a #crash relay
Location
You may have heard it said that fuel electric fuel pumps are supposed to be mounted in the rear, near the fuel tank. The main reason why is to pressurize the fuel lines, by doing so it lessens the possibility that fuel will boil in the fuel lines and cause vapor lock when exposed to a lot of heat. However in a stock Datsun 1200 the hot parts (exhaust system) are on the left side of the car, while the fuel lines are on the right side of the car. So location is generally not a problem. Many have successfully run electric fuel pumps in the engine bay of their 1200. See POST fuel pump question
Fuel pump located below battery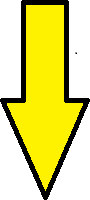 Nissan
B310
B310 USA Datsun "210"
Beck/Arnley 152-0127

Album click to view
Patrol & 720
Stock on newer Nissan Patrol and Datsun 720 pickups: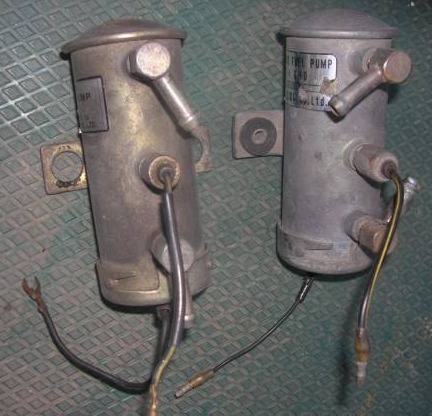 Album click to view
* W0133-1601714 Nissan 720 OE Service Fuel Pump
* 16404-28500 filter
* Beck/Arnley 1520741 (Rockauto.com)

16420-E0100 BLANKING PLATE A-series, E-series, Z-series


Nismo
CAUTION: Since these draw a high current, wire with a dedicated 10A fuse circuit
2011 Catalog

Album click to view
17010-A7600 High-Flow Volume Fuel Pump (General-Purpose)

Price: 11,500 Yen
Output Volume: 1.3L/min (at P=29kPa, 0.3kg/cm2)
Outside Diameter: 60 mm
Length: 140 mm
Intake: 8 mm (~1/4 inch)
Outlet: 8 mm (~1/4 inch)
Current: 7.0 amp
Carburetor-use, electromagnetic piston type, with insulator
17010-RR710 High-Flow Volume Fuel Pump (General-Purpose)
* Price: 40,000 Yen
* Output Volume: 3.6L/min (at P=29kPa, 0.3kg/cm2)
* Outside Diameter: 60 mm
* Length: 160 mm
* Intake: 12.2 mm (slightly under 1/2 inch)
* Outlet: threaded M12 x 1.5
* Current: 7.2 amp
* Roller Vane type

1984 Nissan Competition catalog
FUEL PUMP & COMPONENTS
17010-A7600 ELECTRIC FUEL PUMP
 Due to 7 PSI, a regulator is required
16404-29900 REPLACEMENT FILTER
 For use in 17010-A7600 
16420-E0100 BLANKING PLATE 
 Required when removing stock fuel pump

17010-A7600 NISMO High Volume Nissan type "Transistor"
* 16404-29900 Replacement Filter
* 16420-E0100 Blanking plate (for A-series engine fuel pump) $12.08 USD


Aftermarket
Rockauto - Airtex universal kit
Album click to view
Mitsuba
Mitsuba Part Number FP-3

Album click to view
Album click to view
Album click to view

Album click to view
Regulator
Because most electric fuel pump output more than the Weber recommendation of 3.5 psi, a regulator may need to be used.
Album click to view
EFI Fuel Pump
Electronic Fuel Injection generally requires a medium to high-pressure pump.
See main article: EFI for A-series engine

See Fuel System

Wiring
The fuel pump is best wired up with a relay -- you don't want the high current to go through your ignition switch.
Holley universal Fuel Pump Relay kit $107

An oil pressure safety switch can also be fitted to cut power to the fuel pump if the engine stops.
* Holley Safety Switch $29
* Mr. Gasket 7872 $16
* male 1/8 BSPT to female 1/8 NPT adapter $6 eBay

There are also more sophisticated relays that take a TACH signal and crash sensor to detemine when to cut off the power.
DIY
Album click to view
Connect short length of HOT wire to the BAT + or ALT + (your choice)
Fix fuse to this short HOT wire, to protect the rest of the new wiring
Then more HOT to the Relay (D). Keep the wire as short as is feasible
more HOT wire from relay to the fuel pump connector
Fix BLACK from new pump connector to a body ground or engine block
connect small wire (20 gauge is fine) from IGN circuit of the original wiring hanress to relay. Connect it to one of these:

points ignition: 12V side of the coil resistor
electronic ign: + side of the coil
anti-diesel valve on the carburetor

Connect small black wire to ground relay switch (E). Can ground it to:
To prevent corrosion, seal all the wire connection ends with a sealer
Improved Pump Relay Circuit
Factory Nissan circuit sees 3 relays. Allows pump to run when starting, and automatically cuts off if oil pressure fails.
RELAY-1: pump power relay
RELAY-2: normally closed IGN to Power relay switch
RELAY-3: sensing relay. Oil pressure falls, grounds Relay-2

Because ACC is OFF when key=START, fuel pump is powered during START.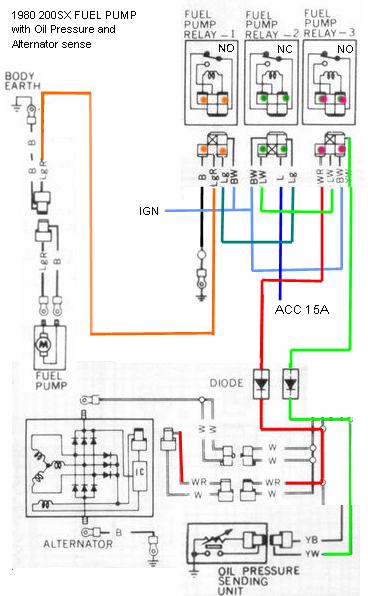 Album click to view
Uses two diodes. The dual-purpose oil pressure switch is for the S110 with Oil Pressure Gauge instead of oil lamp. Datsun 1200 does not need this switch.
25070-P8000 SWITCH ASSY-OIL PRESSURE

Evilsim's fuel pump safety switch: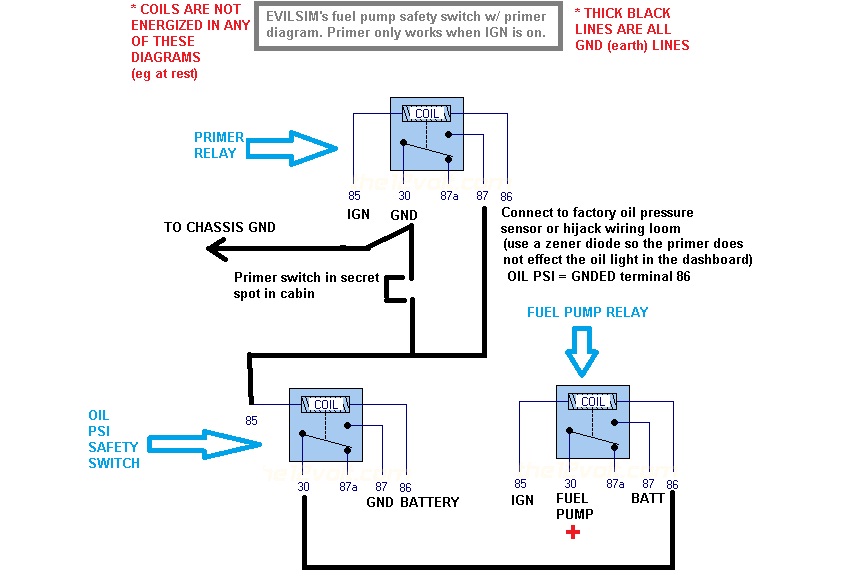 Album click to view
an94541's safety wiring (doesn't include a priming circuit)

Inertia Safety Switch
An inertia switch can also be fitted to cut power in a crash.
Album click to view
STANDARD MOTOR PRODUCTS/Intermotor FV7 Universal $70
Junk yard can net one cheap:
1990 circa Ford ($50.87 New). Mount with button up.
Mount on a steel panel, like the kick panel or firewall. After a bump, pushing on the reset button causes the linkage to reset itself.
¤