Datsun 1200 can use many engine oils including these modern blends:
*  5W-40
* 10W-30
* 10W-40

Oil Change Specs
1972 USA owner's manual (Page 32):

Every Three Months
1972 Recommendation
every 3 months
 * Change engine oil (& filter every other time)
every 6 months
 * Replace oil filter
 * Check oil system for leaks

Oil needed: 4 quarts with oil filter change

Modern Recommendation
With today's modern oil blends, we recommend changing the oil and filter every 6 months/6000 miles for regular oil. Regular oil (non-synthetic) is a fine lubricant but as it breaks down sooner, regular changes are a must!
Synthetic oil does not break down as fast, so if using a synthetic oil the changes can be less frequent. For example, Mobil 1 Extended Performance is guaranteed for 15,000 miles/12 months.
Engine Oil Viscosity
Choose the engine oil by the climate in your area. The 10Ws are good down to freezing, per the owner's manual chart, while 5Ws are good for colder climates.
The lower weights (5W especially) will use less HP when the engine is cold, however they cannot be used for high speed driving. Instead, a 5W-40 blend can be used, gaining HP and fuel economy both. And its 40 rating means no problems at high temperatures.
5W-40
Temp Range: -10F to 120F

Recommended by Nissan, depending on temperature
* 5W-20 (for cold areas)
* 20W-40
* 10W-40
* 10W-30

Nissan also specified some single weights, but those have a limited temperature range.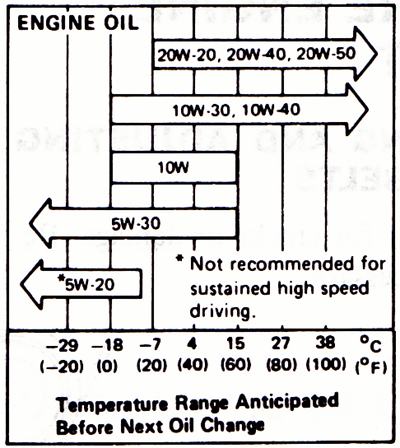 Factory Datsun 1200 Specifications
Reference: 1972 USA Owner's manual original Specification:
* Multigrade: SD MIL-L-2104B
or
* Monograde: SD MIL-L-2104B

1972 USA owner's manual (see pages 22-24):

The recommended viscosity grade of lubricants ... varies with temperature changes. The lubricants provided at the factory are intended for use at temperatures between 32 and 90°F (0 and 32°C).
Oil Usage
It is normal to add some oil between the oil changes. Usually a quart every 1,500 miles is OK. A quart every 500 miles indicates either a serious leak, or "oil burning" (bad rings) in the engine. To test for ring wear, perform an Engine Smoke Test. You can also do a wet/dry engine compression test using an inexpensive compression gauge.