Convert your newer Hitachi D4A Distributor (A14/A15/A12) to Hall-effect using VW distributor. Only need to drill one little hole. Hall Effect is a magnetic sensor with built-in amplifier in the sensor, to create a standard voltage signal before it is sent to an ignition controller. The dizzy is locked, no mechanical advance or nothing -- the controller does that, so this is good for a custom turbo spark curve.
Overview
This can be used with an ECU or with a programmable ignition controller like MSD 6AL-2. A points distributor can also trigger ECU or controller, but the Hall Effect works reliably at RPMs in excess of 8000 RPM and need no periodic adjustment.
Finished product

Album click to view
Album click to view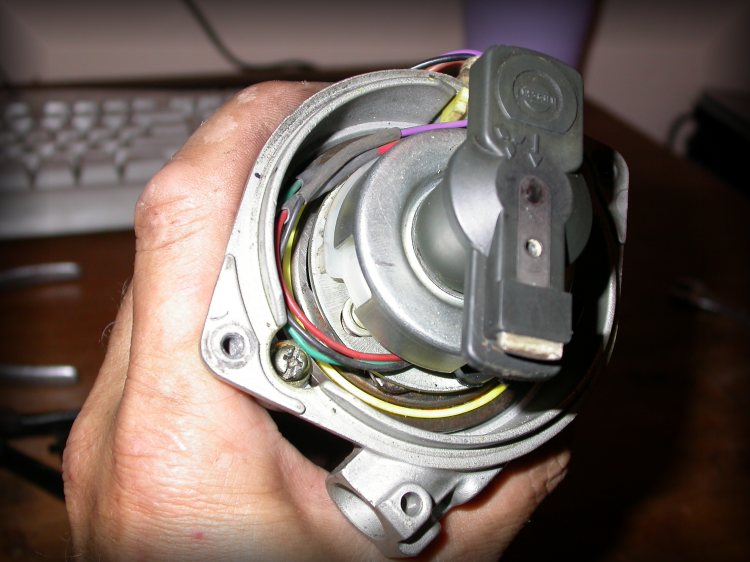 Album click to view
Main Forum discussions:
* Hallified A14\A15 Dizzy
* crank angle sensor

Parts Needed
Parts Needed
* Hitachi D4A Distributor 1973-up large cap type
VW/Audi electronic ignition Hall-effect type distributor
* wire shield
* Disrupter ring (trigger ring)
* Hall Effect sensor plate
* rotor shaft

Album click to view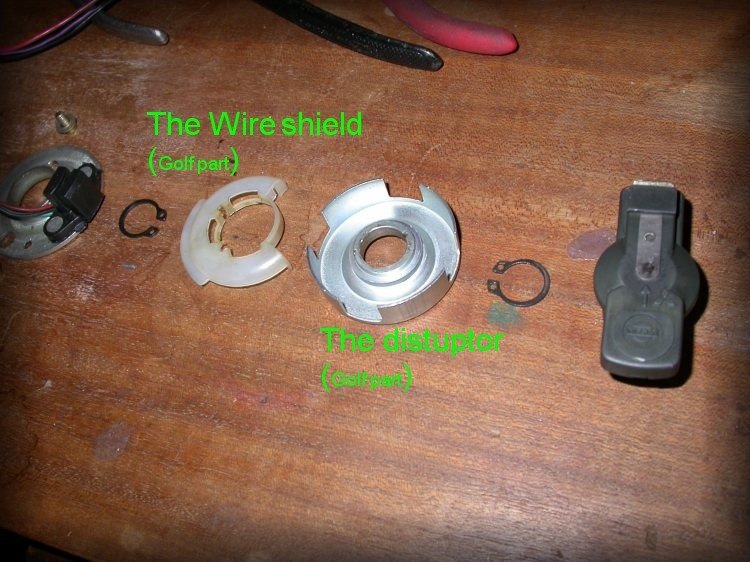 Album click to view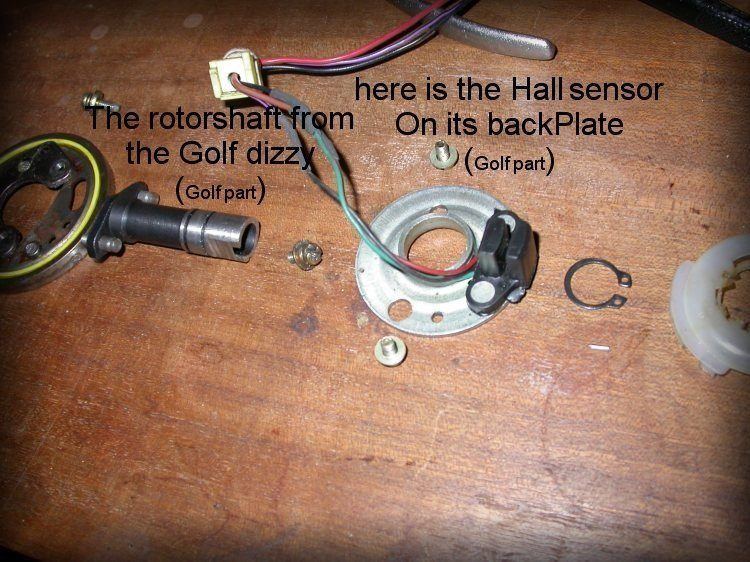 Album click to view
Source
1980-1983 Volkswagen/Audi electronic ignition distributor (hall effect type) for 4-cylinder engine.
Rockauto $122

South Africa
* Golf Mk1 1.8 and others

USA 4-cyl 1.5, 1.6, 1.7
* 1980-1983 Audi 4000 MFI
* 1980-1983 VW Dasher, Jetta, Rabbit, Scirrocco, Quantum

Steps
Remove the Hitachi contact plate

Album click to view
Modify the Golf rotor shaft by cutting a flat on one side so the Hitachi rotor will slip on. Use file and hacksaw.
Remove the Hitachi rotor shaft & install Golf rotor shaft

Album click to view
Album click to view
The Golf's upper shaft has 2 pins underneath, where the springs get hooked up, make them fit in between the weights, and when your tighten it from the top, just add a little washer, the make sure the shaft gets tightened, so it's locked with the bottom shaft.
Install the locked contact point plate (this disables vacuum advance)

Album click to view
Install the Golf sensor plate (drill one hole)

Album click to view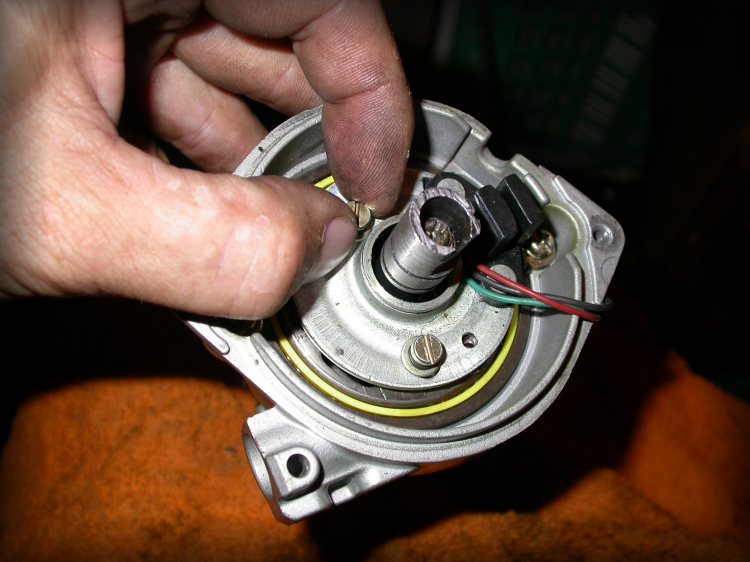 Album click to view
Album click to view
Fit Golf wire shield in place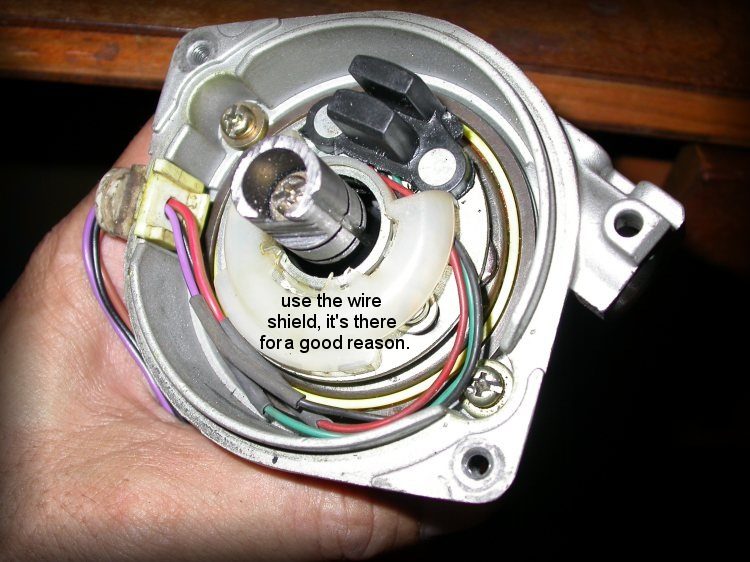 Album click to view
Install circlip

Album click to view
Put Disrupter ring in place, key and top circlip

Album click to view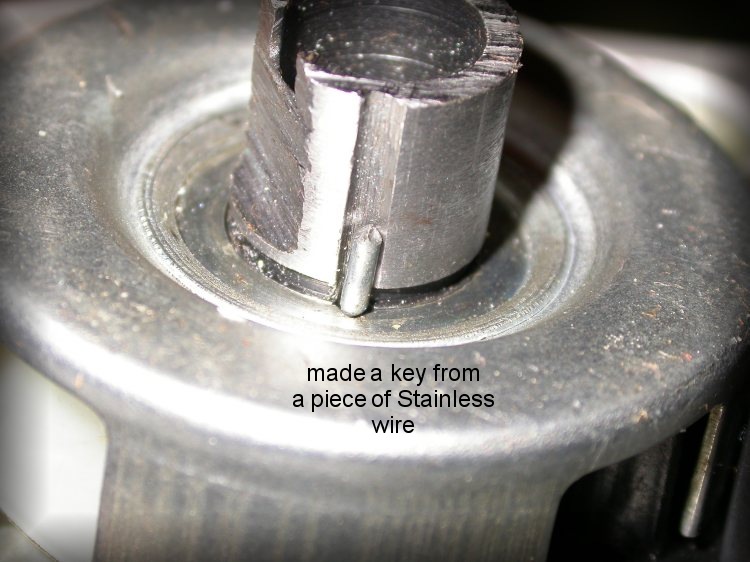 Album click to view
Album click to view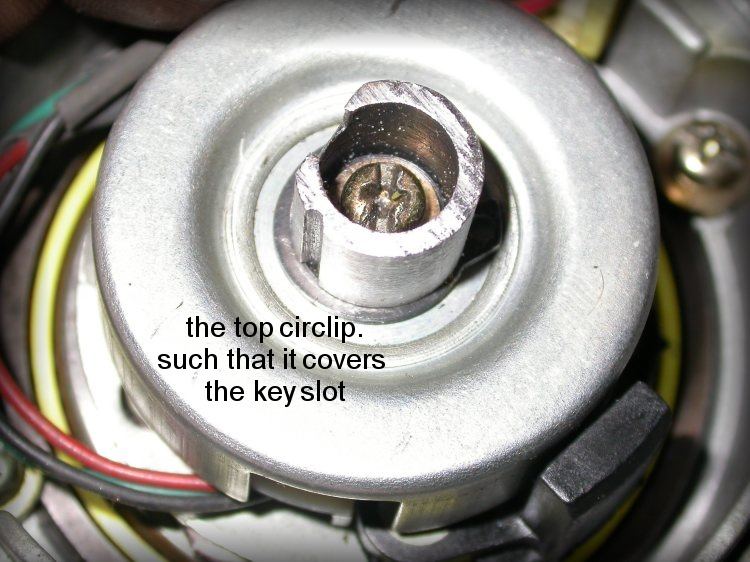 Album click to view
¤