The Hitachi DCH340 series carburetor is larger than the stock Datsun 1200 Hitachi DCH306 carburetor, yet runs smoother and makes more power than a Weber 32/36 Carburetor. They came as standard equipment on mid-to-late 1970s Datsun L-series engine, and Jet Kits for the A12 engine were available. It was first used on 1973 L16 and L18, and on all the L20Bs that followed.
Overview
A12 Jet Kit
DCH340 on A14 Engine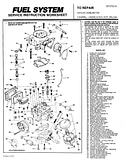 Most 510s used a Nikki carburetor. But the last North American 510s used Hitachi DCH340, the 1973 model. Most 1973-1980 L-series L18 & L20B used them, like 1978-1981 510, 1977-1979 200SX and pickups.
1980 USA version photos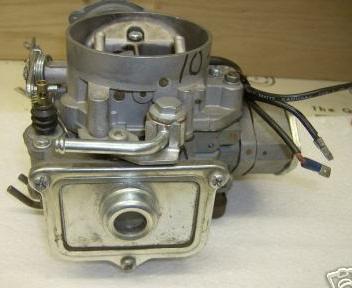 1980 720 Pickup with L20B

1977-1978 620 Pickup with L20B

Airflow
Venturis - total area
Weber 32/36: 26/27 - 1103
DCH340 L18 : 23/30 - 1122
DCH340 L20B: 24/31 - 1208

Jetting
1974 L18 DATSUN 620 TRUCK NORTH AMERICA 
venturis: 23/30
Main jets: 100/170
Air bleeds: 60/60
Slow jets: 45/90
Slow bleeds: 145/100
Slow economizer: 1.8 mm
Power jet: 41
Float level: 23mm

A12 CENTRAL TUNING KIT
venturis: unknown
Main jets: 115 or 117/155
Air bleeds: 60/60
Slow jets: 45/90
Slow bleeds: 140 or 150/100
Slow economizer: 180
Power jet: 48
?: 120

Hitachi Carb Lineage
Hitachi DCx Series
better venturis than the DAF series it replaced
vacuum operated secondaries
Used on Datsuns and 1973-1976 Honda Civic 1200/1250
Models
DCG286: 28 mm secondary bore - Datsun 1000, A10 engine
DCA306: 1967-1969 520/521 with J13 engine (large bolt spacing)
DCG306: 30 mm secondary bore - Datsun 1200, A12 engine, manual choke. Honda Civic.
DCH306: 30 mm secondary bore - Datsun 1200, A12 engine, auto choke. Also used by A13, A14, A15
DCR306: 1981-1982 A15, E15, E16
DCH340: 34 mm secondary bore - Datsun 510, 610, 710, 620, 720. L16, L18
DCH340 with high-speed enrichment system - L20B engine. Isuzu Chevrolet LUV
DCR360: 1980 L20B, Z20
DCR342: 1981 L20B, Z20 California, 1982 CA20 Stanza
DCH342: 1981 L20B, Z20 non-California
DCH328: 32 mm secondary bore -
DCR384: 1983-1986 Z24 engine

DFx Series
DFP306: 1981-1983 MPG Pulsur, MPG Sentra E15, E16

Also Geo 1985-1986 M/T 1.0 liter

DFC328: 1983 Pulsur, Sentra E15, E16
DCZ328: 1983 Pulsur, Sentra E15, E16
DFE2832: 1984-1985 Pulsur, Sentra E15, E16
DFP384: 1983-1986 Z24 engine

Hitachi DAF series - Solex-style primary venturi
DAF328 - Most L16

Ford Courier
Also 1987-1988 Ford Ranger 2.0 (Mazda engine)