GL and GX trim Datsun 1200s used illuminated electrical switch knobs. For 1973 all USA 1200s adopted the illuminated knobs. B210 also used this as standard fitment in Japan and USA.
Overview
A variable knob was turned to progressively dim the lamps.
H70 Type: Green knobs with words and illumination.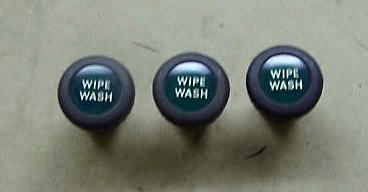 Album click to view
* Wipe Wash knob
* Heater Control knob
* Cigar Lighter knob 
* Auto-trans shift indicator lamp

From 1976
* Clock lamp
* Radio lamp

Control Switch
A resistor rheostat was used through 1976. This produced significant heat.

Album click to view
This switch went in-between the lamps and Earth/Ground (B wire).
Resistor Rheostat
B: Earth/Ground (notched side of connector)
RL: to lamps


For 1977 a new active semiconductor rheostat was introduced, which required a 12V IGN feed, but is otherwise wired the same. This one is not load-dependent (works even if one or more bulbs are burned out) and uses less power.

Album click to view
Semiconductor Rheostat - Illumination Control
B: Earth/Ground
GW: to lamps & Lighting Switch from Fuse Box (RG)
GY: to lamps

Album click to view
You can add this switch to the 1200. Fit into choke hole or make a new bracket for it. Because the cluster doesn't have a separate ground, you can add the rheostat-type switch to the 12V side. Add it to the headlight Lighting Switch.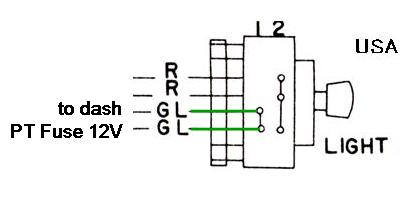 Album click to view
Cut one of the GL wires and splice the two-wire Control Switch to both cut ends. Either GL wire will work.
For the electronic-type Control Switch, splice it in a similar way.
POS terminal to Lighting Switch Fuse side of cut GL wire
OUT terminal to Lighting Switch Dash side of cut GL wire
NEG terminal, bolt the wire to the dash frame
B310 Illumination Control Switch is integrated into steering stalk, and controlled these lamps:
* Heater Control lamp
* Radio lamp
* Ash tray lamp
* Cigarette Lighter lamp
* Clock lamp
* To dash rotary connector
  Three lamps - Instrument Panel
  * Pin 5
  * Pin 6
* Shifter lamp (Automatic Transmission)

Australia
Australia 1200s use a two-position bright/dim switch built into the Lighting Switch. It is not a rheostat (variable). The knob is twisted (rotated) to use either bright or dim position.
Wiring
See Wiring Diagrams
Part Numbers
See main article: Switch Part Numbers 

¤