Mid-model utes and later Sunny Truck came with intermittent wipers. Intermittent wipers were an option for the 1200 starting in 1978 April. Then became standard fitment starting October 1981. They are just like the regular switch with two positions Slow and High, but with another position which is intermittent every six seconds. So instead of OFF plus two stops, it has OFF plus three stops. It uses the same wiper motor as all 1200s, so the wiring harness does not need to be modified. The only downside is they are not variable intermittent.
1978-up B120
This is a direct bolt-in for earlier 1200s, except for needing to wire up one connector. You would need the amplifier and wiper switch, and sub harness.
1992 six-pin wiper switch | with Amplifier

Album click to view
Post click for topic
Remove the regular wiper switch
Connect the SUB HARNESS to the new wiper switch
Fit new switch to the dashboard
Connect one end of SUB HARNESS to the dash wiring
Connect last end SUB HARNESS harness to AMP
Screw the AMP to the steering post
Connect BAT wire to fuse box 'W' terminal
Connect EARTH wire to an available Earth point
intermittent AMP (1992 version)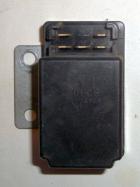 Switch Identification
1970-1978 wiper switch: square 6-connector with blue wires
1979-up Wiper Switch: rectangular 6-connector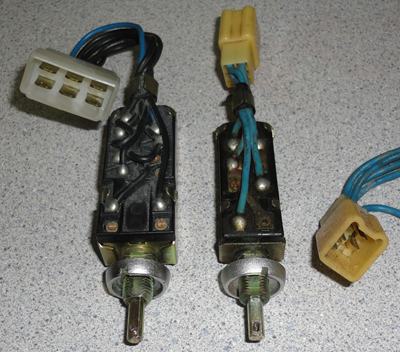 The newer Wiper Switch looks much like a headlight switch, but has one blue wire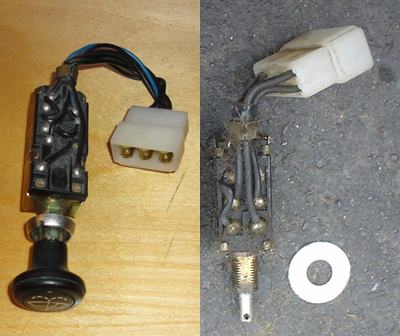 Wiring A
Where the SUB HARNESS cannot be obtained from a donor 1200, you can make one like this.

Use connectors from an old Datsun wiring harness (non-1200 donor) -- so that in your 1200, there is no cutting of the harness at all to fit the intermittent switch and AMP.
Then modify it as follows:
the Park wire is cut and both ends sent down to (to the AMP)
the new Intermittent wire (the sixth wire) is added. It goes down to the AMP too

Mount the AMP (black box) somewhere appropriate. I fitted it to the pedal box, with the same screw that fastens the Flasher. I chose to earth it right there (black wire).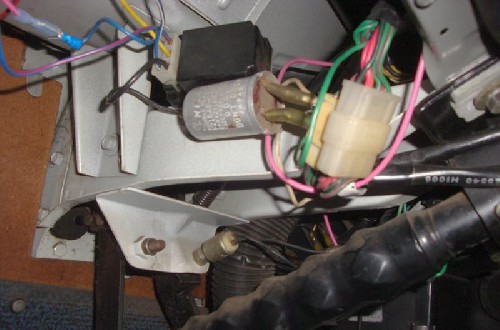 click
Wiring B
Diagram from 1978 Australia B120 Factory Service Manual. However this is for a two-connector switch. The diagram might be for the early JDM switch.


Does this work???
Remove the regular wiper switch
Install the new wiper switch and connect it to the stock harness
Screw the AMP to the steering post with its SUB HARNESS
Connect AMP harness to SWITCH
Create the new connector (in Red circle of wiring diagram) and plug it in

Connect Blue/Red (LR) wire to fuse box 'W' terminal
Connect Black wire to an available earth
Connect Yellow wire to the original stock SWITCH connector Y wire
Parts
25260-G1060 SWITCH ASSY-WIPER F/INTMT WIPER

7804-8109 OPTION
8110- STANDARD EQUIPMENT

28890-B8060 AMP-INTERMITTENT WIPER 7804-
28890-B8060 USA 620 AMP UNIT-INTERMITENT WIPER DX 0778-

AMP on passenger kick panel, USA Datsun 620

replaced 28820-R4710 JDM 620 AMP-INTERMITENT WIPER -7708
08513-30812 SCREW
620
WIPER SUB HARNESS
24018-B9300 USA 620 HARNESS-WIPER DX 0778-
25260-B5005 JDM 620 SWITCH ASSY-WIPER W/INTERMITTENT
25260-B9300 USA 620 COMP-SWITCH,WIPER (INTERMITENT DX 0778- $35.80 USD

Possibly may fit 1200 dash?


620 Wiper Switch
NILES JAPAN TYPED-912Y01
/123\ /HEL\
_4L6_ _RIW_
OFF: 34
INT: 34,2L
LOW: 23
HIG: 21
WAS: 26

Others
Other Datsuns
Some B310s had intermittent wipers. The B310 motor is wired the same. The amplifier box is similar but has a sixth terminal for fast-intermittent. But you could use it for the 1200 (using either slow-intermittent or fast-intermittent).
710 JDM 25260-N7400 SWITCH INT.
* 28890-N7400 AMP $102.68

25260-N5820 S10 USA switch 
* 28890-M7300, 28890-U7500

S110 USA AMP more complicated + stalk
* 28510-N8305, 28510-N8405 AMP

HARNESS
24038-H8800 HARNESS-WIPER (INTERMITTEN 0880- B310
24035-H9100 HARNESS-WIPER (INTERMITTEN -0780 B310

Six-blade amp (from S110?)

Aftermarket
Hella Australia make a universal intermittant wiper switch. Unlike the 1200 intermittent option, it doesn't have set speeds you just turn the dial and the speed changes (variable-speed intermittent).
Hella 7010 Windscreen Wiper Control Switch - Intermittent, 12V DC
Discussions
See Main Forum: Who has intermittent wipers?