Datsun 1200 came with 3-speed JATCO 3N71B. A 4-speed Jatco 4N71 transmissionᵂ was made during the 1980s. The top gear is an overdrive ratio, for reduced revs at highway speeds. It also has a lockup converter for fuel-economy approaching that of a manual transmission. Expect it to get better highway fuel economy than a stock 4-speed 1200, since the 4N71B has overdrive.
Overview
Will it fit into an automatic-bodied Datsun 1200? Unknown -- try it and let us know. Use an A-series automatic bell housing. The 4N71B is about 4 inches longer than the short 3N71B (as used in B110 and 510), and is thicker at the back, so you may need to widen the back part of the Datsun 1200 automatic transmission tunnel (or maybe not).
The 4N71B is a 3-speed With Overdrive. So it won't help with acceleration, but will help with relaxed cruising (less noisy as RPMs are lowered), and with increased fuel economy. It may increase your top speed due to the Lockup feature (no slip in 3rd gear). Remember that top speed is achieved in direct (not in overdrive).
There are at least two lengths of the 4N71B, so use the shorter model if possible.
Looks like six inches of length added in the middle in adding the Overdrive unit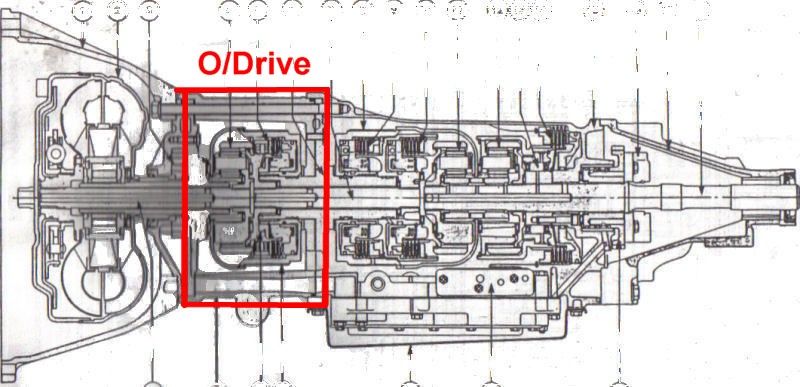 Comparo of 4-speed (TOP) to 3-speed (bottom). LN471B is 27mm longer. (1.1")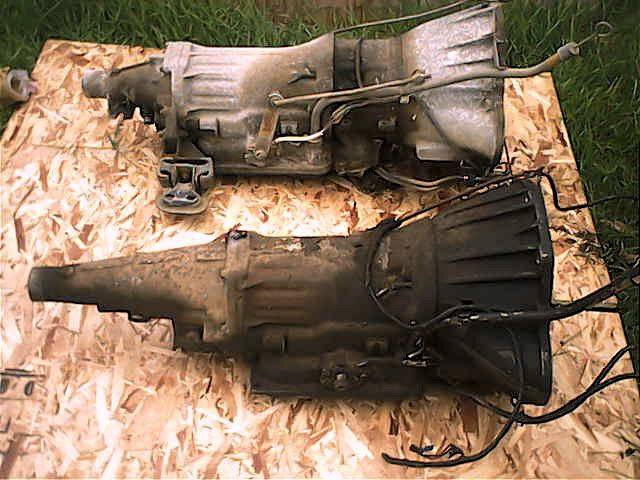 Post click for topic
3N71B long tail from 620; L4N71B from 1983-1984 Datsun 910
Most 4N had the same gear ratios as Datsun 1200, but a few had steeper gears (which are better for acceleration). However with either you can fit steeper rear diff gearset (4.11 or better) and the overdrive will still let you cruise at low RPM on the highway.
RATIOS   1200  4N71B.Z31 910.L20E/S130.L28ET
1st Gear 2.458 "         2.842
2nd Gear 1.458 "         1.542
3rd Gear 1.000 "         "
4th Gear n/a   0.686     "
Reverse  2.182 2.182 (2.400 some E4N71B)

STALL TORQUE RATIO (converter multiplication)
* 1200: 2.0 (behind A12 engine)
* Z31: 2.0 (behind VG30 engine)

Sources
* 1984-1989 Chrysler, Dodge Plymouth (Mitsubishi)
* 1983-1989 Mitsubishi
* 1984-1989 Nissan Cars
* 1986-1989 Nissan Pick-ups, Vans
* 1984-1993 Mazda Cars
* 1988-1995 Mazda Trucks
* 1986-1988 GM VL with Nissan RB six-cylinder

JATCO 4N71B series
* LN471B: Lockup torque converter
* EN471B: Electrically-controlled lockup torque converter
* EN471B X8203: 1988 Z31 USA 182 ft. lb. torque
  3 front clutch drive plates, 2300 RPM stall (GXA)
  6 low/reverse drive plates
* EN471B X8206: 1988 Z31 Turbo USA 227 ft. lb. torque
  4 front clutch drive plates, 2625 RPM stall (G)
  8 low/reverse drive plates

Australia Models
* General Motors Commodore VL (1986-1988)
  models with Nissan RB engine

US Models
* Nissan Maxima 1983 (L-series bell housing)
* Nissan Pathfinder 1986-1989
* Nissan Van 1987-1989 (the 'rare as' USA Vanette)
* Mazda 929 1988-1990
* Mazda B2000\B2600 1987-1991
  1987-1988 has Mitsubishi bell housing?
* Mazda Miata 1991-1997 (Mazda N4A-EL)
* Mazda RX7 1984-1988

Also:
* 1984–1988 Nissan 200SX
* 1984–1989 Dodge/Plymouth Conquest (Mitsubishi)
* 1984– Mitsubishi Starion
* 1986–1989 Nissan pickup
* 1989–1995 Mazda MPV

E4N71B 
* 1984–1989 Nissan 300ZX
* 1984–1989 Dodge Conquest
* 1987–1988 Nissan 200SX

Details
4-speed is bigger around at the back, may need tunnel mods
New rear engine crossmember (gearbox crossmember) will need to be fabricated
Wiring changes are needed
Swap converter housing with an A-series one
Stall speeds vary, so swapping converters may be needed to find one that suits the small engine
The output shaft is larger than 3N71B, so a different driveshaft (on driveshaft yoke) will be required
Approximate Junkyard Costs:
L4N71B 4-speed OD transmission from Pick-N-Pull: $130
Flex plate including crank shaft spacers: $20
Auto shift lever from early Datsun: $18
Kickdown switch and mounting bracket from early Datsun: $3.50
Automatic-size Brake pedal: $3
Maintenance items (filter, seals, modulator): $32
Hard fluid lines from B310: $9
Flexible Fluid hoses: $10
Radiator with auto-trans coolor lines: ?
Driveshaft shortened, rebuilt, balanced: $165

length is 2.7 cm (about one inch) longer

New rear transmission mount: $25
Hardware (bolts, nuts, metal spacers): $15
L3N71A/L3N71B converter housing for A-series engine

Will this fit on the L4N71B?
references:
* L4N71B swap Zcar.comᴳ
* Ratsun
* 510 Realm

¤