Driver magazine issue 4-20 [1972]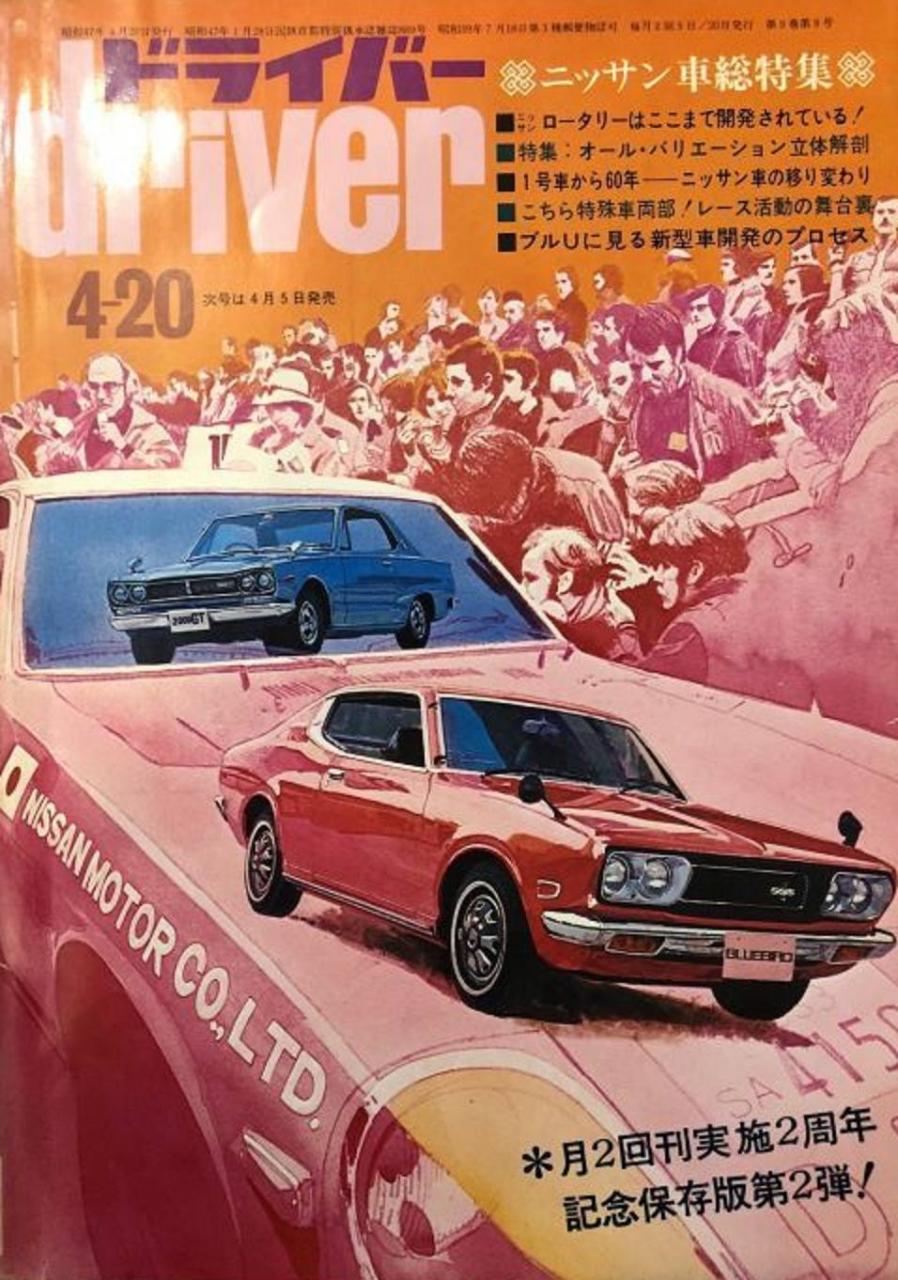 Album click to view
Cover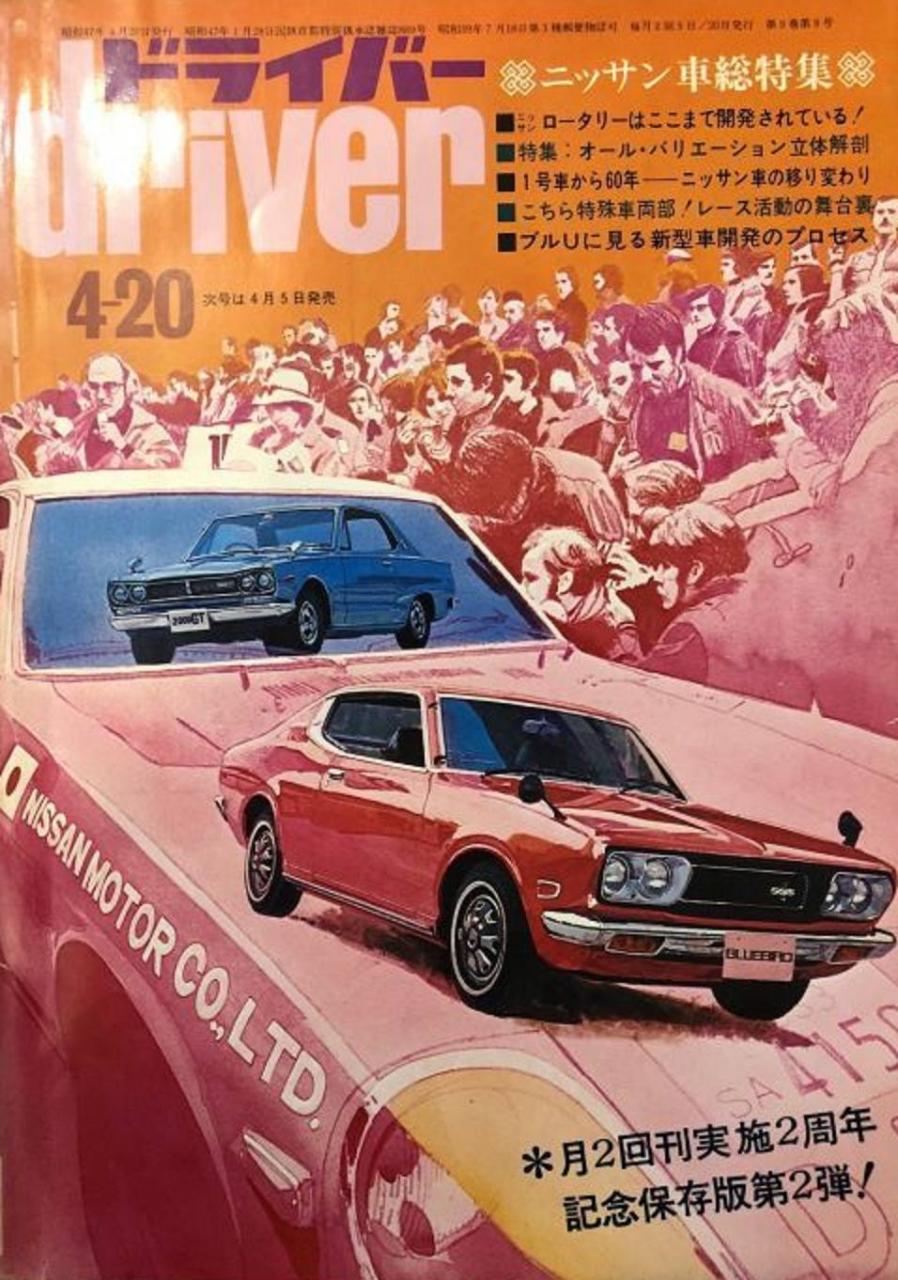 Album click to view
Contents
[tbc]
Nissan cars special feature ニッサン車総特集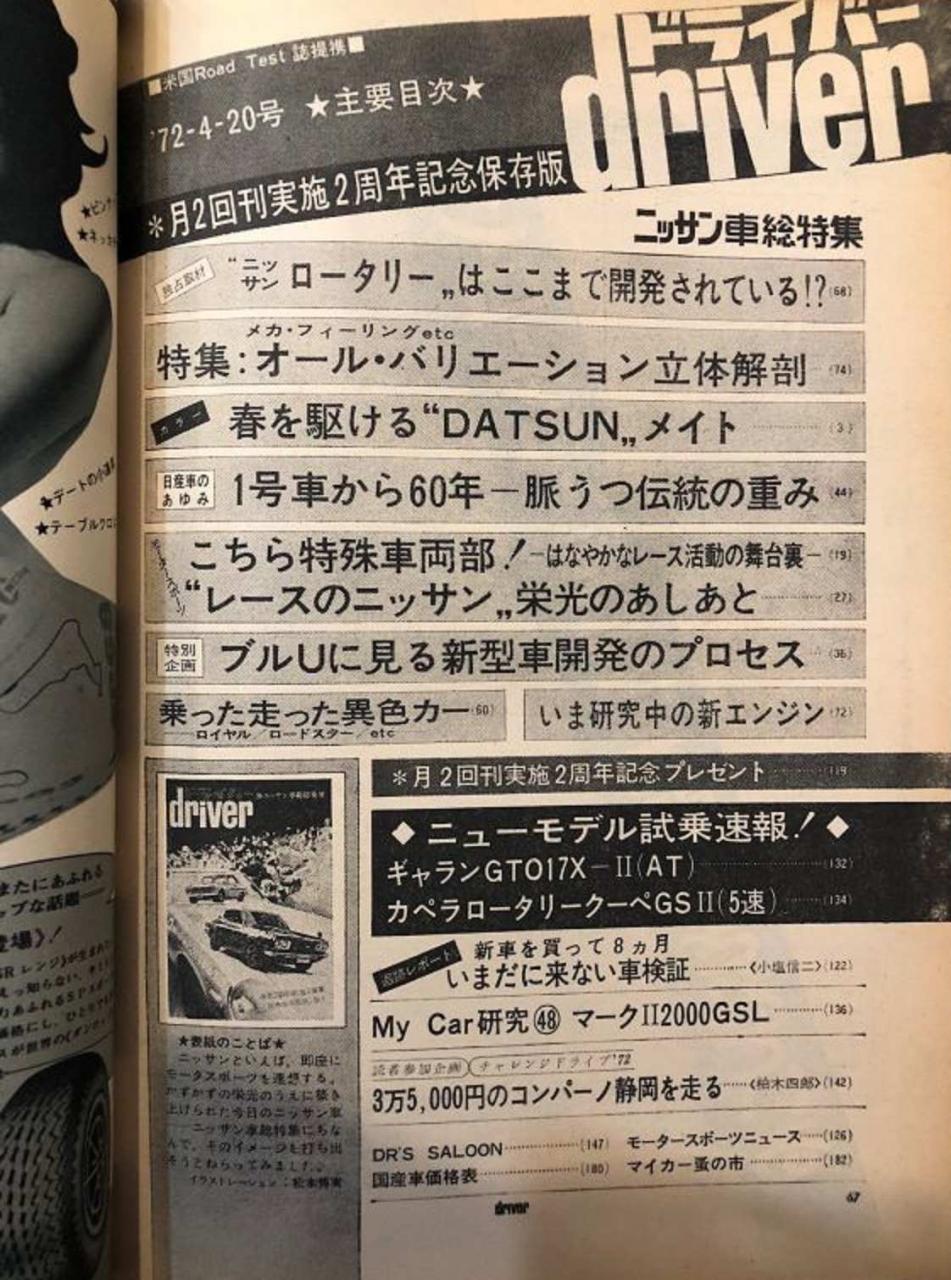 Album click to view
メカ・フィーリング etc
特集:オール・バリエーション立体解剖 (74)
春を駆けるDATSUNメイト (3)
1号車から60年ー脈うつ伝統の重み (44)
DATSUN mate running in spring (Page 3)
C10 Nissan Skyline Coupe

Album click to view
Is that a KB10 at the bottom of the page?
Nissan Rotary Development So Far (Page 68)
"Nissan Rotary" has been developed so far !? 〝ニッサン ロータリー〟はここまで開発されている!?

The following is auto-translated from Driver web: "a reconstruction of the article in the April 20, 1972 issue of Driver Magazine".
Introduction
THE SECRET STORY OF THE DEVELOPMENT OF THE NISSAN ROTARY CAR "NISSAN ROTARY" EXHIBITED AT THE TOKYO MOTOR SHOW IN 1972



"We will launch a rotary engine car next fall" — in January 1972, Nissan president Kawamata's announcement not only received a great response, but also exhibited a rotary engine-only car based on Sunny Excellent chassis at the Tokyo Motor Show held in October of the same year.




The model exhibited for reference is also named ズバリ. Because Sunny Excellent coupe was used as the base of the car body, some people called it "Sunny Rotary" and "Sunny Rotary Coupe".

Nissan introduced a basic patent for a rotary engine in October 1970 from Audi NSU Auto-Unionᵂ in West Germany, and has almost completed the prototype at the moment. The prototype will be exhibited at the Tokyo Motor Show to be held in the fall of 1972.

The actual launch will be next fall due to technical issues and a testing period of about a year. The rotary engine-equipped car will be a sporty type in the current Sunny class, but the number of units sold is still undecided," said president Kawamataᴳ, who said the details were fairly specific, and a concept model of a yellow rotary-equipped car will appear at the venue of the Tokyo Motor Show. However, the concept model is by no means a papier mache, and there are still words to indicate that Nissan was serious about developing a car equipped with a rotary engine.

Immediately after the president's announcement, he said in an interview with Deputy General Manager Maki of the Design and Development Division, who was coordinating the development of new models at Nissan at that time, that "Rotary research and development has been underway since the 1960s."



Unfortunately, Nissan's rotary commercial vehicles were not introduced to the world, but we will introduce the development secret story that can be heard the "seriousness" of Nissan who was trying to make rotary a thing.
Is rotary part of the development of environmental engines?
Have you been developing pollution-free engines that can overcome the American Muskie Actᵂ (emissions regulation) implementation of 1975? It has been reported that Toyota has successfully developed a device that passes the Muskie method.

Deputy Director Maki: I don't think it was officially announced. We also develop rotary, gas turbines, vapor engines, electric vehicles, etc., mainly for reciprocating engines. Currently, more than 600 engineers are working on it, and in 1971, we invested a budget of about 6 billion yen. The main countermeasure against exhaust gas is the improvement of the current reciprocating engine, and we are currently researching and developing various systems.

President Kawamata is making a prototype of a rotary engine, and announced that it will be exhibited for reference at this year's (1972) motor show, tested for about a year, and released next fall, and received a great response. It has been revealed that it will be installed in a Sunny class sporty car, but is this rotary engine car made as part of the development of a pollution-free engine?

Deputy Director Maki: It becomes a little reasoned, but there are hundreds of types of rotary type engines, so the rotary engine that Dr. Wankel in West Germany put into practical use has no reciprocating movement compared to reciprocating engines, and it is a dream for technician to do it only by rotation. Therefore, the rotary engine is advantageous for vibration, and smooth rotation is the biggest feature. We also introduced rotary engine manufacturing rights and know-how from NSU, but it is not the main solution for exhaust gas countermeasures, but we are trying to develop it as one of the new internal combustion engines.




Driver April 20, 1972 issue (released march 20), in the Nissan car special feature [Nissan Rotary has been developed so far] interview page that has been developed. The interviewee was Deputy General Manager Maki of the Design and Development Department, who was coordinating with Nissan's new model development.
What are the benefits of developing a rotary engine?
Is the rotary engine included in the exhaust gas measures researched and developed by the budget of 6 billion yen and the staff of more than 600 people?

Deputy Director Maki: Yes, it can be said that it is included as a candidate.

Frankly, what are the benefits of developing a rotary engine?

Deputy Director Maki: Basically, there is little NOx (nitrogen oxide), and it is an advantage for vibration. And while this isn't right now, the potential benefit is the lower part of the crankshaft, which is almost the same as the reciprocating engine in terms of space in the lower body, but in the engine room above the crankshaft. One of the merits of space is that it may be advantageous in terms of space when various measures against exhaust gas are added in the future.

That's because the engine itself is compact.

Deputy Director Maki: crankshaft to the lower body is not such a problem, but it is the upper body.

It was said that you were developing it not only as an exhaust gas countermeasure, but as a new internal combustion engine, but isn't there a point such as the feeling of a rotary engine or cost reduction?

Deputy Director Maki: in terms of cost, I think it will still be expensive. Rotary engines have already been commercialized, and feeling and performance issues have already been discussed. in other words, it can be said that it was commercialized because the merits exceeded the disadvantages. Speaking of the charm of rotary, it is sporty in terms of performance. The engine rotation is very smooth, including the vibration aspect. and the response is good.

As president Kawamata announced, when it comes to the release in autumn next year (1973), exhaust gas countermeasures are also met with the regulation values of 1975 in 1974. If that is the case, I think that it will be not only about cost but also how to make things that meet the regulations without compromising the ride comfort, but Toyo Kogyoᵂ says that this point "has a certain amount of meditation". What about Nissan?

Deputy Director Maki: We are still in the development stage, thinking about the future and making efforts. However, what kind of results will come out right now is not yet announced.
Why install the rotary in Sunny-class cars?
In the presentation, you will put it on Sunny-class sporty cars, but from the point of fact of exhaust gas countermeasures, I think that sporty cars of the popular car class will go against the trend of the future era.

Deputy Director Maki: From now on, I think young people will insist on individuality and seek stimulation. Cars will also be strongly required to achieve acceleration and reduction. Now we barely discuss the top speed of sporty cars. My car comes out 170 kilometers, no, my car accelerates rather than 200 kilometers... in other words, I think we are in the direction of enjoying stimulation. Therefore, if you load an engine with a large surplus horsepower on a car with a small vehicle weight, acceleration is wonderful. There is less time to overtake. The withdrawal in danger is also good. We will aim for having elements such as deceleration force in proportion to acceleration force and stability.

That's what you're developing in the Sunny-class, isn't it?

Deputy Director Maki: The Rotary engine is practically equivalent to 2 liters even in 1 liter class. Well, it can be said that it has a power performance of about 1.6 to 1.8 times for a sporty engine of Recipro.




The first Sunny Excellent which became the base of the car body. Based on the second generation Sunny, it is a model released as an advanced version of Sunny.

Album click to view




Sunny Excellent has a larger body based on Sunny.
A dedicated design was given, and sedans and coupes were lined up. Sunny Excellent itself has an engine of L14 type 1400cc straight 4.
Rotary development has been going on for more than 10 years!?
It was said that you are still in the prototype stage, but it will be released next fall, so I think you have a lot of confidence.

Maki: It is not limited to rotary engines, but the development of new ones is to make a primary prototype, experiment with it, receive feedback from it, make a secondary prototype, and then experiment again. It takes a long time.

When did NSU introduce technology in 1970?

Maki: No, Nissan has been developing our own for about 10 years. I think that it is easy to make the one developed by NSU here. If you make it as it is, it is.

The rotary engine of Toyo Kogyo was first inhaled with peripheral ports, but now it is an inhalation method of side ports. In the Sunny-class sporty car, will you still use the peripheral port inhalation method?

Deputy Director Maki: Peripheral ports are suitable for racing. We are doing various developments. Some sideports are owned by Toyo Kogyo, and some are owned by other manufacturers. And with recent technology, GM says there are plenty of ways to escape due to patent issues. Therefore, I think it can be said that there is no original patent other than the Wankel engineᵂ.

Then, the rotary engine that Nissan is developing is Nissan's proper, isn't it?

Deputy Director Maki: No, I don't know. Development attacks many possible things, but when it comes to the final product, we still don't know. It's still in the development stage right now.

In the case of Nissan, I think you raised the ad balloon with a lot of conviction.

Mr. Maki: The time aspect and the applicable model are as announced by President Kawamata. However, the type of rotary engine (*) and exhaust gas countermeasures are currently under development. As I mentioned earlier, we are in the stage of prototyping and experimentation. * Since the interview was conducted before the Tokyo Motor Show, details such as displacement and intake method were not disclosed at that time.




An engine mounted in the Sunny Excellent base [Nissan Rotary] exhibited at the Tokyo Motor Show.

It is 1000cc with 500cc and 2 rotors, and the intake system was peripheral port and the maximum output was 120 hp.
Is there any problem with technical overlap with Toyo Kogyo?
It is said that Rotary consumes a lot of fuel and has reliability problems, but is Nissan's new development because you are convinced about the future of rotary engines?

Deputy Director Maki: Recipro today has a history of more than 100 years. It's been 100 years since we've made improvements. NSU still sells less than 1,000 NSU Ro80ᵂ units per month. Toyo Kogyo can make a considerable number, but only recently. As a technology, rotary hasn't matured as a power engine yet. I think it will be improved so that reliability and economy will improve over the next 10 or 20 years. Technicians are working on development with such expectations in mind.

You were on the same starting line as Toyo Kogyo.

Deputy Director Maki: It's the information age. It is an age transmitted at once when a new development is done in a corner somewhere in the world. In that sense, it can be said that the internationalization of the technology has already begun.

Toyo Kogyo has been developing seals for a long time, but in the case of Nissan, is the point of sight different from Toyo Kogyo?

Deputy Director Maki: In principle it is the same as the rotary engine on NSU's Ro80 and Toyo Kogyo's rotary engine, but the way the materials are used is different. Wouldn't it be good if the apex seals and port problems were different? That difference is also unique.

Lastly, regarding the relationship with peripheral patents owned by Toyo Kogyo, it will naturally become a problem if it is put on the market.

Deputy Director Maki: If you can't use it, you can't use it and you have to think about another way, and some of the ones introduced by NSU are not used by Toyo Kogyo, and the current technological development capabilities cannot be escaped due to patent problems at any manufacturer.
Wrapup
That's all for the interview at that time, but at this point it is said that Nissan had told each parts manufacturer that it would "set up a production system from 3000 units per month." Specifically, Riken Piston Ring Industry and Nippon Air Purifier and Hitachi Ltd. were consulted for seal parts (apex seals, oil seals, side seals, etc.) that can be said to be the heart of rotary engines. However, as mentioned at the beginning, the commercialization of rotary cars ended in a phantom. The reason was poor fuel economy and the effects of the oil crisis, but the chassis, which was developed on a Sunny Excellent basis, has since been used in the "New Silvia."



¤