Nissan Rotary Power! Whether a factory Nissan rotary engine, or a Mazda rota stuffed into a Datsun 1200, excitement is sure to result. The Wankel rotary engineᵂ is light and powerful.
Engine Swaps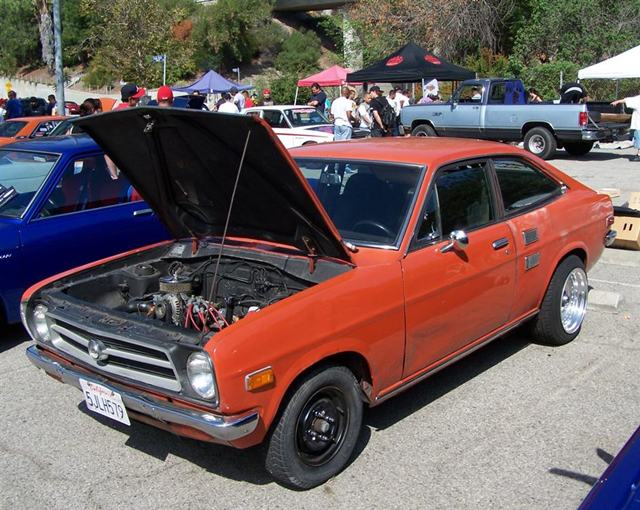 Mazda swap
Nissan's Own Rotary Engine
The modern rotary engine was developed by NSU-Wankel and they started selling licenses to other companies. Nissan was the second automaker to license the Wankel engine, after Mazda. Nissan president Kawamata signed the agreement at the NSU head office in Neckarsulm, West Germany in October 1970. GM signed a similar agreement a month later.
At the Tokyo Motor Show, October 19, 1972, Nissan exhibited a Sunny PB110 with a prototype Nissan twin-rotor wankel-type rotary engineᵂ. Reportedly it was supplied by Toyo Kogyo.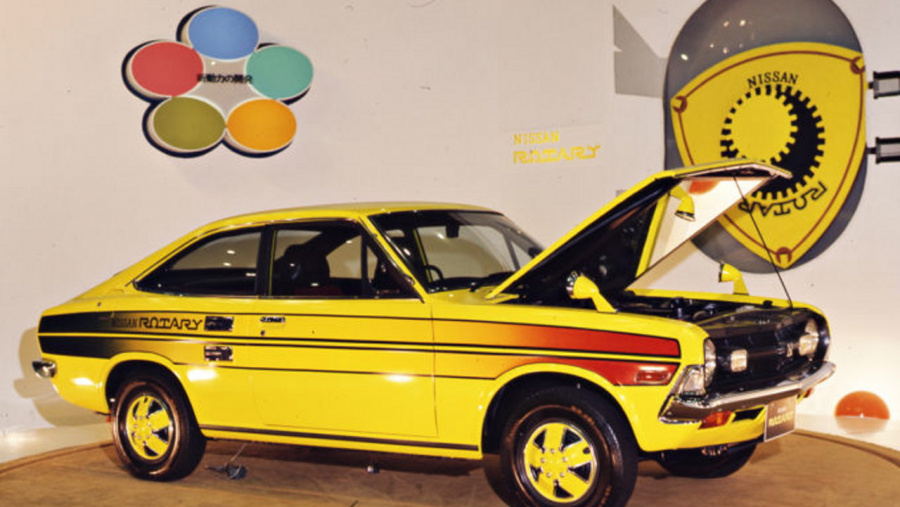 Album click to view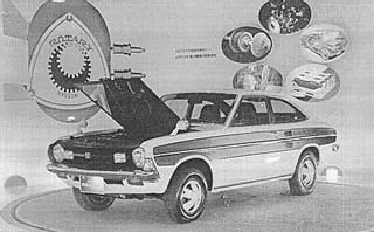 Album click to view
This was during the height of the rotary-power frenzy. Wankel had the patent, and every one licensed it, from GM to Mercedes to Mazda, and also Nissan. Nissan's interest started in mid-1965
conceptnissan.com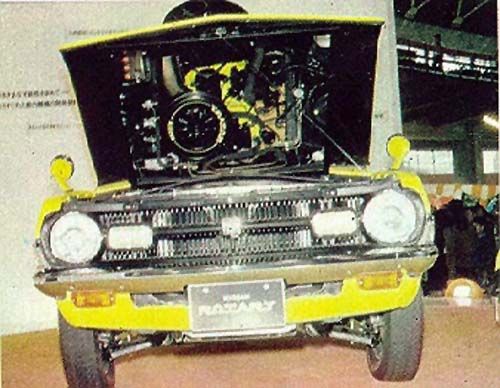 Post click for topic
Post click for topic
22 Jan 1972 - Nissan Plans Rotary Engine - Tucson Daily Citizen
TOKYO (AP) — Nissan Motor Co., the second largest Japanese auto maker, said today it plans to market its first rotary engine passenger car in late 1973. Nissan officials said the company has developed rotary engines to be used for its vehicles under a license obtained from Audi NSU Auto Union Ag., of West Germany, in 1970.

They said the new rotary engine autos, "Sunny"-type passenger cars, will be shown at the Tokyo motor show this fall and put on sale by fall 1973. The officials declined to disclose how many rotary engine cars Nissan plans to manufacture.

Datsun Sunny Rotary Prototype
Here is a picture of the prototype being tested in a Datsun Sunny 1200 (B110) coupe:

Album click to view
1972 October: 19th Tokyo Motor Show, Sunny Excellents were fitted with the Nissan rotary.
1973 Motor Show brochure shows a photo of the Rotary

brochure
1973 Motor Show

Post click for topic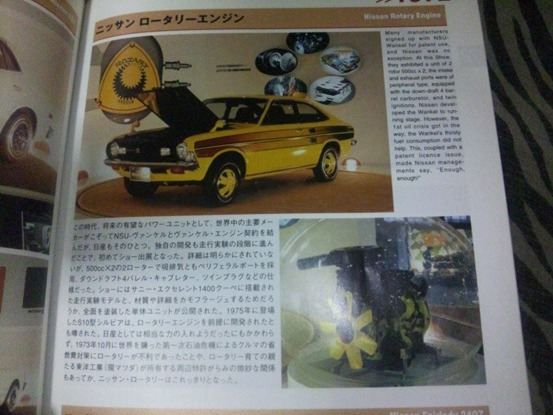 1973 Brochure Closeups

Post click for topic
Post click for topic
Nissan 2-rotor (museum display photos)

Album click to view
Album click to view
V I D E O
Datsun History (14:03) (click to view)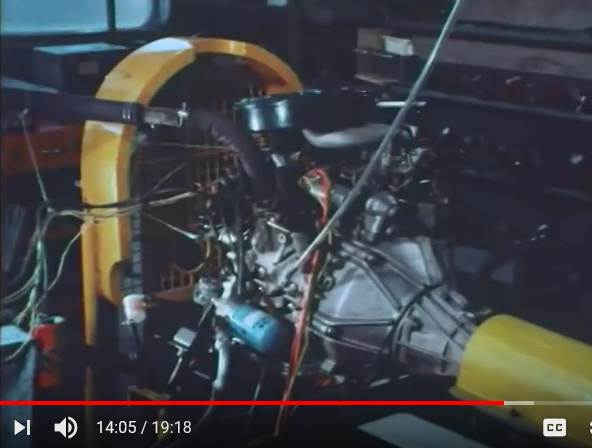 Post click for topic
72/3 brochure
Big rotor version

Nissan S10 Sylvia LS Type X
Rumours have it that Nissan sold some rotary-powered Silvias (S10/S11 models) to the public circa 1978 (reference), however, this seems entirely impossible since in 1974 they stopped working on the rotary.
Album click to view
What is documented is that the B210-based "New Silvia" was designed with the intention of having Rotary Power. However the Nissan Rotary project was cancelled before it was finished.
High Performance—120 Horsepower
The rotary efforts definitely did *not* stop because the rotary was a poor design. Au contraire, it was amazing!
quote:

---

Using peripheral ports, two plugs per rotor and a four-barrel carby its 120hp raised the top speed of the Datsun 1200 to 175km/h or 40 more than the original 1200cc four-cylinder. Nissan was setting up production facilities with the (announced) intention of producing 3000 rotary vehicles per month with either five-speed manual or three-speed auto.

---
Driving report: 112mph and still pulling hard ... Read the entire report.

Album click to view
Album click to view
Driver 1977.11 magazine article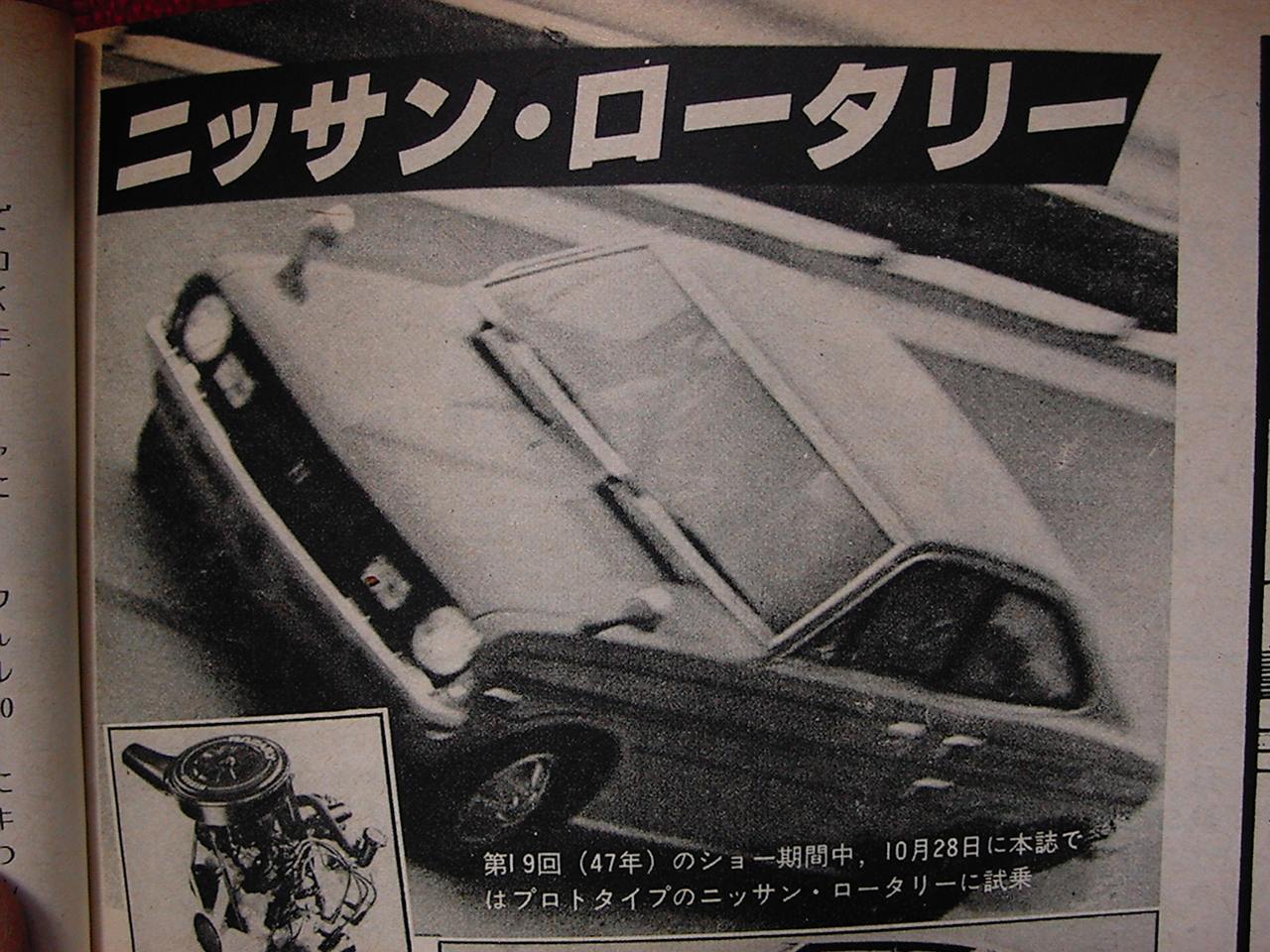 Album click to view
Fuel Economy
Note that Rotaries are not more fuel-wasting than other engines of the same power output. But a 120hp rotary does use more fuel than a 69hp A12 engine, as would seem obvious once we think about it. Initially, there were problems with fuel economy, but that problem was solved by 1976.
ロタリーエンジン試作車? Using Japanese fonts. If instead you only see squares, see Japanese for how to view it
Rotary Engine Prototype Car
Under the bonnet of this Excellent is the rotary engine used to advance the development of NISSAN's new rotary, which is based on technology from the NSU Wankel corporation. The swept volume displacement is 2 rotors of 500cc each.
End Of the Rotary Era
The wankel design has the benefit of small size, low weight, high power for the size, and smoothness of operation (they routinely rev to 9k rpm). So why did everyone except Mazda and some non-automakers stop making wankel-style rotaries? It appears to be because of a combination of factors (these are my opinions, not necessarily hard facts):
Perceived value: at first it seemed that the public would demand these engines, so every automaker figured they better get busy and offer one. The president of Mazda commented something like the following: after Mazda and NSU put these high-power engines into hundreds of thousands of subcompact cars, the economy-minded public—which expected smallcar=econobox—eventually realized that the subcompact car they bought had a high-power engine, not the economy engine they expected. Just like sticking a V8 into a small car, it was enough to give the product a bad rep. Then when the 73-74 oil crisis hit, the manufacturers realized the public was no longer demanding 'rotary' engines. Unfair? Yes, but sometimes the bottom drops out of a market. Unless people start demanding rotaries again, which seems improbably given past history, we'll never see mass-market rotaries again.
During the economic recession caused by the oil crises, manufacturers tightened their belts. One way to save money was to stop developing new engines and new car models associated with it. During such times of financial crisis, most companies cut back in their R & D.
The piston engine worked fine (though still not as smooth as a rotary). The wankel only really offers two advantages: low weight and smoothness. For nearly all applications, bean counters can choose a piston engine instead.
All the auto makers were in fear of the Piston-Engine emissions control problem. Or should I say they were in fear of too-quickly acquiesing to government regulation and demands. Publicly they stated that they feared that developing slightly different controls for rotary engines would be more than they could handle. This didn't really turn out to be a problem, as the Wankel patent-pool shared the technology which solved the problem in 1972. It seems that US automakers were hesitant to admit to government regulatory agencies that any progess could be made in meeting the anti-pollution demands for piston engines. Yet Mazda met those requirements three years ahead of time, and published the fact to the world. Even so that didn't stop other manufacturers from insisting there were unsolvable problems (even though all wankel licensees had access to the solutions).
Since then, Datsun 1200 enthusiasts in every land have fitted the ubiquitous Mazda rotary engine into the lightweight 1200 body. Result: One fast little car.
Oakland Tribune, 16 Nov 1972, page 29

The Lowell Sun, 27 May 1973, page D8
IN A COUPLE of Tokyo auto shows two new rotary engines were introduced -- one for a car and another for a motorcycle. Both should be on the market soon.

Nissan Motor Co. which makes Datsun will be the next auto maker to put the rotary into production. Although there are some differences the Datsun rotary is essentially the same as the Mazda using two rotor, a four-barrel carburetor, twin ignition and water colling. Where the two engines differ is that the Datsun has a peripheral port type while the Mazda is a side-intake port type. Each of the Datsun rotor housing is 500cc, slightly smaller than Mazda but Nissan is planning on surpassing Mazda's 130 horsepower rating (before the smog goodies go on).

The engine is being supplied by Toyo Kogyo (Mazda) for the Datsun.

Mazda has helped the problem of low-end torque by taking advantage of the car's wide range of r.p.m. The automatic is set to shift at 6,000 r.p.m. when the gas pedal is on the floor.

BUT DATSUN HAS a head start on Mazda. The company already has a well-organized distribution system in the United States with dealerships well-established. Mazda on the other hand had to start from scratch. see more
But only a year later, the Rotary was not seen at the Show:

Album click to view
December 6, 1973

Where was Nissan's rotary powered Sunny featured in last year's show as a production car potential? Rumor is Nissan will put an all new rotary powered coupe on sale by the first of the year and didn't want to blow their impact by revealing it at the show.
31 May 1974: Nissan Junking Rotary Engines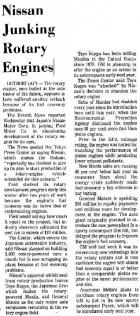 Datsun "reportedly has decided to give up its plan to start production of a rotary-engine vehicle scheduled for this autumn...Nissan planned on building 3,000 rotary-powered cars a month, but is now putting off its plans because of fuel economy problems."
6 June 1974

Nissan's apparent withdrawal from rotary production leaves Toyo Kogyo, the Japanese firm which makes the rotary powered Mazda, and General Motors as the only major auto companies remaining in the rotary engine field.
18 Sep 1974
Nissan, which markets the Japanese Datsun, had been expected to introduce a rotary car sometime next spring. It delivered its Wankel-powered auto to the Japanese Government for certification last March but now has withdrawn it from the certification program. Its future seems to be In some doubt.
¤