A Panhard Rod controls lateral movement of an axle. It is sometimes called a Track Rod. Datsun 1200's leaf sprung rear axle requires no Panhard Rod, as the leaf springs locate the axle relative to the body. However, when cornering, the car body like any mass tends to keep going in a straight line. So there will be some deflection of the body relative to the wheels. A panhard rod is the oldest, simplest method to tighten this up, first being used circa 1900 by the Panhard car company.
Overview
Discussions:
* Panhard Rod For 1200
* Rear Panhard in 1200 sedan
* Rear suspention for 1200s???!!!!!

dattodude's 1200 suspension with Panhard rod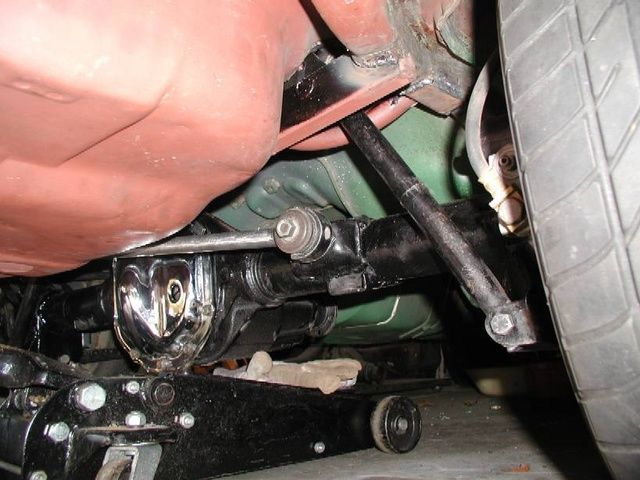 More photos at shoeys.com

Panhard Rod
The basic downside to the Panhard Rod is that it increases side-to-side deflection as the axle moves to the highest and lowest points. Only in the normal portion of the suspension travel does it keep the axle centered. A longer rod helps here to shorten the arc, so this is a problem with narrow cars. For this reason, a much more effective method is Watts Linkage or four-link suspension.
A Panhard rod will require some fabricating, you'll need to weld a mount on the chassis and the diff but it's not a huge amount of work.
The downside of a Panhard is a side-to-side movement as the diff moves up and down.
For a suspension travel of 3 inches and a horizontal Panhard rod of 30 inches (centre to centre) there will be a maximum lateral misalignment of 0.9 mm. This lateral misalignment could be more than halved if you set the panhard rod to sit at rest below horizontal so through the 3 inches of suspension travel 1.5 is done below horiz and 1.5 above horiz.
Altering Roll Center
If you have a number of locating holes in your panhard brackets so you can set up your Panhard at different heights then you can adjust your rear roll center.
Help for Wide Tyres
dattodude:

With 205/60x14 (perfectly centralised in wheel arch, I had to run a shortened AE86 Panhard rod.

With my current panhard rod setup, I still get some sideways movement as the diff swings through an arc, this results on slight rubbing on the inner guard at full bump, but I am running 205/55x15 these days.
Non-Leaf Suspension
You can get rid of the leaves and make Watts Linkage from the front leaf shackle point to the diff, fabricate brackets on diff, would then need a panhard rod too to stop sideways movement.
Watt's Linkage
This type of parallel linkage is non-binding and allows the differential to move straight up and down (with no sideways movement as happens with a Panhard rod).