Pilot Bearing, spigot bush
Installation
The bushing normally does not require replacing for the life of the car. If cracked or worn due to lack of lubrication, fill the entire cavity with grease, the pound a tight-fitting socket or dowl in. The grease will pop the old bushing right out. Carefully tap the new bushing in with a rubber mallet.
The Nissan Factory Service Manual says:
---

Clean the clutch pilot bushing, and fill it with multi-purpose grease.

---
Use a lithium based grease with molybdenum disulphide. Also, apply lightly to the input shaft (tip and splines) when installing the transmission.
Album click to view
You can buy a Nismo roller bushing, but i can't see why -- it won't increase performance. The bushing is only active when the clutch pedal is pushed down, so there is no need for "less friction". The bronze bushing holds grease quite well and properly lubed will last the life of the engine.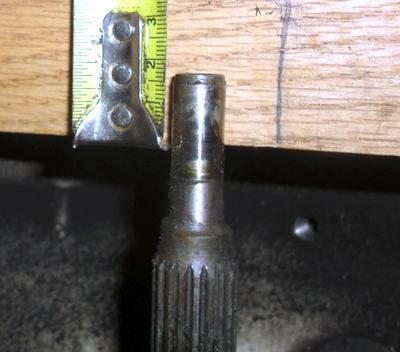 Album click to view
Part & Dimension
Nissan 32202-18000 $3.98
* Fits all A-series A10/A12/A13/A14/A15/A12A 
* including E10 Cherry/100A/120A FWD

Dimensions:
* O.D.: 0.671" (17.0 mm)
* Width: 0.723" (18.36 mm)
* Bore: 0.48" (12.2 mm)

* BCA/NATIONAL PB21 $5.53

Interchange: All A-series engines
* 1971 - 1973 B110
* 1974 - 1978 B210 
* 1979 - 1982 B310 
* 1976 - 1978 F10 
* 1979 - 1981 N10 

Aftermarket
* Timkin PB21 $1.57
* Dorman 14678 $5.99
* Dorman 690051 
* BCA/NATIONAL PB21 $5.53

PB22 - for larger Datsuns
* Bore=16mm (0.629")
* Outer Diameter=20.7mm (0.814")
* Width=17.5mm (0.69") 

¤