When the Cooling System has a small leak, often "stop leak" will fix it. However, large leaks such as caused by rocks will not.
Overview
WARNING: Stop-leak can gum up the cooling system if not used as directed.
Directions for stop leak usually call for using an appropriate amount of product, the letting the engine run until fully warm to circulate the coolant and product. Often calls for 15 minute or longer. Failure to do this can lead to a clogged radiator. Also a defective cooling system (e.g. thermostat not opening) can also lead to failure. Stop leak won't stop an overheating engine, it will only stop a coolant leak.
Stop leak can even fix leaks along the edge of a Head Gasket, as long as those are involved with cylinder combustion (blown head gasket).
To nurse an old Radiator along, use a 7 psi cap instead of a 14 psi cap. Less pressure in the cooling system makes it easy on leaks. It can even stop leaks in Welch Plugs depending on the cause.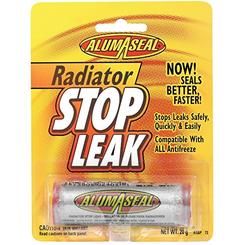 Counterpoint: Unless it's an emergency keep well away from it and similar products...it clogs the water galleries and radiator and will only make matters worse...
Australia
Repco, Supercheap, etc. all carry these.
USA
Just about any autoparts store has these.
Silver Solder
Bars Leak
a zillion more...
http://google.com/search?q=radiator+stop+leak
Discussions
¤