Welch plugs (core plugs) are circular discs that fit into, and seal the casting and machining holes in the Engine block, Cylinder Head and Transmission.
Terminology
The Welch plug was originally designed circa 1910 by the Welch brothers☁ at the Welch Motor Car Company of Pontiac, Michigan. You may hear them called "welsh plugs". See Patent No 1058210☁.
They are often called "freeze plugs" because if the engine coolant freezes they'll be pushed out of the casting. However, the purpose is not necessarily to solve freezing problems but rather to seal the holes left by the casting or machining process (core plugs). Those that are designed for freezing safety may be called "expansion plugs".
Set
Sets are for the engine block only (does not include the Cylinder Head plugs).
Nissan A14 core plugsᴳ

PLUG-WELCH A10/A12/A13/A12A/A14/A15 (see Block_&_Pan_Part_Numbers)
11019-32200ᴳ 44 Ø CAM bore, rear
00933-15000ᴳ 50 Ø CORE block, rear
00933-13500ᴳ 35 Ø CORE block, side (3)
* NOTE: M2 Block reportedly uses 25mm plugs

Some sets include:
11021-13200 PLUG-taper (12.7ø) (fixing [cam] oil gallery) (2)

Pioneer PE-130 (PE-130B contains four brass plugs for the water-contact plugs + one steel)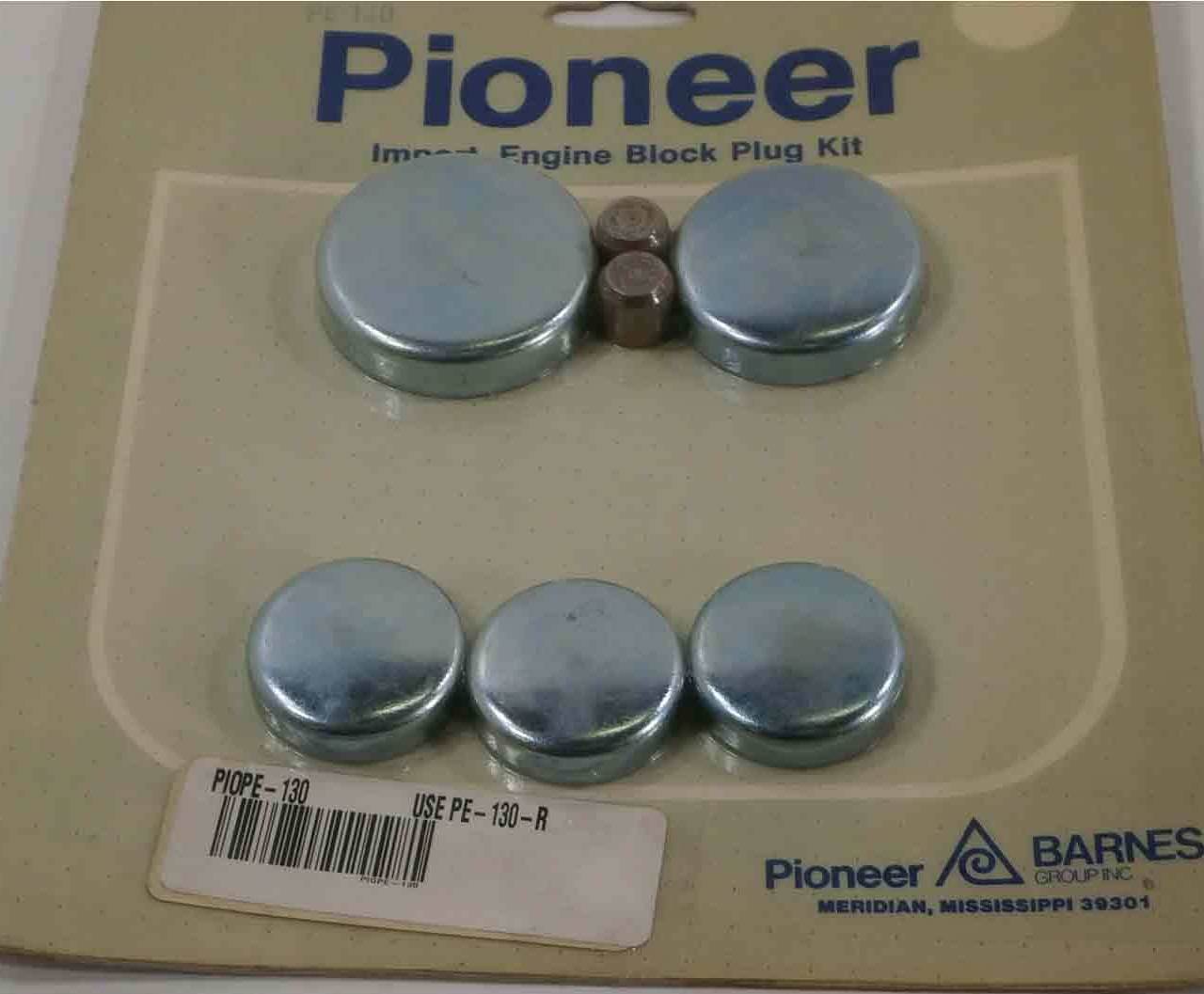 Album click to view
Pioneer includes front & rear oil gallery blind plugs
REPCO 058-4030 Expansion Plugs for A12, A13, A14

Album click to view
DORMAN 557-031 A12 & A13 engines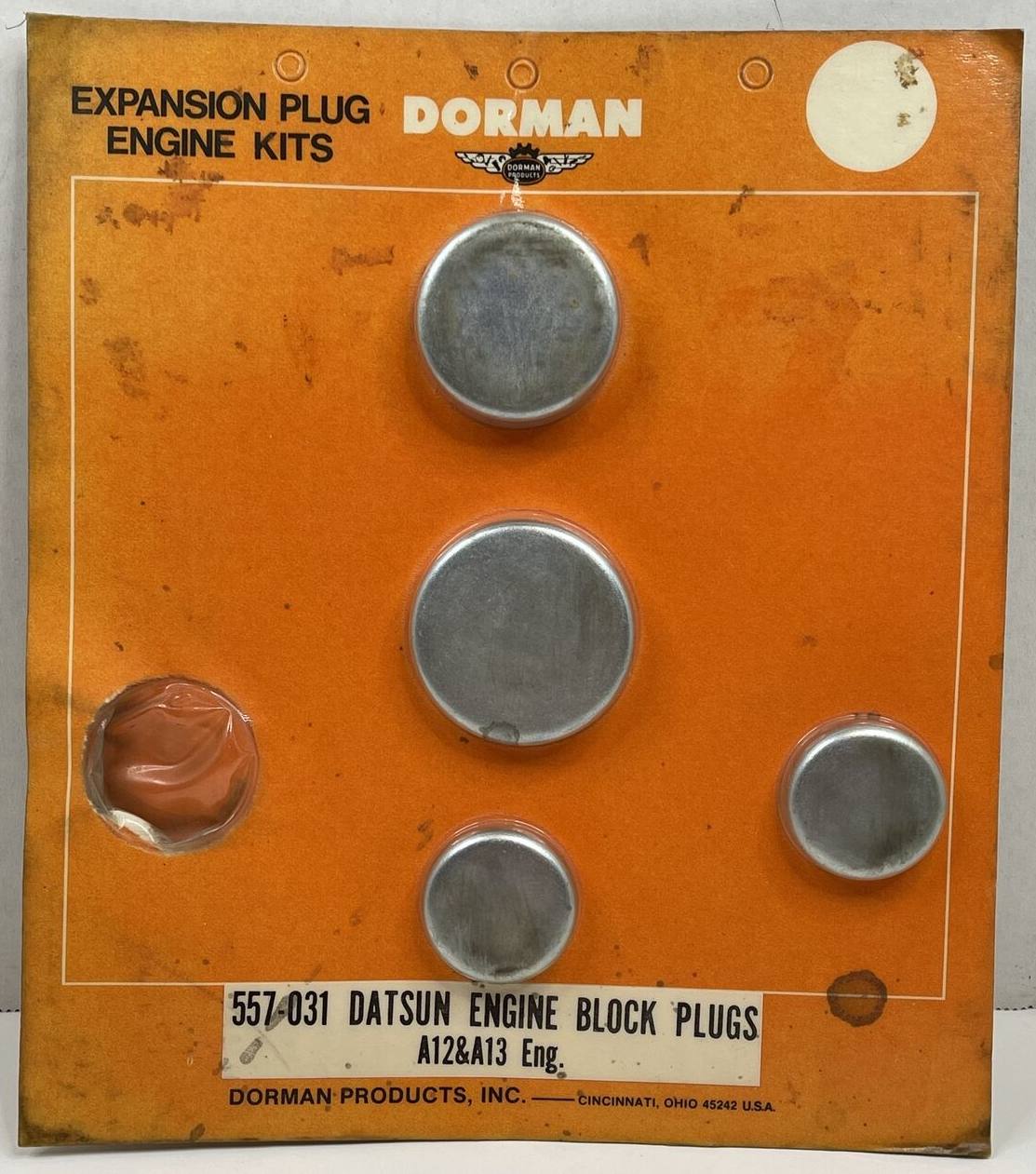 Album click to view
MAFCO 437 120Y 1969-1972 (http://www.mafcobell.co.uk). MAFCO have got the name and years wrong, and one plug appears to be the wrong size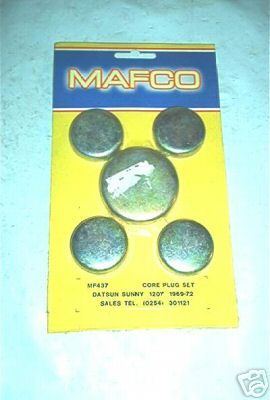 Cylinder Head
One Welch Plug:

Album click to view
00933-14000 PLUG-WELCH (1) head, rear [40 mm]
Engine Block
B110
Five Welch Plugs (including three on side of block)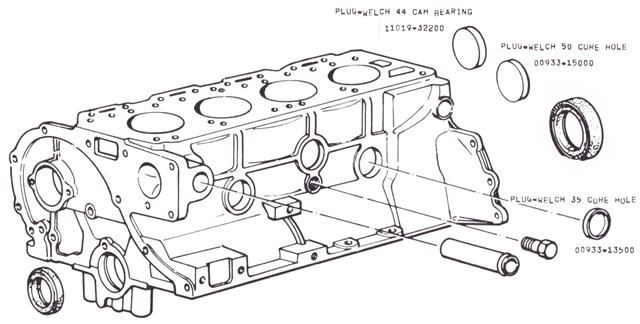 Album click to view
Two on REAR: Large core plug + smaller cam bore plug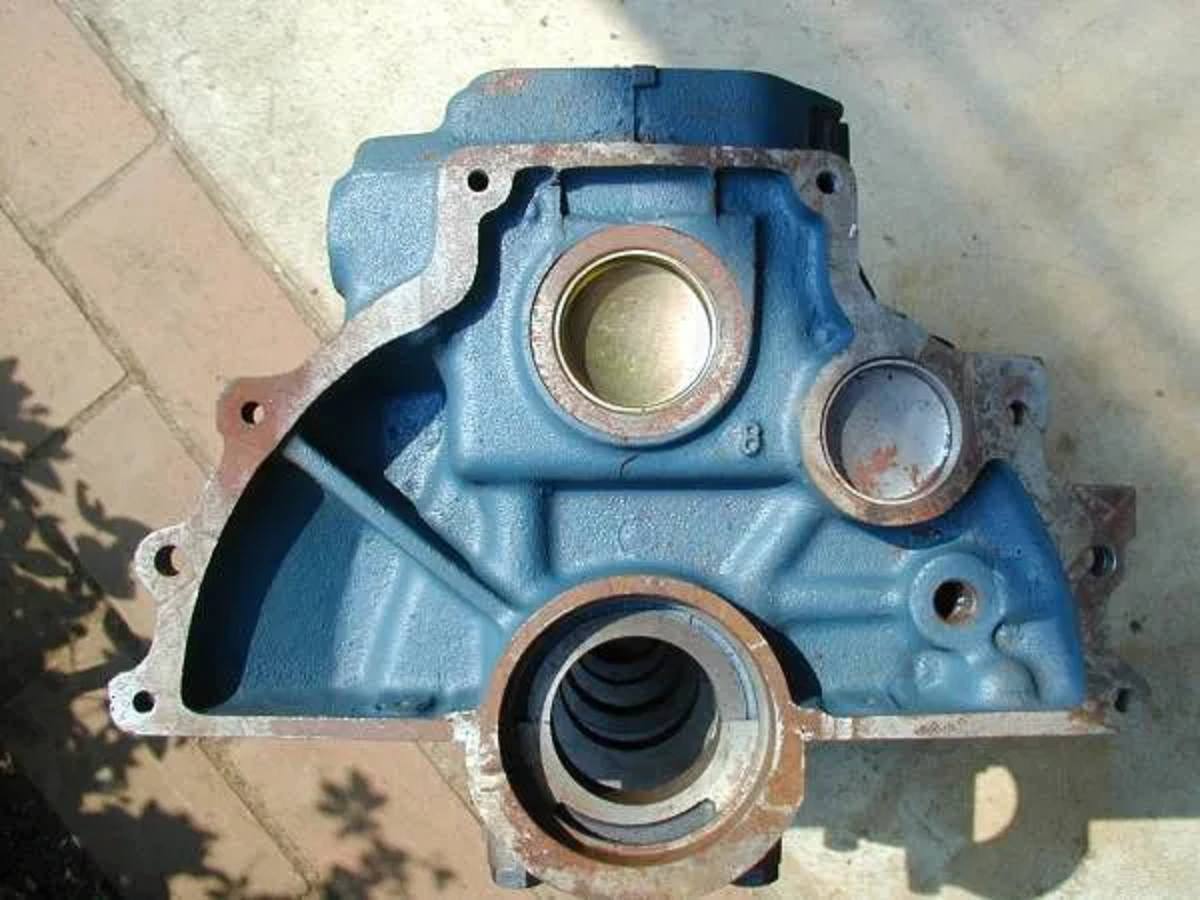 Album click to view
* 11019-32200 PLUG-WELCH 44 Ø CAM BEARING (1) block, rear (44.425 Ø) [1-3/4 inch]
* 00933-15000 PLUG-WELCH 50 Ø CORE HOLE (1) block, rear prev. 01648-00084

Three 35mm core-plugs on manifold side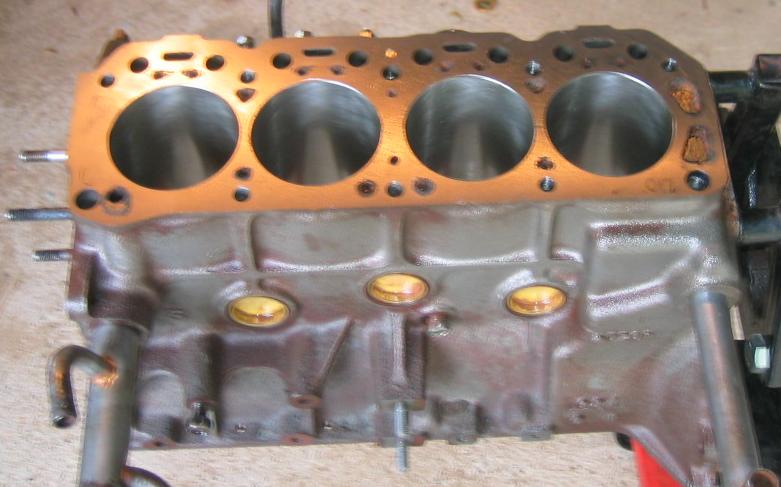 Album click to view
Album click to view
* 00933-13500 PLUG-WELCH 35 Ø CORE HOLE (3) block, right side

B120
35 mm Expansion Plug 00933-13500/11021-E3000/00933-1351A
Nominal Dia.: 35.21mm
Steel
Height: 0.380"

プラグ (35mm - 3 required)
7510-8506 00933-13500
8506-8706 11021-E3000 [11021E]
8706-     00933-1351A

Cam bore plug
11019-32200 44 mm -8506
01648-00191       8506-

Transmission
Three Welch Plugs

Album click to view
00933-11400 PLUG-WELCH TRANSMISSION CASE (2) inside bell, northwest of mainshaft

14mm diameter, all 56-series and 60-series

32102-18000 PLUG-WELCH TRANSMISSION CASE (1) inside bell, below mainshaft
The two small plugs can be seen in this photo, to the left of the spring:

Removal and installation
Removal: tap one edge with a punch or chisel, then grab it with vice-grips and wiggle it out.
To install, fit squarely into bore, and tap gently and evenly into place. No sealer is used.
Others
MAFCO 438 1972-1980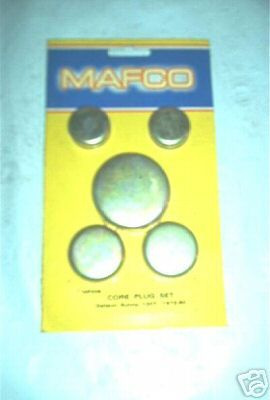 MAFCO 441 Sunny 140Y 1980-1982

above looks to be for L14 engine
PB210 (140Y in South Africa) - L14 engine
11021-21000ᴳ PLUG-welch [6 total, 40 mm]
* (3) right side
* (2) left side
* (1) rear
cylinder head
* 00933-13500ᴳ PLUG-welch, 35 -7410
* 00322-13000ᴳ PLUG-welch, 30 -7410
* 11048-73403ᴳ PLUG-blind (2) 7411 

¤